Classifieds
Farm and Livestock
Livestock
M + M Livestock Wanted: Culled cows and old horses. Highest prices. Call collect 519-836-2070 Guelph or 905-852-3238 Uxbridge.
PULLETS ready to lay brown or white. New and used equipment. No order too small. Pullets Plus Inc. Phone 519-669-2225.
Wanted: Old and crippled cull cows. Must be able to walk and be drug free. Cash paid. Call Dennis 519-654-7833.
Produce For Sale
4X5 ROUND bales of cow and horse quality hay available. Also 4x5 round bales long wheat straw. Trailer loads of 40 bales. Call Riley, 519-321-1012, R&M Gorman Hay & Straw Inc.
YEAR OLD 4x5 Canola Straw bales, economical beef bedding. $30 delivered. Larry Schill 519-638-2331
HAY AND STRAW - will deliver in loads of 42-4x5, 72 big square bales. Call Reg Small 519-323-2191.
ELDERBERRIES,LOCALLY grown and fresh frozen. Get ready for flu and cold season with elderberry syrup, a good source of vitamin C and antioxidentds. Call 519-822-5557
STRAW: LARGE square fine rotary wheat, 3x3. Can deliver. Call James Gerber 519-274-1984. No Sunday calls please.
MT. FOREST Ag Auctions: Hay, straw, & firewood consignment auction every Wednesday 10am. Located east of Mount Forest @ 43853 Southgate Rd 4. 519-323-2658
STRAW- Small squares in bundles of 21. Also large square bales of chopped wheat straw. Pickup or will deliver. Call Lavon, 519-575-5723.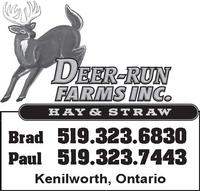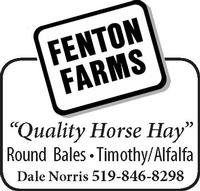 Homes' Apartments & Condos
Apt. for Rent
FERGUS 1-BDRM APT. Kitchen & livingroom open concept. Appliances, parking and heating included. Adult building near downtown. No smoking. $950/month + hydro. Call 519-993-1161
GROUND LEVEL 55+ Senior 2 bedroom apartment in Drayton. $1295+ hydro/month includes heat, water and sewer, grass cutting, snow clearing. No pets. Available January 1st. No Sunday calls please. 519-993-2080
Condos for Rent
2-BDRM NEWLY updated condo in Mount Forest. Quiet building. Secure entrance. Four appliances. Mature tenants. Available Dec. 1st. Call 519-321-9233.
Homes for Rent
LARGE MAIN Floor of house for rent in Arthur, February 1st, 2021. 1+ bedrooms, full bathroom with heated floor, open concept kitchen and living room, shared laundry, parking, access to large deck and yard. Wifi included. $1,500 all in. References required, no pets, no smokers. Contact Wendy at arthurapt2020@gmail.com.
Items for Sale
Antiques
"THE BUCKET is Bulging" We need metal toys, great vinyl, crocks (we love), cast iron, weird wonderful, paintings, vintage clothing, jewellery, cool, fun, plain awesome! 10- 5ish. Deals: china, glass & more. We pay with money: not consignment. Early postcards. Call (machine) 519-787-8287 St. Andrew St. W. Fergus. "Love dogs- we have cookies." We're weird but not scary!
Items for Sale
CONTRACTOR REPAIRS, restores, remodels, builds and jacks up farm and storage buildings, cottages, homes, etc. Also roofing, siding, doors, windows, fencing, cement work, beams, posts, timbers, framework, rafters, foundations, decks, docks installed, replaced, repaired. Brian McCurdy 519-986-1781/-519-375-0958.
PRESSURE WASHERS- A unit to suit most every application, cold, hot and pressure cleaning detergents. Tri-Mech Inc . 519-638-2836
SNOWBLOWERS, new and used walk-behind, in stock at Turfline Small Engines Mount Forest. For more details call 519-323-3571.
4 WINTER TIRES in very good condition - need rims 205-55-16. $250 obo. Call Mac 519-831-0967
A BUSHCORD(S) of well seasoned hardwood in 12" lengths. $300. Call 519-994-6075
HIGH-END OCTAGONAL oak poker table. Easy removable top for conversion into a standard dining room table. Felt covered slate poker surface. Cup holders and chip slots on each 20" octagon. Dimensions -29" high, 50" wide. Asking price $600. Call Bill 519-787-9364 -Fergus Ont.
MILITARY CLOTHING, medals & badges. Snowshoes, 2 reindeer hides, 3 sheepskins. Hand sanitizers, masks and gloves. 519-942-4145 (Leave message.)
SADDLE ENDASH AUSTRALIAN ORD River Collection, Drover Model 14" two tone leather, excellent condition $330.00 Call 519-216-0242
FIREWOOD FOR SALE. Seasoned hardwood. Cut and split in 12" pieces. Delivery available. Call 519-338-5439.
DECOR-REST SOFA BED, fairly new. $500. Maple fire-place unit. $400. 519-206-0221
PRESSURE WASHERS for sale. 10HP 3-phase electric Cyclone coldwater, $1500 obo. Also 3&4hp. gas and electric models available starting at $200. Call 226-622-4210 (Moorefield)
WHITE PINE LUMBER- 1in. x 8, 10, 12in. Call for a quote. A. Rogers Sawmill, one mile east of Ennotville. 226-821-3990. Hours: 8am-12, 1-5pm.
FOR SALE Model Horses with handmade harness, Breyer and Peter stone different breeds and size of hitches. Phone Gord 519-820-4657
FIREWOOD- SEASONED hardwood. 12" or 16" lengths available. Picked up or delivered. 519-846-5010 or cell 519-575-5723.
FIREWOOD LOGS for sale-tractor trailer loads, long links. Call Rick, 519-353-8167
VAN TRAILERS to rent or buy. Call Reg Small for more details, 519-323-2191.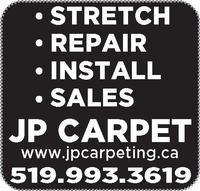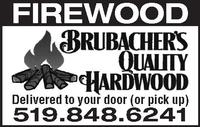 Mortgages and Financial
Private Mortgages
THE MORTGAGE PEOPLE- We do difficult mortgages. 1st, 2nd & 3rd mortgages. Residential, Commercial, Industrial, Farms & Land. Good credit, bad credit, self-employed. We will go to your home. Emergency Home Mortgages! $25,000.00 @ 7.50%= $156.25 minimum monthly payment, $50,000.00 @ 7.50%= $312.50 minimum monthly payment, $75,000.00 @ 7.50%= $468.75 minimum monthly payment, $100,000.00 @ 7.50%= $625.00 minimum monthly payment. WE DO REVERSE MORTGAGES. No fees up front- One week to complete after everything is signed- Could be sooner! Call Don Madill 519-743-5361 #M08004349 or Austin Ainslie #M18002432 519-498-4905 or Nicholas Seibert #M19000535 519-497-0271 www .themortgagepeople.ca Kitchener 1-800-361-5114 (Lic.#10300)
Personal Services
Child Care Available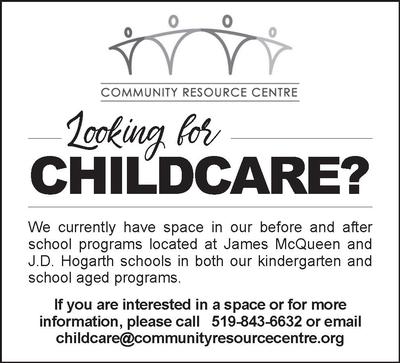 Health
LET'S GETMETAPHYSICAL andSpiritual supplies: now available at the Iron Bucket! St. Andrew St. W, Fergus. Experience the positive energy of these beautiful gifts from the Earth. We have gemstones, pendulums, pendants, crystal angels and hearts, wands and Himalayan salt lamps.
Personals
OUR LADY OF FATIMA'S "Great Promise" of Aid for Salvation. "I promise to help at the hour of death, with the graces needed for their salvation" whosoever on the first Saturday of five consecutive months shall confess and receive Holy Communion, recite five decades of the Rosary and keep me company for 15 minutes while meditating on the 15 Mysteries of the Rosary with the intention of making reparation to me. St. Joseph Catholic Church, Fergus, ON. Masses: Sat. 5pm, Sunday 9:00a.m. and 11:00a.m.
PROMISES OF THESACRED HEART- Pious souls consecrate to the Sacred Heart of Jesus, in the spirit of reparation, the First Friday of each month. Jesus himself, made twelve promises to those who practice and promote this devotion. 1. I will give them all the graces necessary for their state in life. 2. I will give peace to their families. 3. I will console them in all their troubles. 4. They shall find in My Heart an assured refuge during life, and especially at the hour of death. 5. Tepid souls shall become fervent. 6. Sinners shall find in My Heart the source and an infinite ocean of mercy. 7. I will bless the homes in which the image of My Heart shall be exposed and honored. 8. Fervent souls shall speedily rise to great perfection. 9. I will give to priests the power to touch the most hardened hearts. 10. Those who propogate this devotion shall have their names written on My Heart, never to be effaced. 11. I will pour abundant blessings on all their undertakings. 12. I promise thee, in the excess of the mercy of My Heart, that its all-powerful love will grant to all who receive Holy Communion on the First Friday of every month, for nine consecutive months, the grace of final repentance, and that they shall not die under my displeasure, nor without receiving the Sacraments, and My Heart shall be their secure refuge at that last hour. Catholic Missions in Canada 1-800-361-1128.
Storage
48' & 53' DRY TRAILERS to rent or sell, also 20' sea containers for rent. Merlin Rice, Mount Forest. 519-323-1208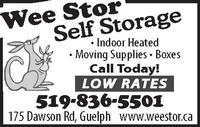 Professional Services
Custom Work
CUSTOM Manure handling (solid or liquid). Skidsteer service available. Barn cleaning etc. 519-831-3730.
Lawn & Garden
STUMP GRINDING- Fast, efficient, versatile track machine great for any situation. For a quote call Robin 519-767-4924 or e-mail info@robinaggus.ca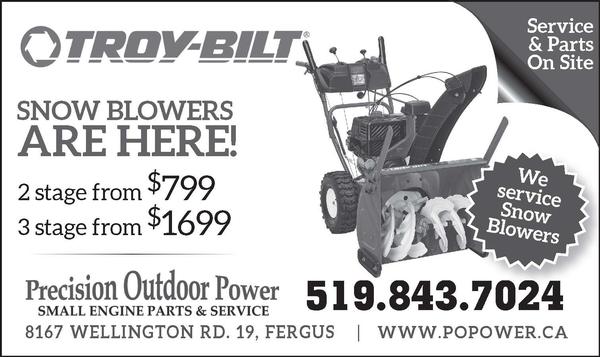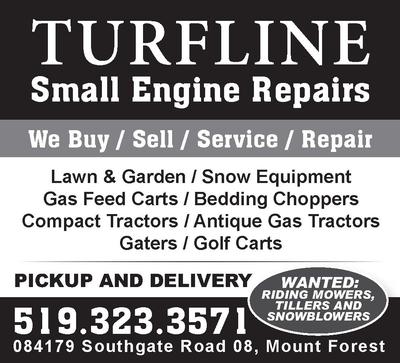 Scrap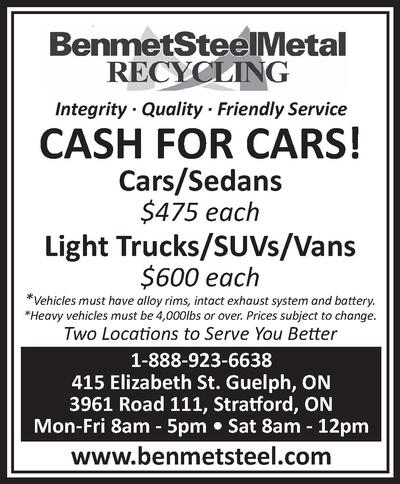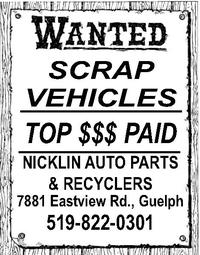 Trades and Services
GIB'S GARDENS PROPERTY SERVICES- **Working with COVID-19 precautions.** Fall garden cleanup & leaf raking, garden makeovers & maintenance, flagstone & concrete slab patios, deck restorations, painting, hedge and tree trimming, garbage and brush removal, power washing, window & eavestrough cleaning, lawn care and more! Offering quality services at competitive rates. Let me take care of your property needs during my 6th season! Got a job? Ask Matt. Local, reliable, experienced. 519-362-4896 OR giblin-@hotmail.com
LICENSED PLUMBER- 40 years experience. All types of installations and repairs. Hot water tanks, water softeners installed. Call Ken for a free estimate, 519-831-0422.
GREENWAY CHIMNEY: Installs, sweeping, inspections, masonry repairs. WETT certified for your safety. Call 519-820-6369.
SUMP PUMP installations & inspections. Back-up systems installed. Licensed and insured. Ken, 519-831-0422
MOBILE WELDING repair available for Arthur and surrounding area. On-site fabrication and repairs, gates, railings, stairs, farm stalls, loader buckets, trailers and more. Certified, insured and experienced. Call 226-791-9701 or email davisweldin@outlook.com
AB RENOVATIONS Basement, Bathroom and Kitchen renovations, ceramic tile, wall papering, painting, drywall, you name it. Affordable pricing. Free estimates. Fergus and surrounding area. Alan 519-787-1202 or cell 519-830-1202
SMALL EXCAVATING/-grading jobs? Call 519-400-9904 for prompt service, best prices and experience! Track skidsteer, dump trailers, excavator, loaders available. Backhoe911@gmail.com
PATTI'S TO DO LIST -Cleaning, painting, declutter, moving, small repair jobs, grocery shopping, errands. 519-760-4171
JUNK, TRASH & ESTATECLEAN-UP... anything you need removed. 519-313-0543
MARTIN WELL Drilling- Rejuvenate & clean up existing wells. Well extensions. De-commission abandoned wells. Flow tests. Pump service & water treatment. MOE certified. Call Len 519-846-9162, Jeff 519-846-1993 or Mike 519-638-8928. www.martinwelldrilling.com
WETT CERTIFIED Wood & Pellet Technicians. Pellet and wood stove: sales, sweeps, diagnostics, parts, repairs, inspections & installations. Showroom featuring Harman & Enviro Pellet Stoves open by appointment. Doug Beatty & Sons, 519-848-3273
CUSTOM SPRAYING now available: Complete kitchen refinishing; doors, trim; furniture; barns, wood fences, farm equipment and much more. Call today for your free estimate! 519-660-9831
RON'S DRYWALL and Renovations. Over 35 years experience. Call Ron at 519-496-7539 or email ron.spncr@gmail.com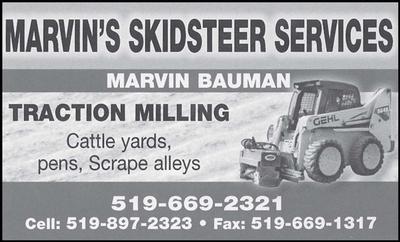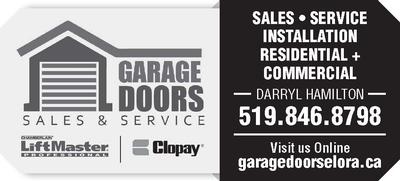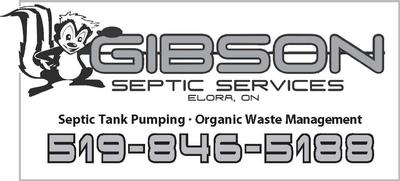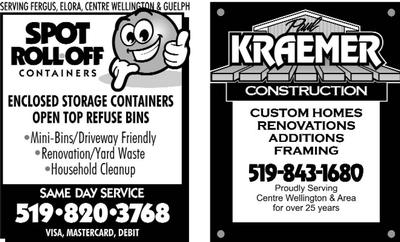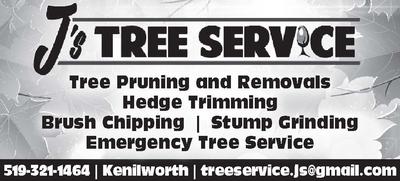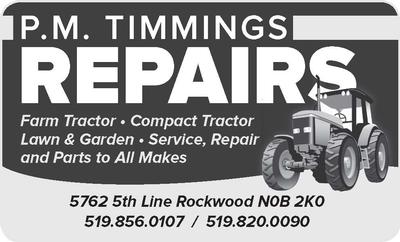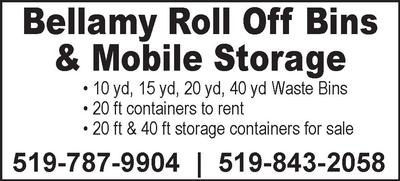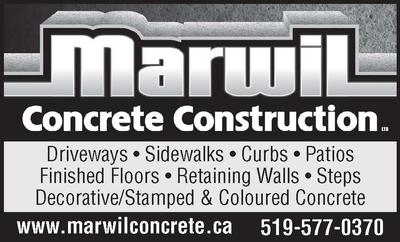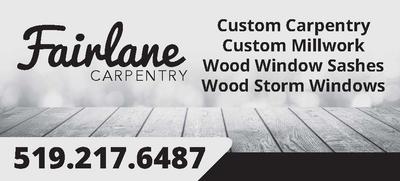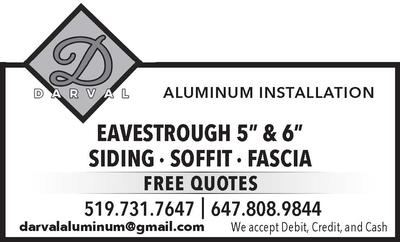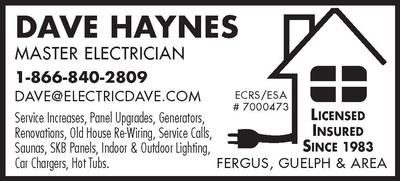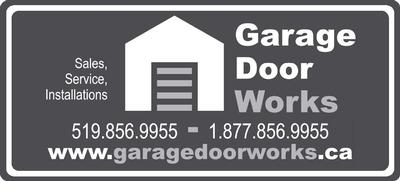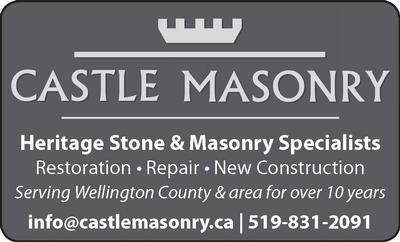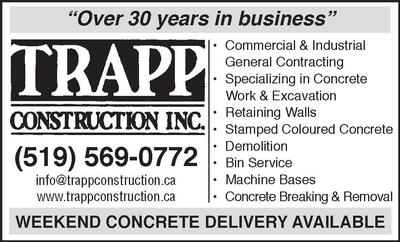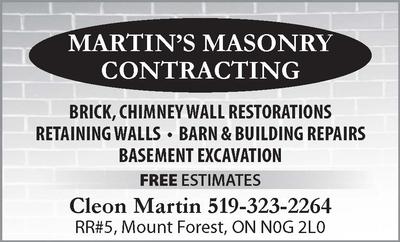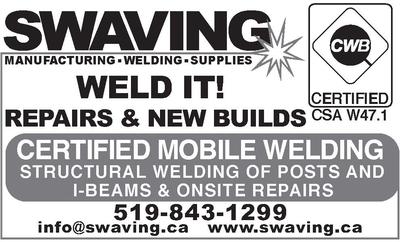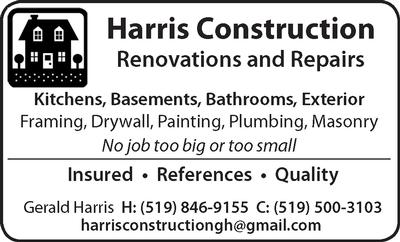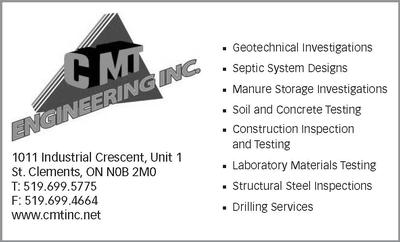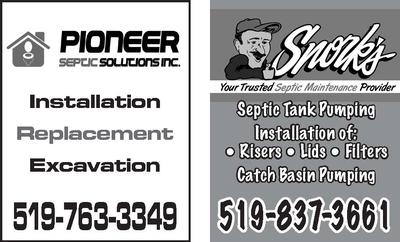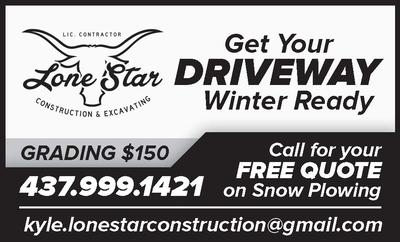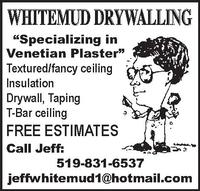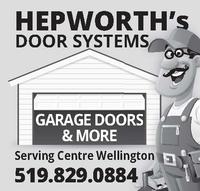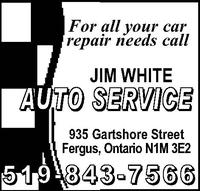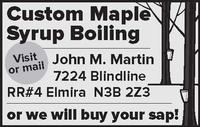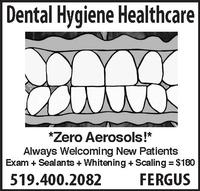 Seasonal
Christmas Trees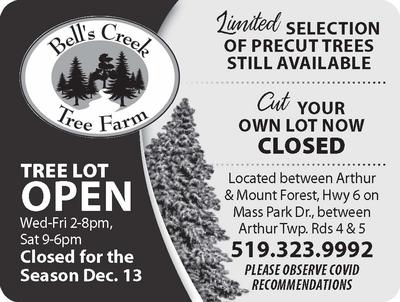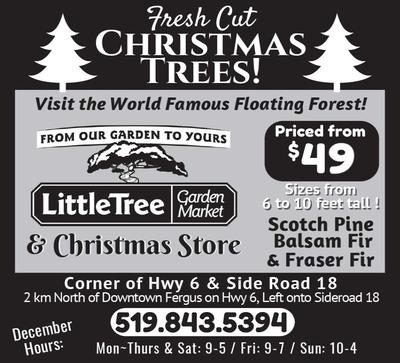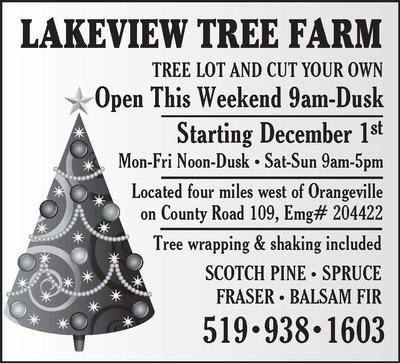 Vehicles
Cars
FOR SALE: 2007 Kia Magentis, approx. 205000, asking $1700. Two Winter King snow tires p215/75 r15 asking $50 the pair. 5/16 tread. 519-604-4377 or scribbles8445@gmail.com.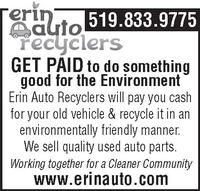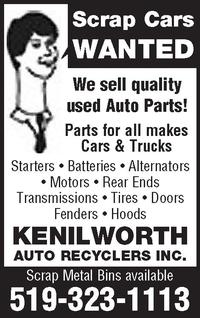 Trailer and Mobile Homes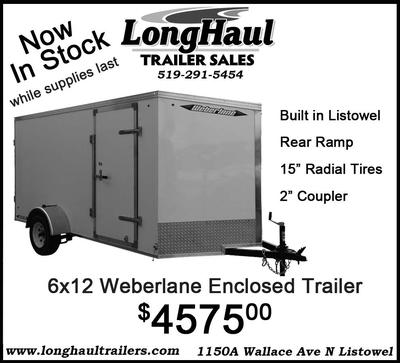 Wanted
Help Wanted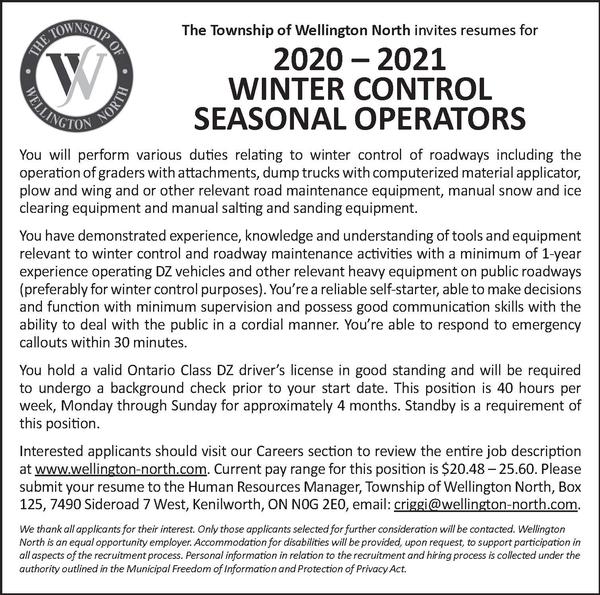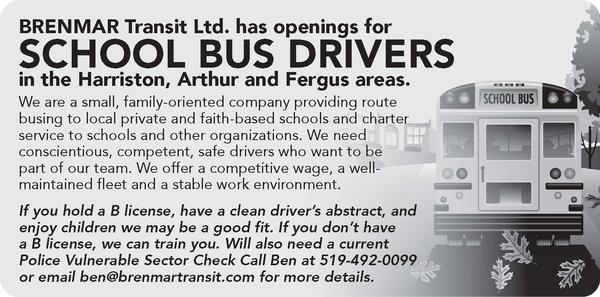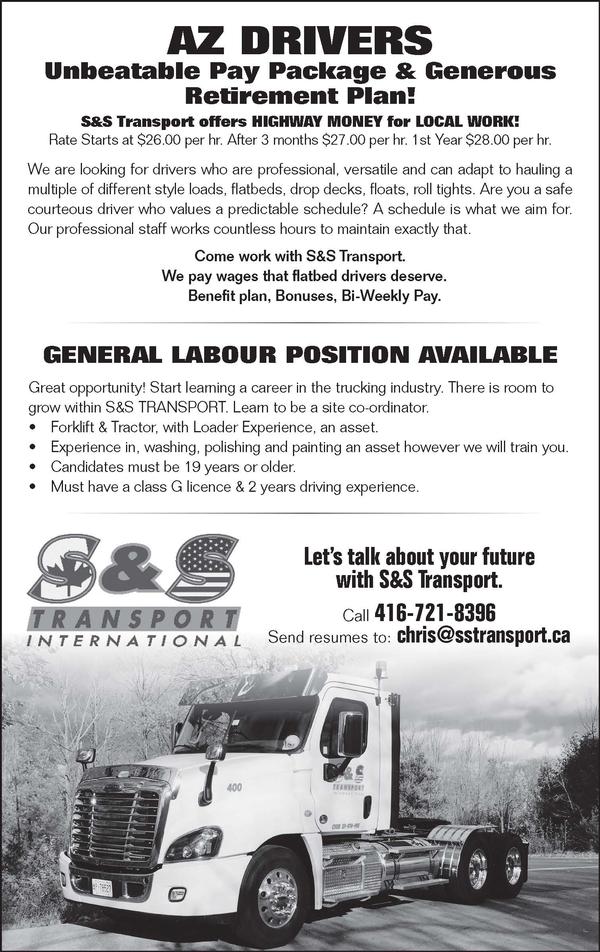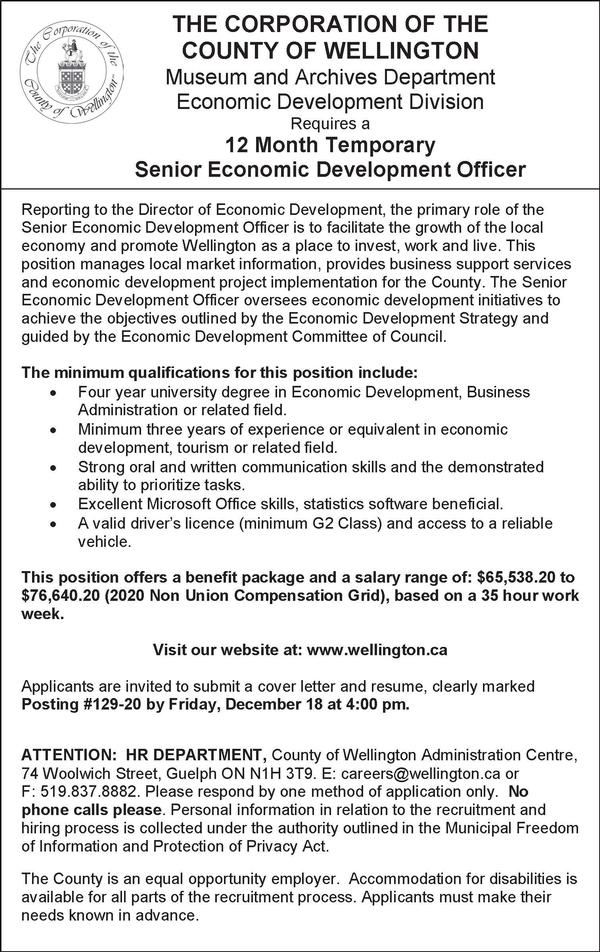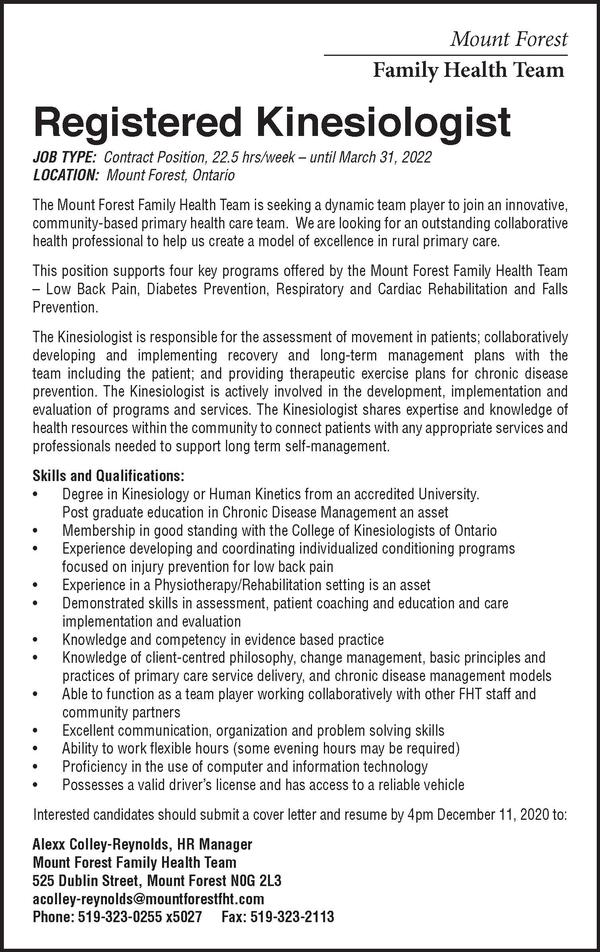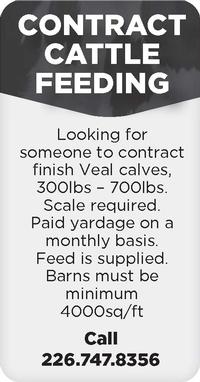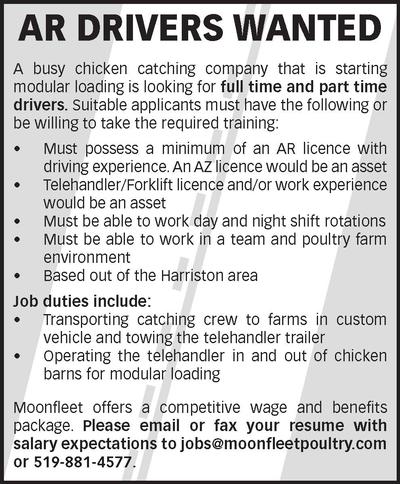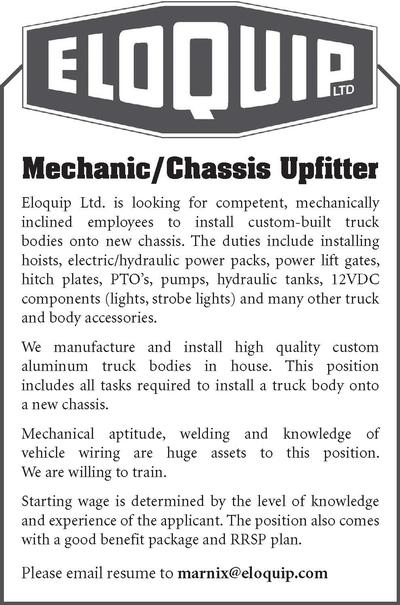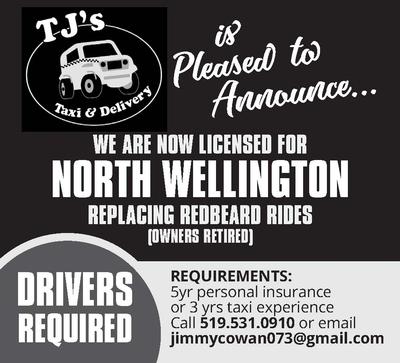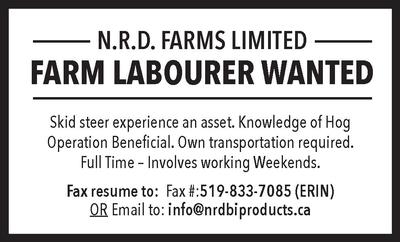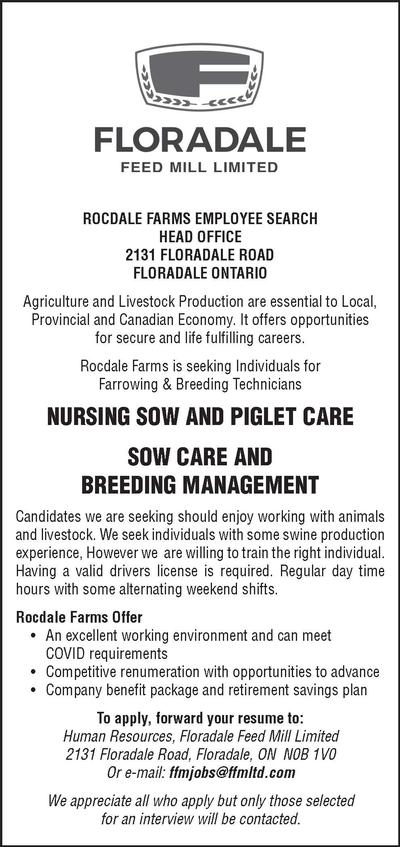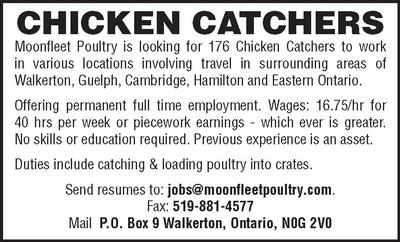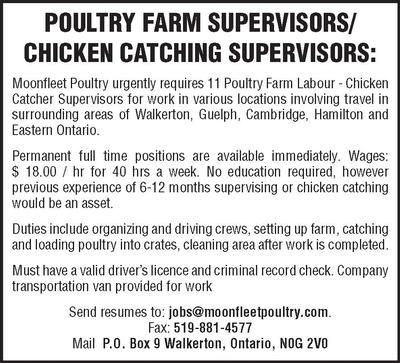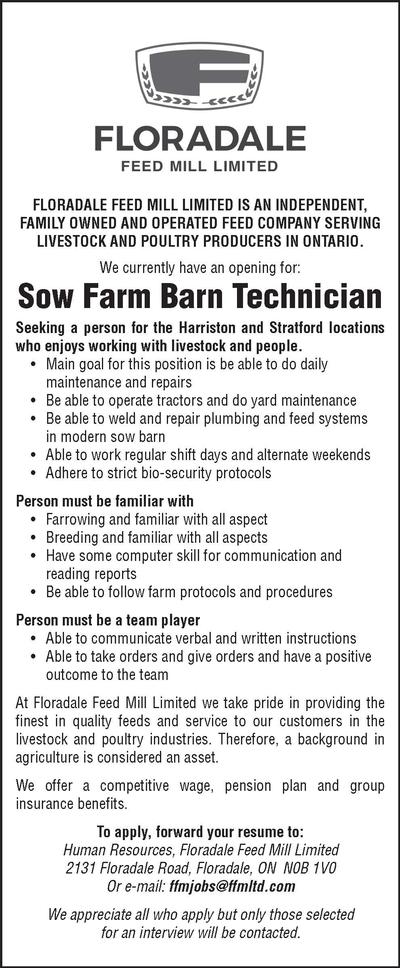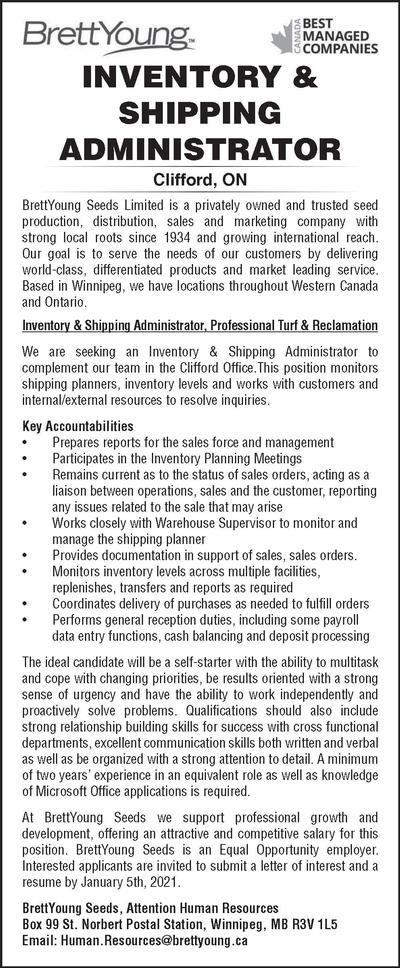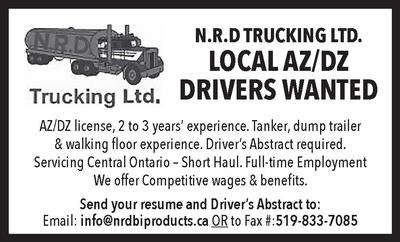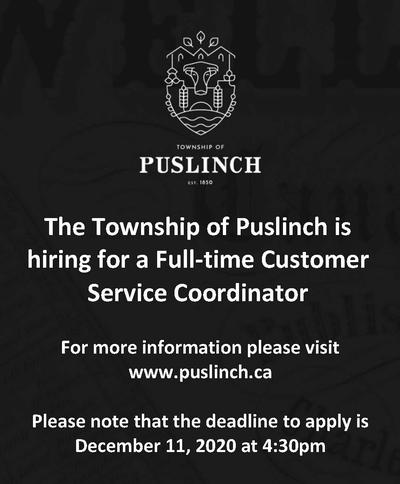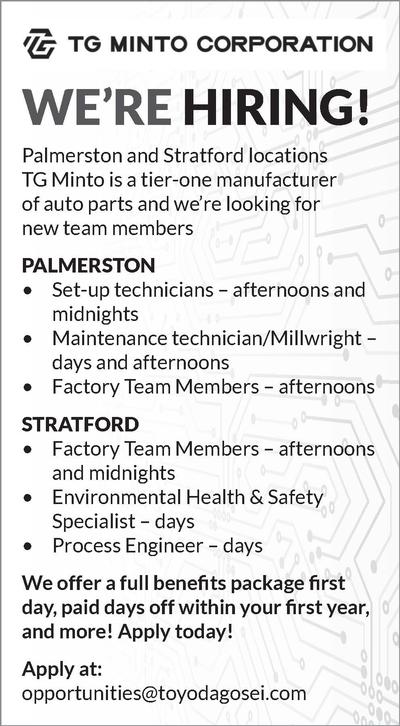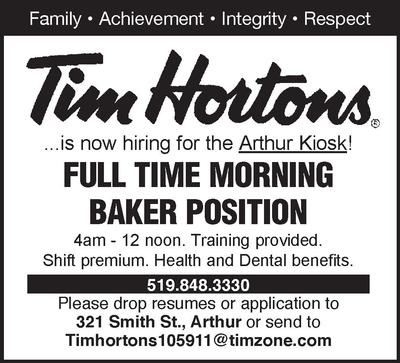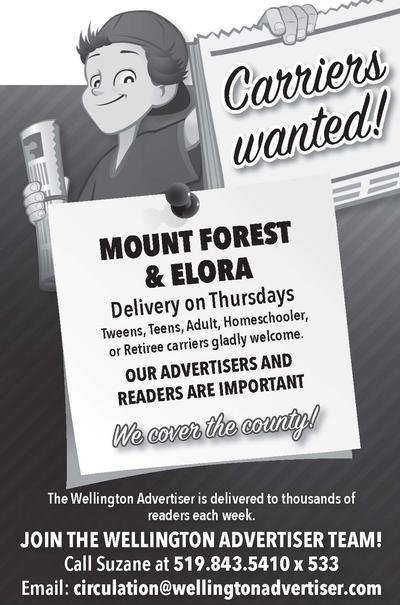 Items Wanted
RECORD ALBUMSwanted- rock, blues, punk, metal. Also looking for 60's-70's receivers, amps, turntables etc. and naptha gas style Coleman lanterns. Call Dave 519-824-3029 or email: blazerville74@gmail.com. If text preferred please use 905-788-5577
ALWAYS LOOKING for pinball machines that are just collecting dust. Give me a call and I'll have a look. I'll offer fair value and remove with all covid precautions in mind. Call Bruce at 519-827-6221.
*WANTED- UNWANTED snowblowers, lawn tractors, rototillers, cars, trucks running or not, for reconditioning and parts- will pick up. Bob, 519-400-2925 Fergus. No Sunday calls please.
Wanted to Rent
WANTED: HOUSE /APT./ Condo to rent in Wellington County for young professional couple. Must be cat friendly. Email any offers or leads to rentinginwellington@gmail.com