Classifieds
Farm and Livestock
Farm Equipment
CATTLE OILER new price $350, asking $125; Cattle Head gate, manual, new price $1,450 asking $650. Call 519-658-3103
Farm Land Wanted
I AM looking for a farm to place my off grid tiny home. I am open to discussing business opportunities/partnership with having my tiny home on the property as I will not be living in it full time. 780-221-4958
Horses
BROODMARES WANTED. APHA registered stallions for stud. Tobiano 14.3 hands; brown with black mane and tail 13.3 hands. Call or text 519-216-0242
Livestock
PULLETS ready to lay brown or white. New and used equipment. No order too small. Pullets Plus Inc. 6880 Line 86, Elmira. 519-669-2225.
Wanted: Old and crippled cull cows. Must be able to walk and be drug free. Cash paid. Call Dennis 519-654-7833.
M + M Livestock Wanted: Culled cows. Highest prices. Call collect 519-836-2070 Guelph or 905-852-3238 Uxbridge.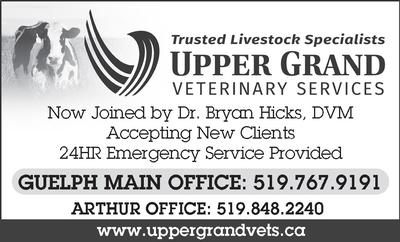 Produce For Sale
MT. FOREST Ag Auctions: Hay, straw, & firewood consignment auction every Wednesday 10am. Located east of Mount Forest @ 43853 Southgate Rd 4. 519-338-5267
Hay For sale, 4x5 round bales, 2nd cut & 3rd cut, no rain. Call 519-843-5078
STRAW & HAY: large squares of 1st & 2nd cut hay. Straw, small squares wheat straw in bundles of 21. Call 519-575-5723
4X4 600LB round bales 1st and 2nd cut hay, stored inside, no rain $50ea. Call 519-848-5983
HAY AND STRAW - will deliver in loads of 42-4x5, 72 big square bales. Call Reg Small 519-323-2191.
23-4X5 ROUND bales of hay for sale!! 2nd cut, NO rain, stored inside. Call John at 226-962-3088.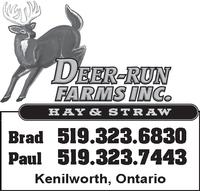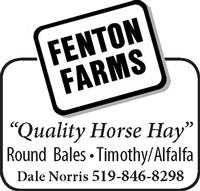 Homes' Apartments & Condos
Apt. for Rent
2-BEDROOM available July 1st in upscale mature adult building, Palmerston. Main floor. Heat and water included. $1650/month. No pets/no smoking. Contact Gill, 226-792-0699 or 416-453-0699.
LARGE, BRIGHT and recently renovated 2 bedroom apartment on the 2nd floor in downtown Drayton. $2,000/-month, water & sewer included. Available June 1/-2022. Call 519-444-8488
Condos for Rent
SPACIOUS MODERN 1430 sq ft condo for lease in Drayton, Ontario. Available June 1st. Secure heated underground parking, private storage unit, 3 bedroom suite, modern finishes, 9' ceilings, 2 walk out balconies, corner unit on top floor of 3 story building. Close to grocery store, medical clinic, library, walking trails, etc. This condo is geared to the 55 and older community. No pets. Appliances included. $2975 per month includes condo fees and utilities. Please call or text 226-750-8980
Items for Sale
Antiques
WE ARE looking for antique furniture, porcelain, oriental carpets and art. Please call or text Neels 519-830-9277 or email neelscompion@gmail.com
WE NEED: cool old toys, fun crocks; neat old farm stuff; old cast iron; cool old mags/paper; vintage jewelry and clothes; 'farm primitives' and blanket boxes; early framed stain glass. Cool fun & sometimes weird, Iron Bucket Fergus! Open all long weekend. Deals-china & glass. More you buy -cheaper it gets. Cull store time! 519-787-8287 "answering machine" Always open -mostly weird, Call us!
Garage Sales
GARAGE SALE 31 Anne St Harriston. May 20 - 21,Friday and Saturday if some stuff left. Duck decoys, hunting stuff, fly fishing equipment, fly tying books, lot of extension cords, desk, chest of drawers, some kid games, small fridge, 3 sleeping bags, CD's, lots of DVD's, tools, Minolta camera and flash. Queen size mattress, like new, ladies clothes, coats, tee shirts, jeans. Still new in box Balance shoes, size 10. Bird cage, still like new, Bex Bissell Pro Heat carpet cleaner, used one time; aluminum ladder, Arctic Cat 500 ATV, Polaris Snowmobile 600; kitchen stuff, plus more!
STREET SALE- Queen St. S. Alma. Friday May 20th, Saturday May 21, 8:30-? Homebaking, flowers, books, records, toys, dishes, pool pump and much more.
HUGE KNIGHTS of Columbus Charity Garage Sale & Silent Auction. Fri May 27 & Sat May 28 & Fri June 10 & Sat June 11, 8am to 6pm. Inside shed Sacred Heart Church Hwy 6, Kenilworth. Furniture, hardware, electronics, music books, art, sports, garden, toys, lighting, clothes, antiques, collectables & vintage. Inquires Bill 226-821-4328
LARGE COUNTRY Garage sale: May 21, 22 & 23. 9am to 4pm. 5902 Wellington Rd 7 (Elora Rd) Guelph. Tools, household, jewelry, power tools, DVD'S, CD'S, misc. & a whole lot more!
MOVING/YARD SALE. Rain or shine. May 20-23, 7am-4pm. 9049 Hwy#6 south of Kenilworth. Everything priced to sell. Everything must go. Tools, housewares, etc.
YARD SALE -Saturday, May 21, 483 Anderson St S, Fergus at 7am. Clothes, sport equipment, appliances & misc.
BACKYARD SALE - May 21 & 22 at 8am. 249 Hill St E, Fergus. Bee Gee memorabilia, handmade scrapbooks, purse danglers and scrapbook supplies. New & used items. Table saw, electronics, computers, household items, ladder, compressors, and much more. Don't miss out!
SAT. MAY 21, 8am-5pm. 231 Elgin St.N. Mount Forest. Kroehler couch & chair, portable air-compressor, organ, dry firewood, lamps, kitchen table & 2 chairs, 21 Star Trek VHS and much more.
SATURDAY, MAY 21, 8am-1pm. 860 Dianne Cres, Fergus. Kids toys and sports equipment, dishes, frames, old mason jars, car mats, household items, dahlia bulbs and more.
MULTI-FAMILY- Saturday May 21 8am-? Many household items, car tires, large slow cooker, stroller, tea set, much more. 411 Highland Rd., Fergus.
Items for Sale
TREES & SHRUBS for sale. Shade trees, fruit trees (apple, pear, peach, plum, cherry, apricot, nectarine, blueberries, raspberry, rhubarb, aronia berry etc.) Lots of nice cedars for living green fence, hedge or windbreak. Blue Spruce, White Spuce, Norway Spruce, Serbian Spruce, Balsam Fir, White Pine etc. 1-6ft. tall. Also- Bee supplies, Nucs. From June to end of summer, we have Select Queens available weekly from Northumberland Bees. Stop by Mon-Sat., 7:00am-6:00pm.at Martin's Nursery & Bee Supplies, 42661 Orangehill Rd. Wroxeter, ON N0G 2X0 (one conc. north of Wroxeter on Belmore Line)
VAN TRAILERS to rent or buy. Call Reg Small for more details, 519-323-2191.
FOR SALE: 20 6ft6"h galvanized scaffold frames, $75ea; 14" Masonry tablesaw with diamond blade $900; Indiana lime stone, $5/sq ft (enough for fireplace facing) Call 519-766-3336
PRESSURE WASHERS- A unit to suit most every application, cold, hot and pressure cleaning detergents. Tri-Mech Inc . 519-638-2836
FIREWOOD- SEASONED hardwood. 12" or 16" lengths available. Picked up or delivered. 519-846-5010 or cell 519-575-5723.
WELL Seasoned Firewood for sale. Local delivery included. Call for pricing or to order 226-821-1868.
A-1 DRY Hardwood, 12" or 16", mostly hard maple. Call 519-994-6075
FIREWOOD - KILN dried firewood, all hardwood off-cuts (not slabs) clean. 2 bushcord buy volume $325. Delivered most areas 519-856-1666
WHITE PINE LUMBER- 1in. x 8, 10, 12in. Call for a quote. A. Rogers Sawmill, one mile east of Ennotville. 226-821-3990. Hours: 8am-12, 1-5pm.
8ft.x12ft. NEW run-in shed with pine board & batten. New lawn swing (seats 4), octagon picnic table, garden bench. 519-323-3187.
FIREWOOD LOGS for sale-tractor trailer loads, long links. Call Rick, 519-353-8167
CEDAR POSTS: peeled, 8ft., 4-7 inches in diameter. Call 519-323-9116.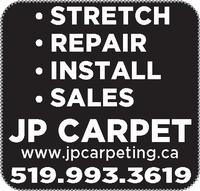 Mortgages and Financial
Private Mortgages
THE MORTGAGE PEOPLE- We do difficult mortgages. 1st, 2nd & 3rd mortgages. Residential, Commercial, Industrial, Farms & Land. Good credit, bad credit, self-employed. We will go to your home. Mortgages are cheaper than your credit card. REVERSE MORTGAGES. No fees up front. One week to complete after everything is signed. Could be sooner! Call Don Madill #M08004349 or Nicholas Seibert #M19000535 519-743-5361 or 1-800-361-5114 (Lic#10300) www.themortgagepeople.ca
Personal Services
Storage
20FT SHIPPING containers for sale or rent. Also, 40FT Shipping containers for sale. Merlin Rice 519-323-1208 or 519-323-8670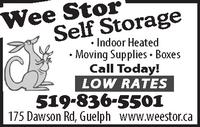 Pets
Pets for Sale
PUREBRED GOLDEN Retriever puppies for sale. Fully vaccinated. Papers available. Asking $1200 each. Parents friendly and good with children. 519-404-0292
Professional Services
Custom Work
CUSTOM Manure handling (solid or liquid). Skidsteer service available. Barn cleaning etc. 519-831-3730.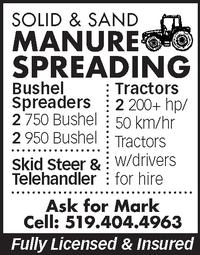 Lawn & Garden
GIB'S GARDENS Property Service endash spring cleanup, garden maintenance and mulching, stone patios and walkways, lawn care, sodding, painting, garbage and brush removal, trimming, eavestrough cleaning, odd jobs and more! Let our team take care of your property needs in our 8th season! We offer quality services at competitive rates. Call or text Matt 519-362-4896, or email gibsgardens11@outlook.com. Local, reliable, experienced.
LAWN AERATING starting at $40. Lawn rolling and tilling also available in Fergus/Elora area. Please call 519-827-7762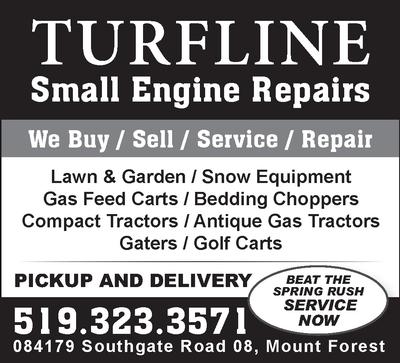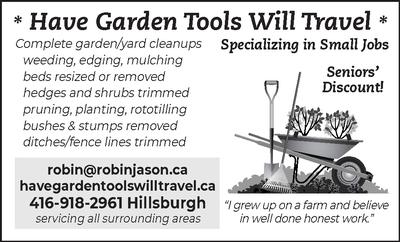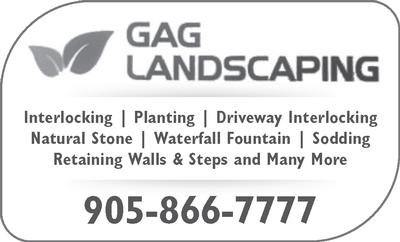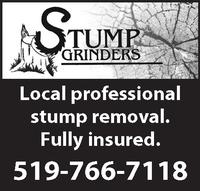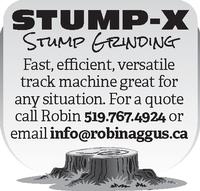 Scrap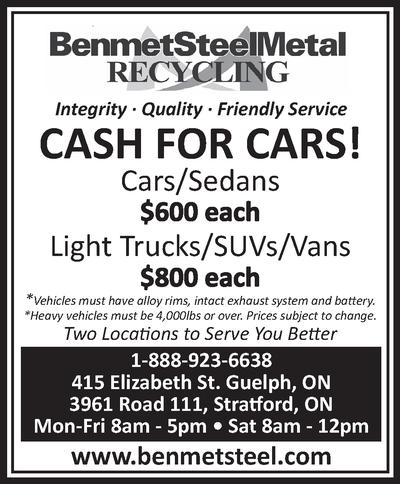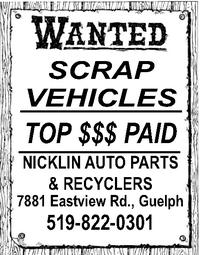 Trades and Services
CONTRACTOR REPAIRS, restores, remodels, builds and jacks up farm and storage buildings, cottages, homes, etc. Also roofing, siding, doors, windows, fencing, cement work, beams, posts, timbers, framework, rafters, foundations, decks, docks installed, replaced, repaired. Brian McCurdy 519-986-1781/ 519-375-0958.
LICENSED PLUMBER- 40 years experience. All types of installations and repairs. Hot water tanks, water softeners installed. Call Ken for a free estimate, 519-831-0422.
SUMP PUMP installations & inspections. Back-up systems installed. Licensed and insured. Ken, 519-831-0422
SMALL CARPENTRY projects, repairs, decks. Good rates, free estimates, excellent work. Dan 519-217-2439
MARTIN WELL Drilling- Rejuvenate & clean up existing wells. Well extensions. De-commission abandoned wells. Flow tests. Pump service & water treatment. MOE certified. Call Len 519-846-9162, Jeff 519-846-1993 or Mike 519-638-8928. www.martinwelldrilling.com
FULL SERVICE painter. Residential/Commercial spraying, fine detail painting. Specializing in kitchen refinishing. Numerous references available! Call 519-660-9831 to book your free estimate.
ON-SITE MOBILE welding service. Call 226-791-9701 for general repairs & maintenance. Beams, columns, buckets, fences, gates and all other welding/fabrication needs.
WETT CERTIFIED Wood & Pellet Technicians. Pellet and wood stove: sales, sweeps, diagnostics, parts, repairs, inspections & installations. Showroom featuring Harman & Enviro Pellet Stoves open by appointment. Doug Beatty & Sons, 519-848-3273
AB RENOVATIONS Basement, Bathroom and Kitchen renovations, ceramic tile, wall papering, painting, drywall, you name it. Affordable pricing. Free estimates. Fergus and surrounding area. Alan 519-787-1202 or cell 519-830-1202
GREENWAY CHIMNEY: Installs, sweeping, inspections, masonry repairs. WETT certified for your safety. Call 519-820-6369.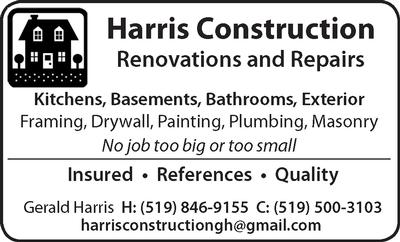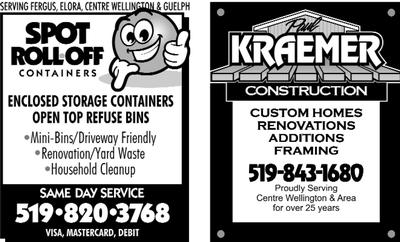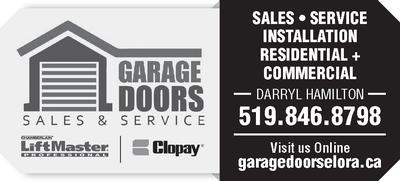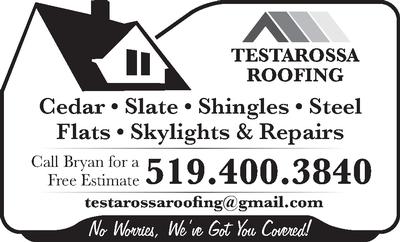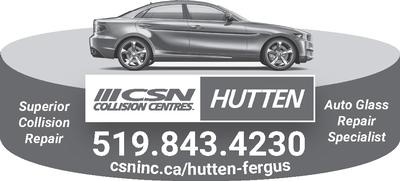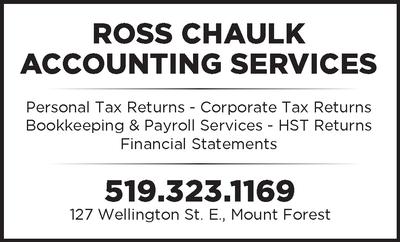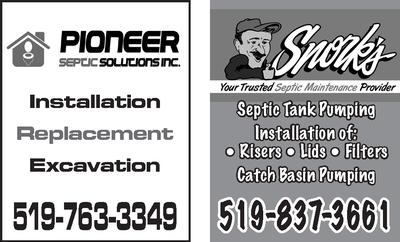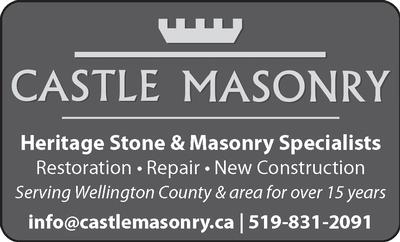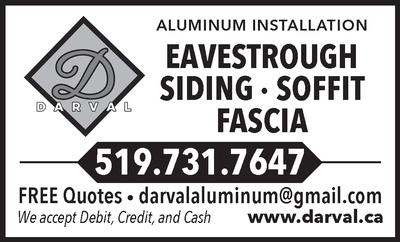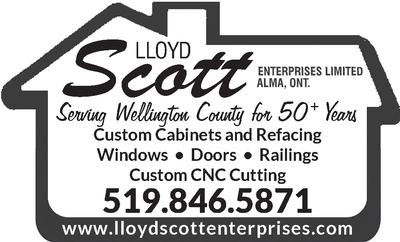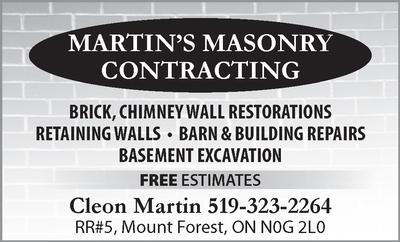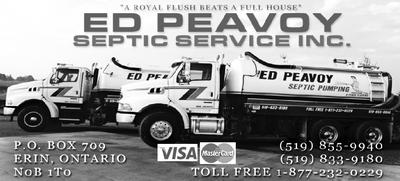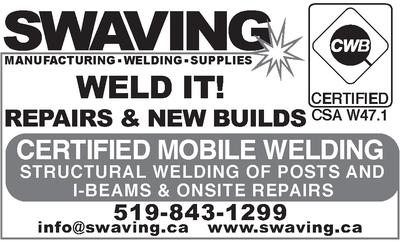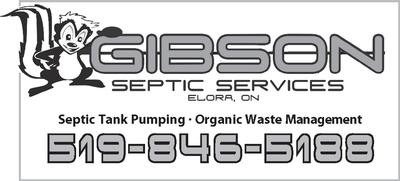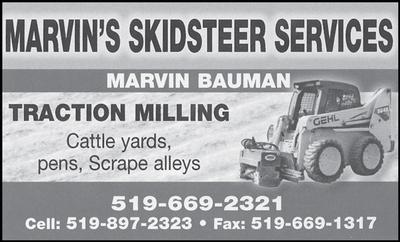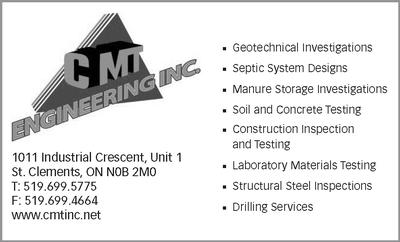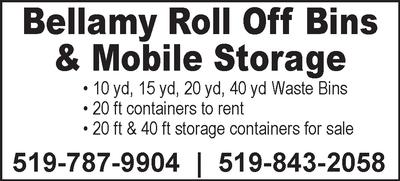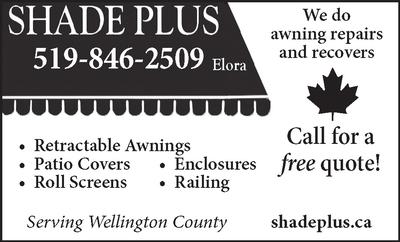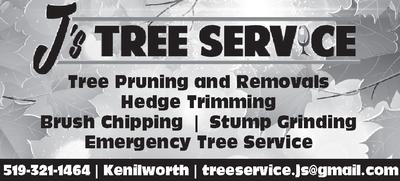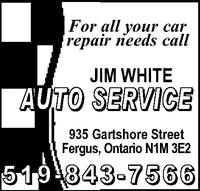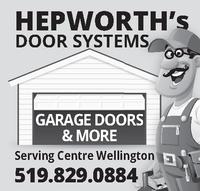 Vehicles
Cars
1985 BUICK LeSabre, Special Edition. Best offer. Call 519-574-3193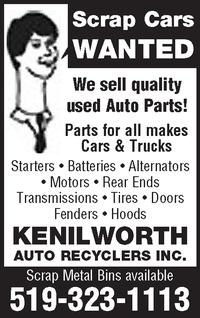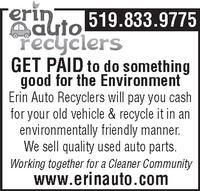 Trailer and Mobile Homes
2010 TRAVEL LITE truck camper fits 6 1/2' box. Bathroom, good condition, asking $8,000. Please call 519-848-5575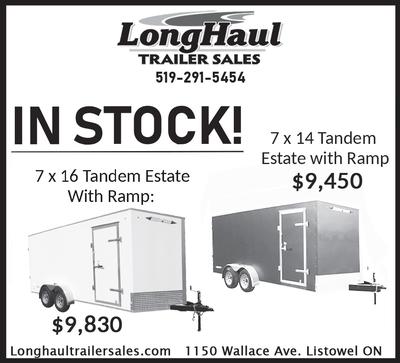 Wanted
Help Wanted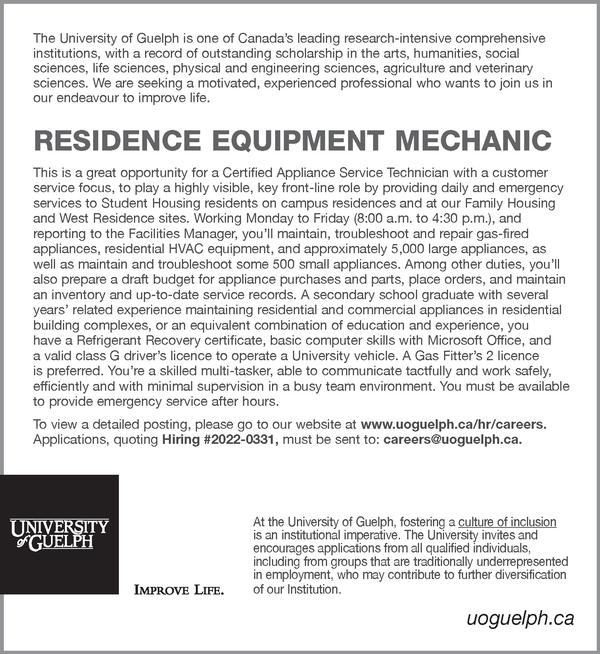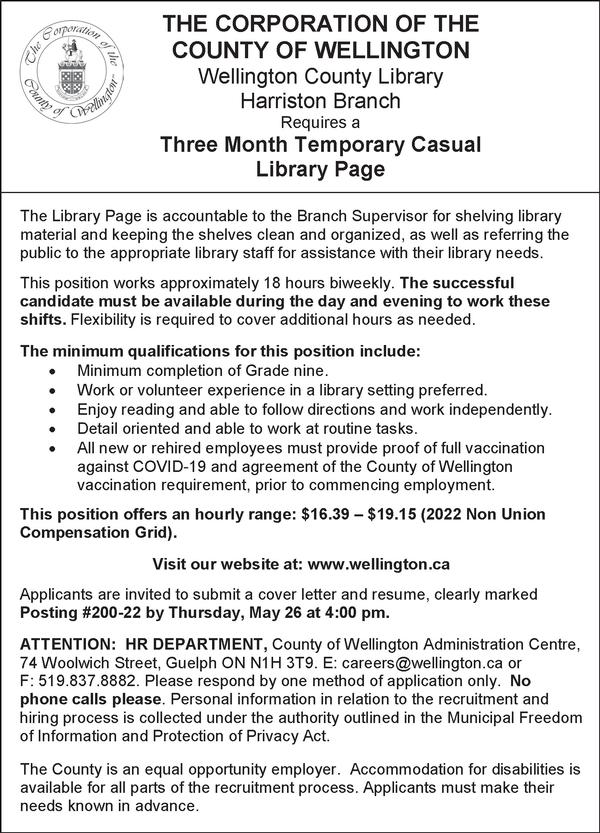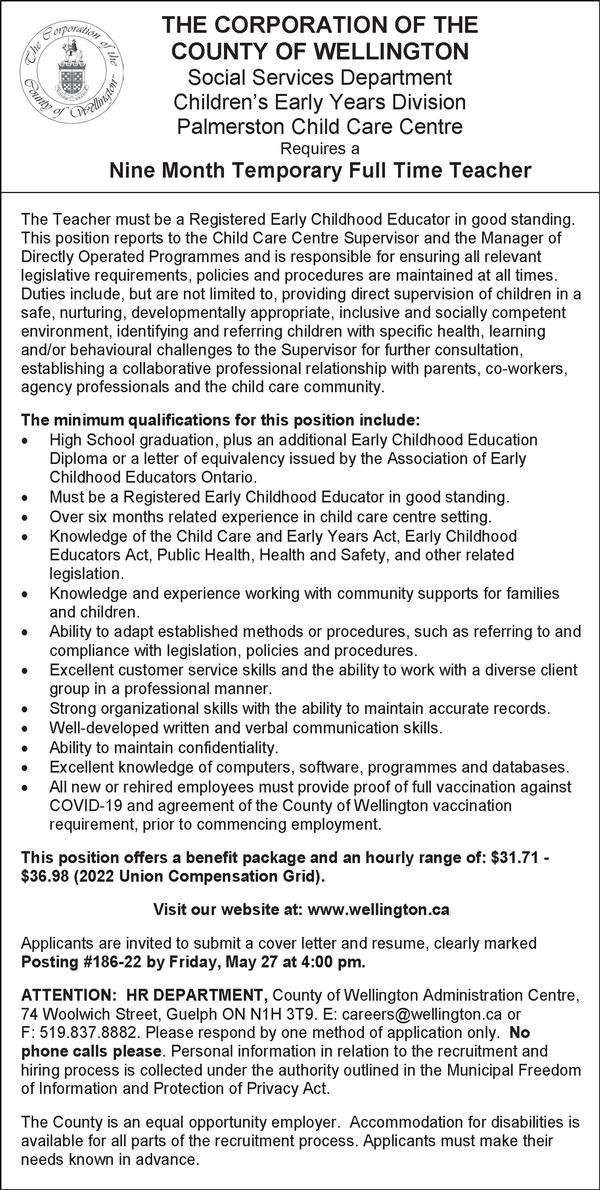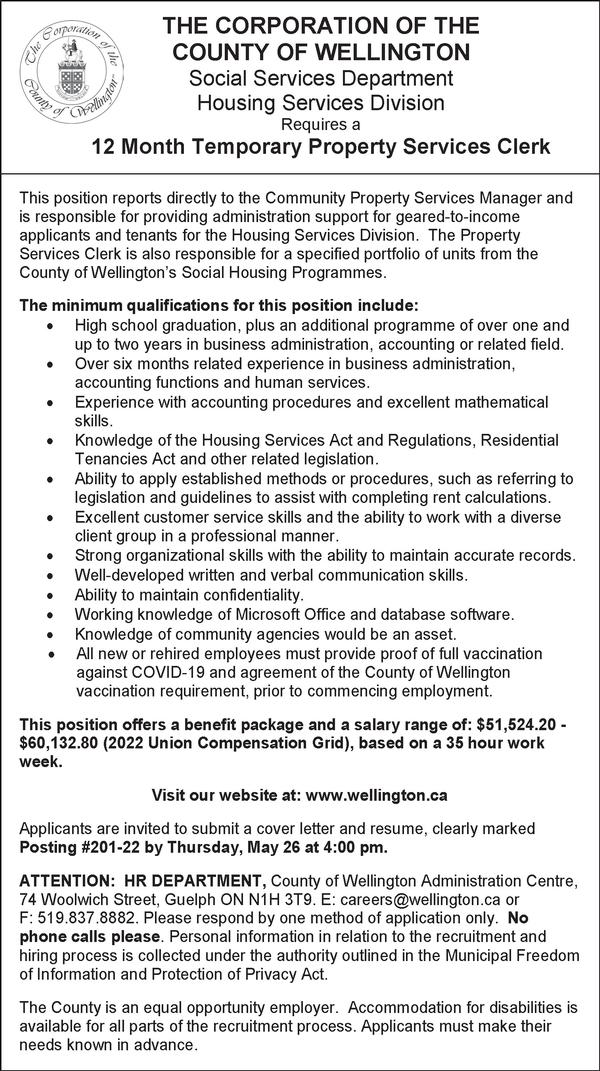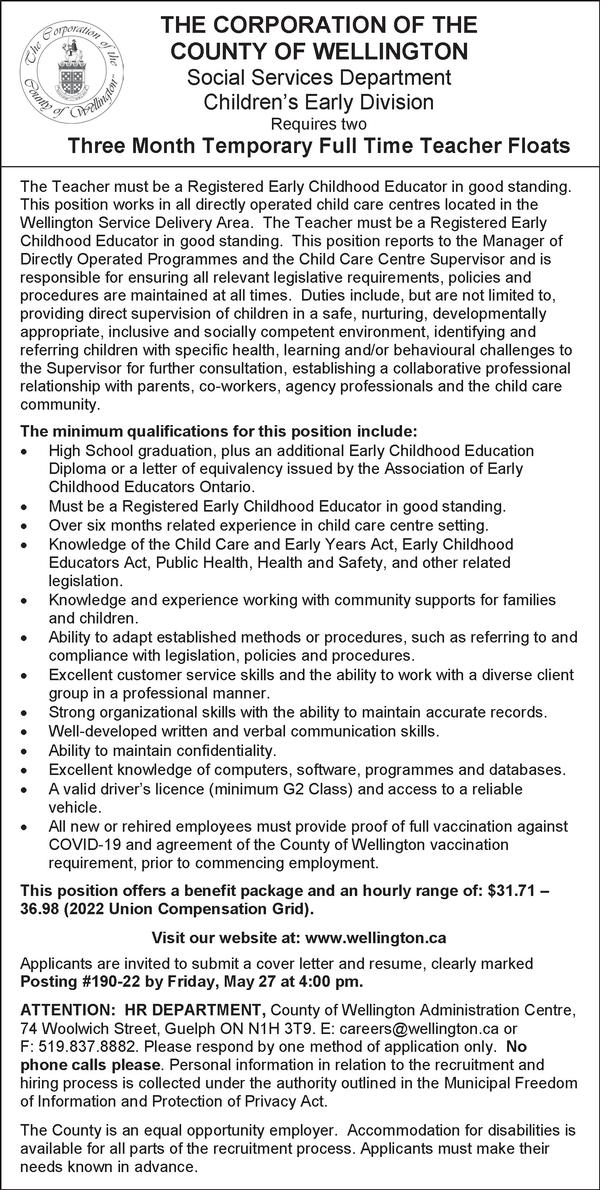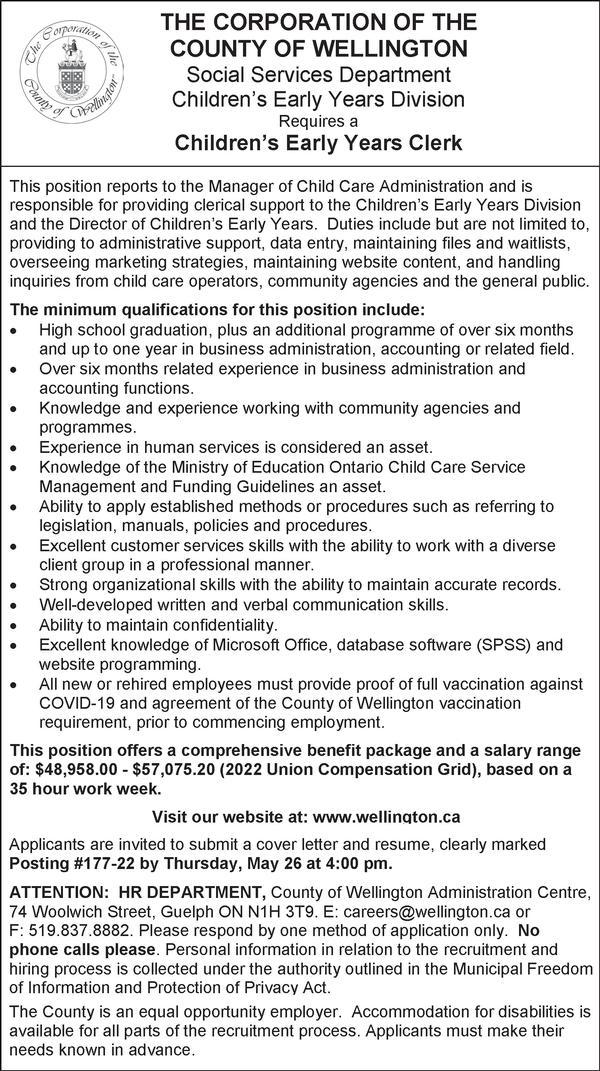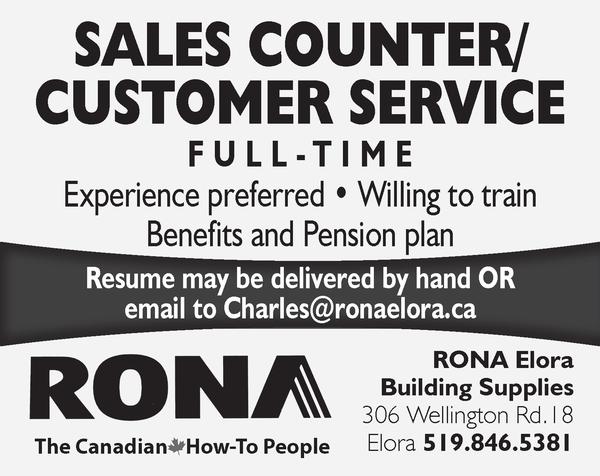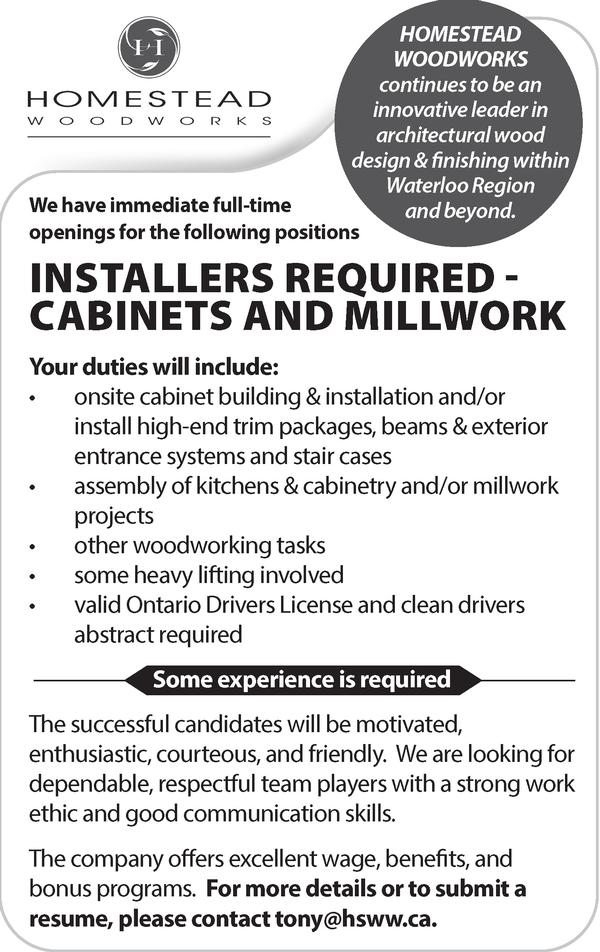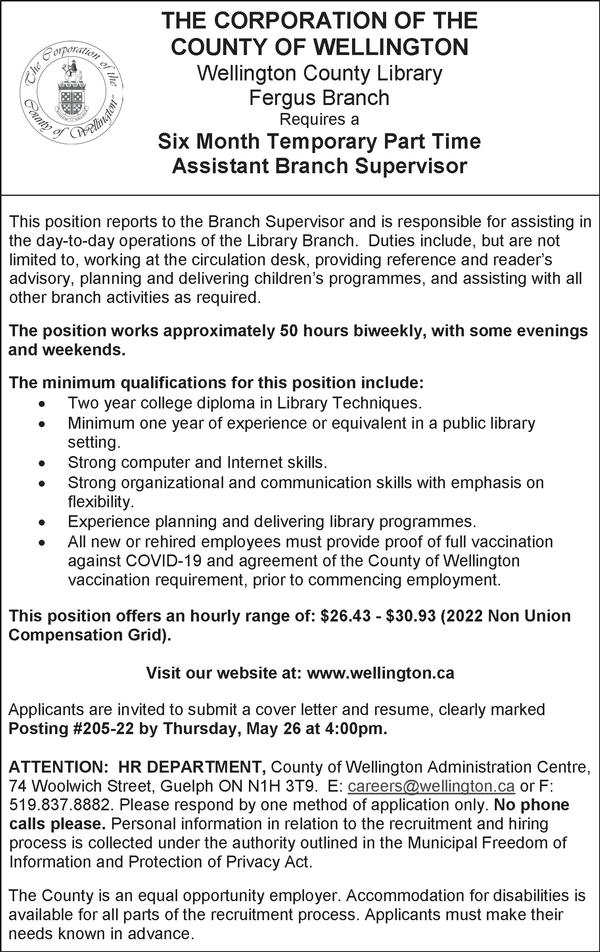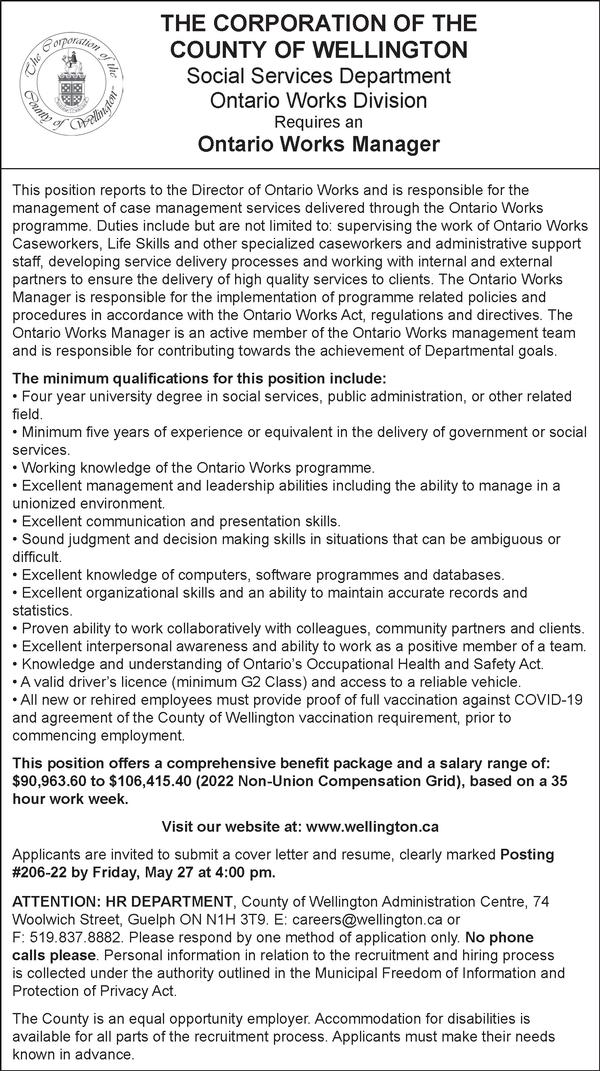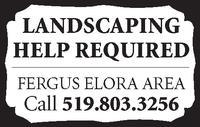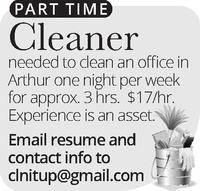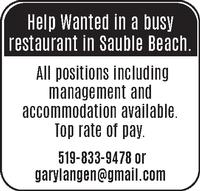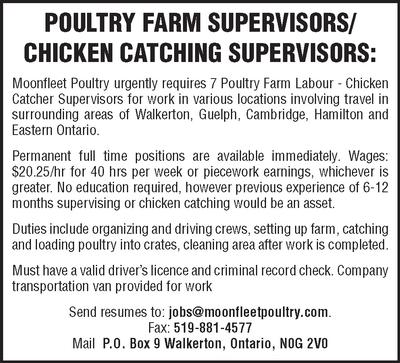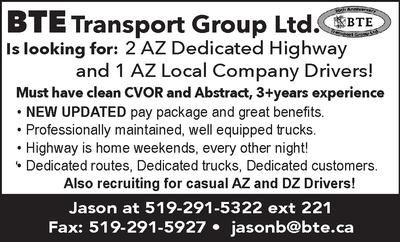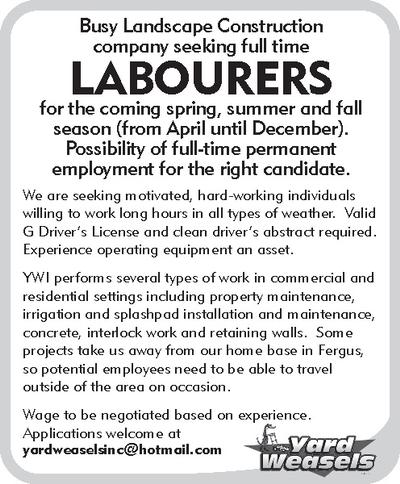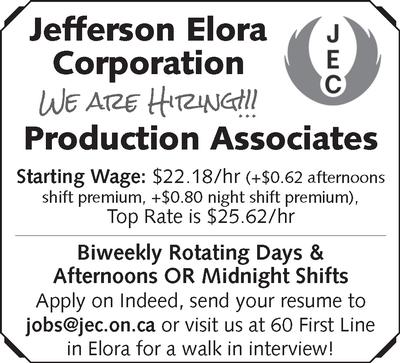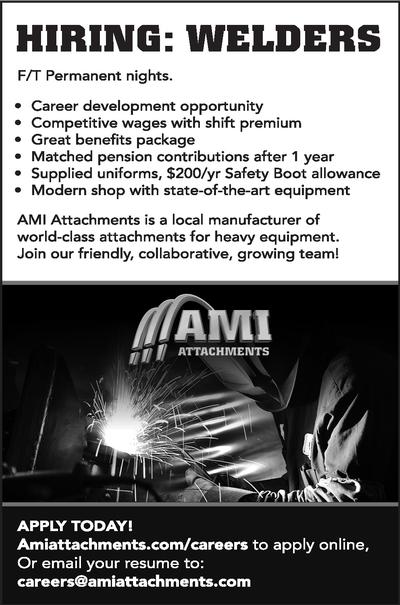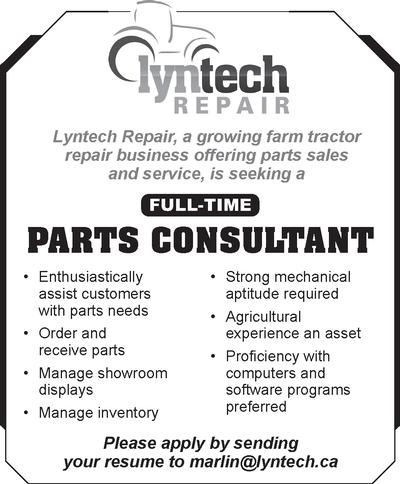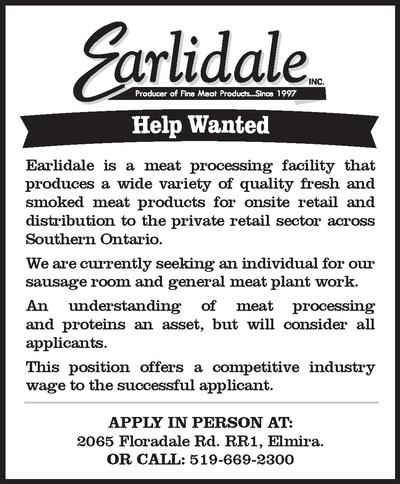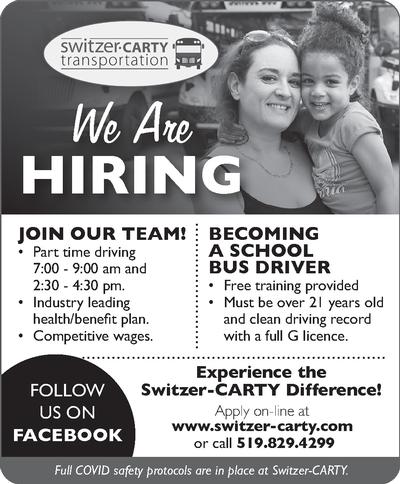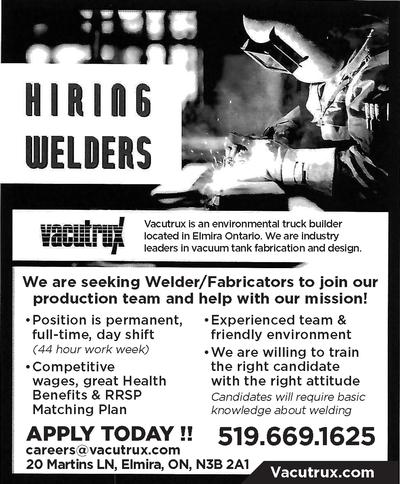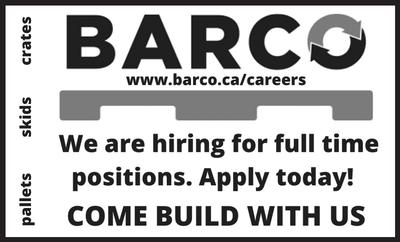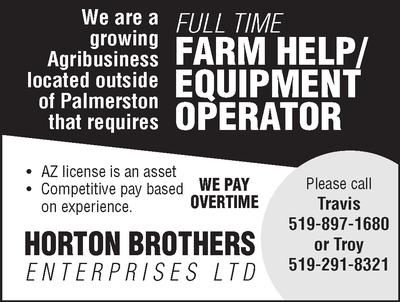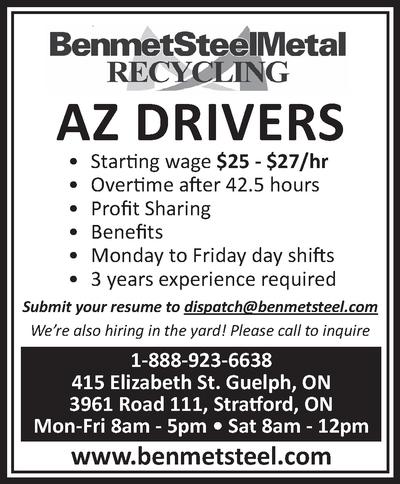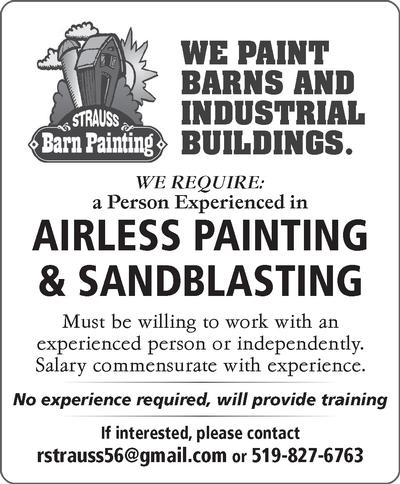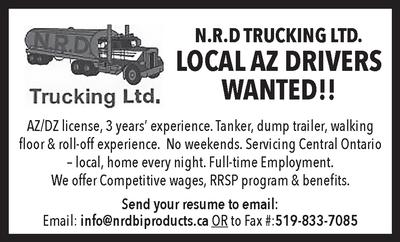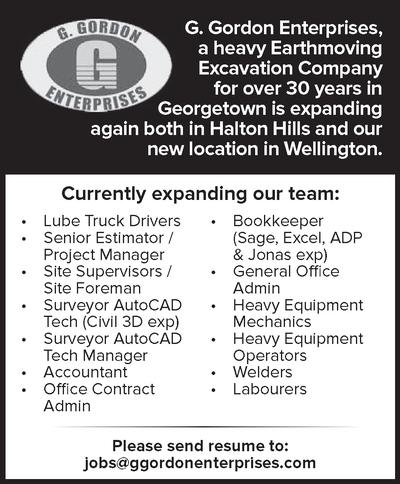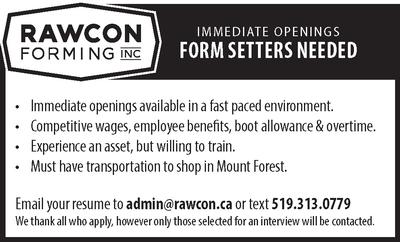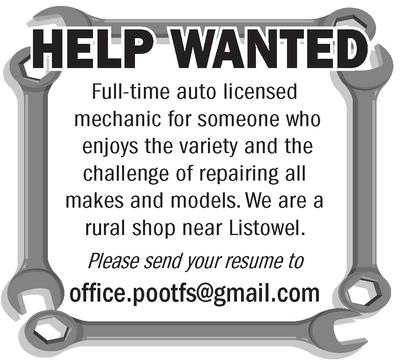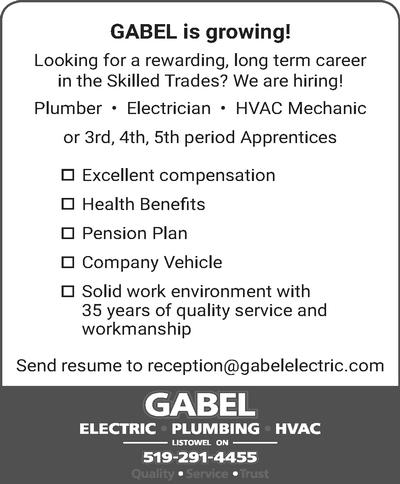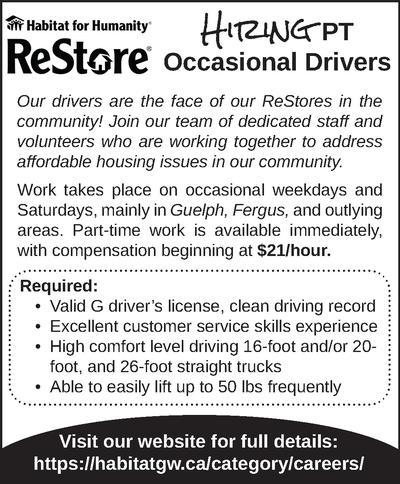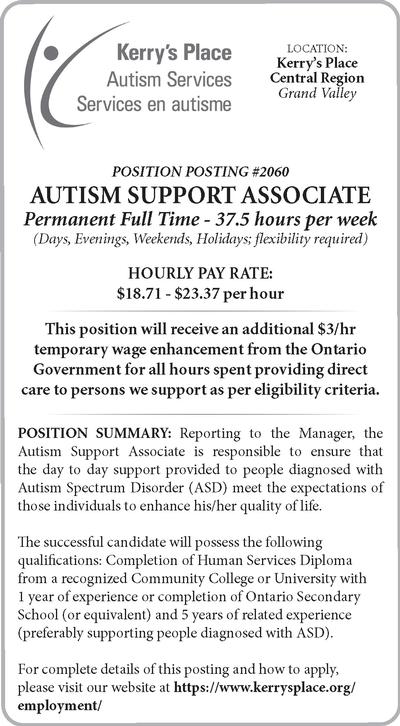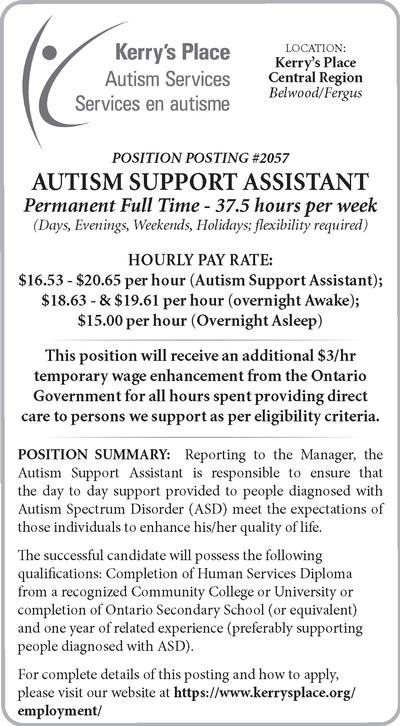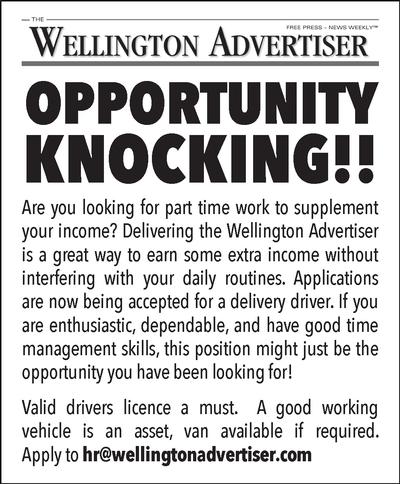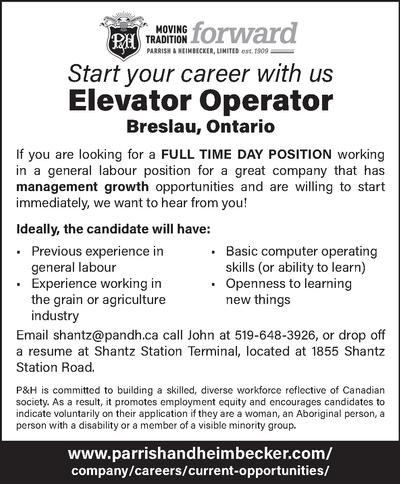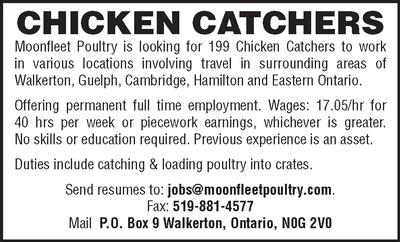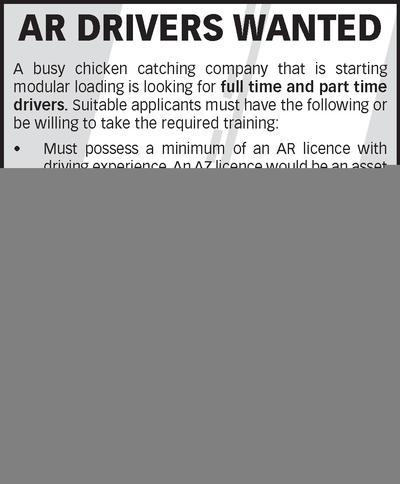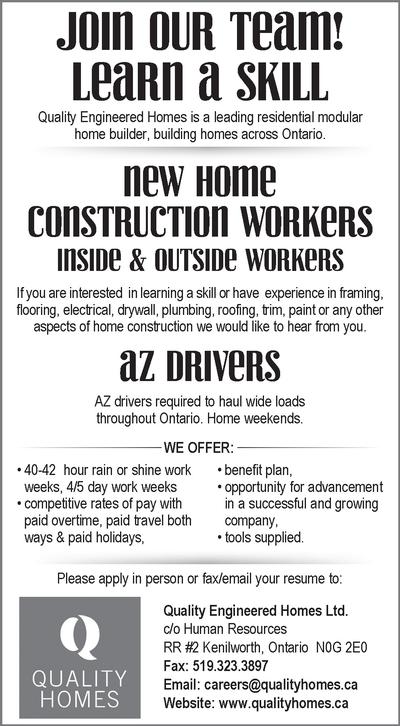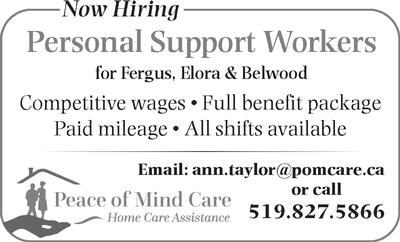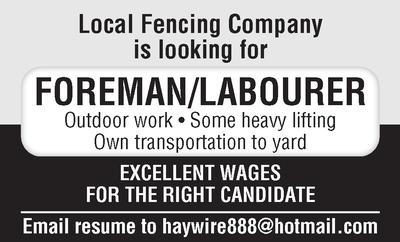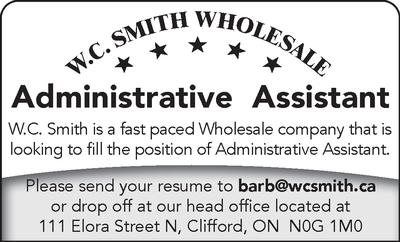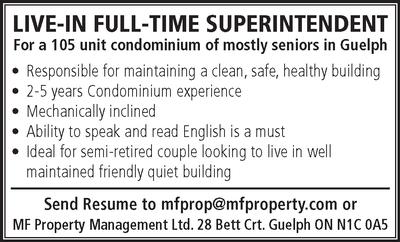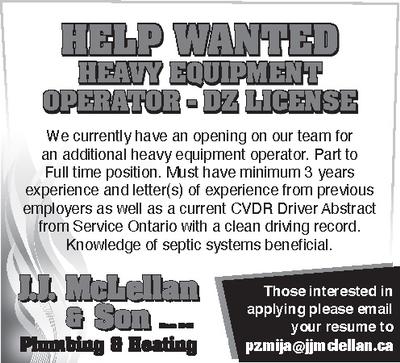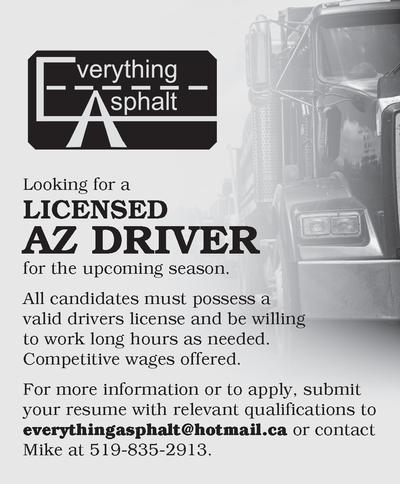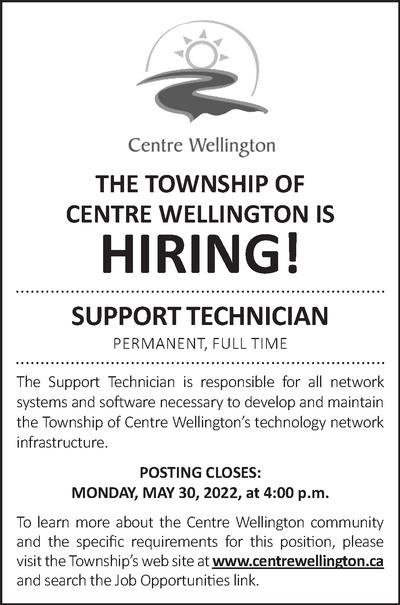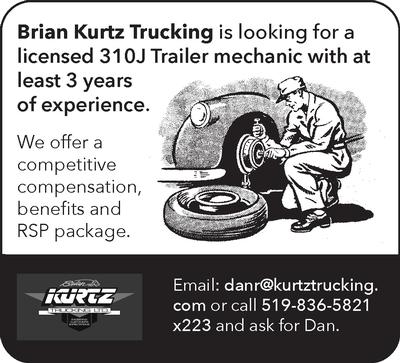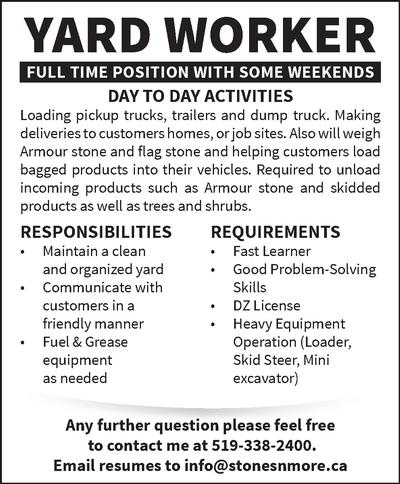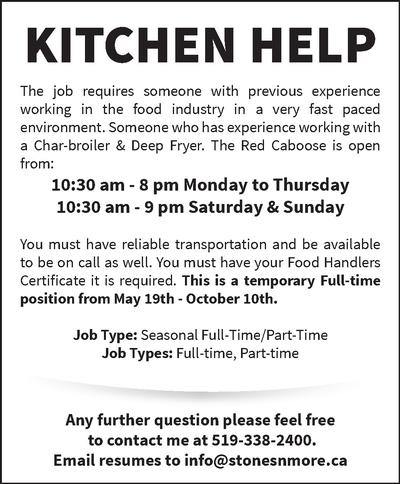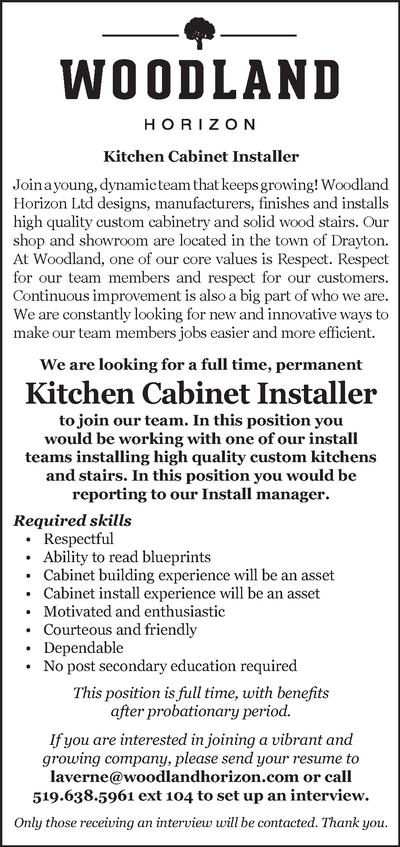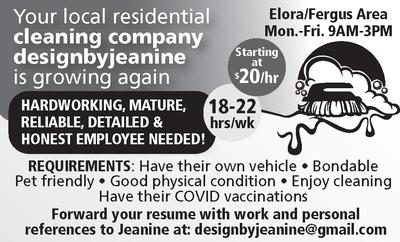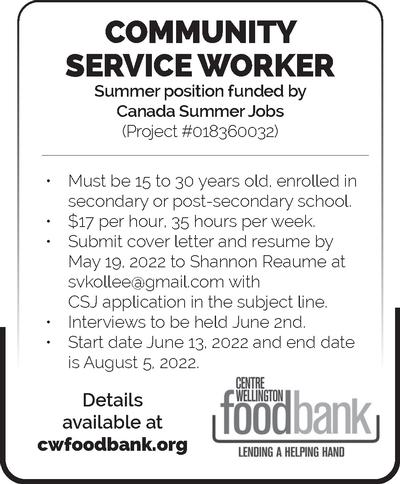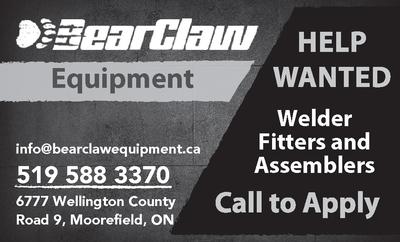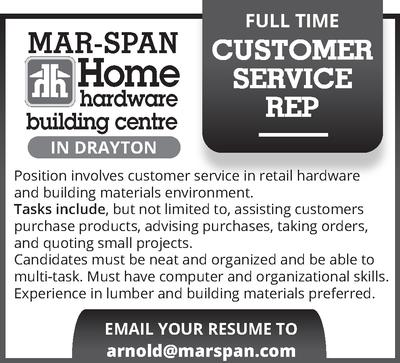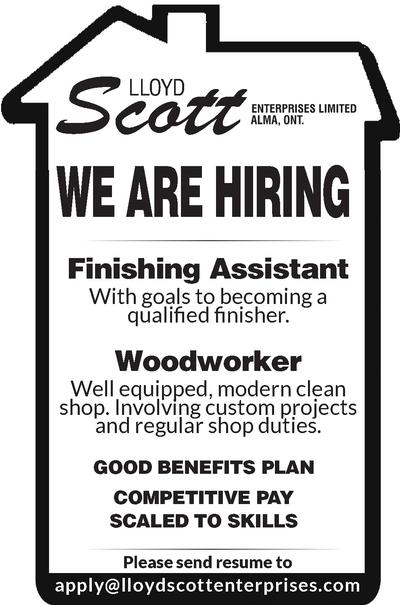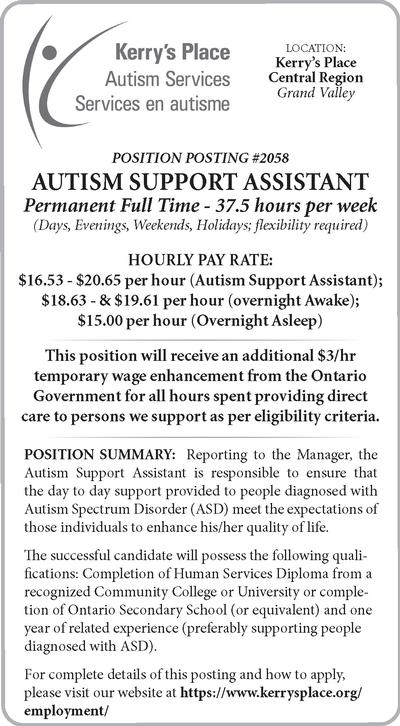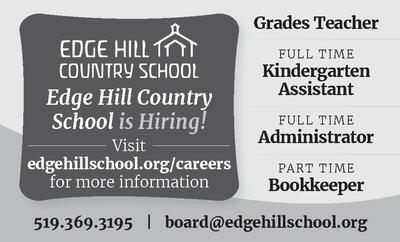 Items Wanted
RECORD ALBUMS wanted- rock, blues, punk, metal. Also looking for 60's-70's receivers, amps, turntables etc. and naptha gas style Coleman lanterns. Call Dave 519-824-3029 or email: blazerville74@gmail.com. If text preferred please use 905-788-5577
PINBALL MACHINES ... pinball machine/ arcade games just sitting collecting dust? Call Bruce at 519-827-6221. I'll come have a look and offer fair value for it.
WANTED-unwanted snowblowers, lawn tractors, rototillers, older farm tractors and equipment for reconditioning. Will pick up. Bob 519-400-2925 No Sunday calls.
PENNIES WANTED! Purchasing 20,000 Canadian pennies at face value for project. Clifford area. Please call or text Mike at 416-525-1700.
Wanted to Rent
64yr old male wanting to rent room with shared accommodations in Centre Wellington area. Call 226-501-1230