Classifieds
Farm and Livestock
Agriculture
5000 BUSHEL grain bins -two available - Westeel 19ft dia. bins available with aeration floors. Very little rust. Call or text 519-580-3653
Farm Equipment
APPROX. 300 - 4"x5' PT wooden fence posts - good condition, $600; 2x50 gallon round water tubs, Hi Flo Float valve, garden hose $80 each; 24" Portable Barn Fan $100; 39" Bale Spears pair $70; Frey 380 lb. capacity livestock scale $200. Call Dean 519-831-7767
FOR RENT 4500 gallon Jembrook Spreader 540 rpm. 8"x12' Jembrook Manure Pump with pipe cart. Spanjer 5 wheel Silage Packer. Harriston area 519-510-2003
16 FOOT BUMPER pull livestock trailer. Call 519-923-5999.
HINIKER 20FT. corn stalk chopper, puts in windrow. 17.00 an acre custom, 13.00 for rental. Kenilworth area 519-323-2944 or 519-323-3217.
CORD KING firewood processor for rent. Will do a 18" x 20ft log. Production is approx. 1- 1.5 bushcord / hr 905-691-2237
Livestock
STANDING AT Stud - Reg. Foundation Q.H. "Pocco Del Rebel", Red Dun $400 L.F.G.; Reg. Pony of the Americas "Solid Gold Rainmaker" $300 L.F.G.. Call 519-323-6294
M + M Livestock Wanted: Culled cows and old horses. Highest prices. Call collect 519-836-2070 Guelph or 905-852-3238 Uxbridge.
REGISTERED SPECKLE Park bull for sale. $2500 obo. Call 519-321-1124
PULLETS ready to lay brown or white. New and used equipment. No order too small. Pullets Plus Inc. Phone 519-669-2225.
Wanted: Old and crippled cull cows. Must be able to walk and be drug free. Cash paid. Call Dennis 519-654-7833.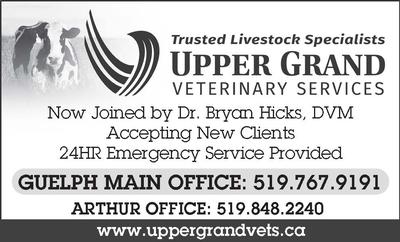 Produce For Sale
4X5 ROUND bales of cow and horse quality hay available. Also 4x5 round bales long wheat straw. Trailer loads of 40 bales. Small square bales of 1st & 2nd cut hay, available in 300 bale loads. Call Riley, 519-321-1012, R&-M Gorman Hay & Straw Inc.
RED POTATOES for sale. $14 for 50 lb., $4 for 10 lb. 9190 Hwy.#6, Kenilworth. 519-848-6231. No Sunday sales.
GOOD HORSE hay, small squares, no rain. Approx. 100 bales left. $6 a bale. Call 519-848-3244
MT. FOREST Ag Auctions: Hay, straw, & firewood consignment auction every Wednesday 10am. Located east of Mount Forest @ 43853 Southgate Rd 4. 519-323-1043
STRAW, 4x5 round bales of cut wheat straw, stored inside $30 per bale, Drayton area 519-638-2258 or 226-750-1578
FIRST CUT, dry horse hay, 4x5 bales, no rain, stored inside and haylage bales. Call 519-314-8814
HAY, 4x5 round bales of timothy clover mix, first cut, no rain, stored inside $60 per bale. Drayton area 519-638-2258 or 226-750-1578
STRAW & HAY: large squares of 1st & 2nd cut hay. Straw, small squares wheat straw in bundles of 21. Call 519-575-5723
HAY AND STRAW - will deliver in loads of 42-4x5, 72 big square bales. Call Reg Small 519-323-2191.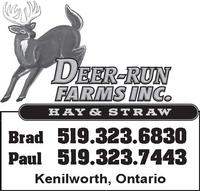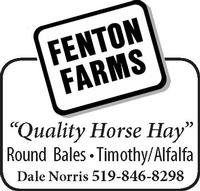 Homes' Apartments & Condos
Apt. for Rent
BEAUTIFUL 2 BEDROOM, 1 washroom walkout apartment available for rent starting May 7th. Heated floors, sky light, appliances, one car parking and its own laundry facilities included in the whole unit. Minutes away to all amenities: grocery stores, library, post office and parks. Located William St. and Main St. in Palmerston. $1600/month. For all inquiries, please contact Nelly 905-872-5281 or email nmoreira4@rogers.com
Condos for Rent
SENIOR CONDO for rent at Drayton Village on the Ridge. 3 bedrooms, 2 bathrooms, 2 walkout balcony condo is located on 2nd floor. All appliances and utilities inc. Heated indoor parking. $2300/-month. Contact 519-748-8705
Items for Sale
Antiques
Iron Bucket - ALIVE but CLOSED! Inspired. But buying loads of new Old Treasures. Buy - Sell - Trade -Appraisals. Wants toys, vinyl, crocks, cast iron, vintage clothes, fabrics, crates, boxes, cupboards. Cool Fun! Metaphysical...we're stoned every day! By appointment. St. Andrew St. S. 519-787-8287 (machine)
SPECIAL RECORD Sale, Rock - Blues ETC. Elton John, Stones, AC/DC, good Blues, Doors. Early and Very Good to Mint. About 800. For real serious buyers only! By Appointment - Not for Flea Folk. Iron Bucket 519-787-8287
Items for Sale
CONTRACTOR REPAIRS, restores, remodels, builds and jacks up farm and storage buildings, cottages, homes, etc. Also roofing, siding, doors, windows, fencing, cement work, beams, posts, timbers, framework, rafters, foundations, decks, docks installed, replaced, repaired. Brian McCurdy 519-986-1781/-519-375-0958.
LOGS FOR Sale, 14 to 30 feet long. Different thicknesses, from fence row clearing. Call 519-856-4919 or 905-299-4919
FIREWOOD for SALE, under roof and ready to burn, Call 519-323-1497
WHITE PINE LUMBER- 1in. x 8, 10, 12in. Call for a quote. A. Rogers Sawmill, one mile east of Ennotville. 226-821-3990. Hours: 8am-12, 1-5pm.
PRESSURE WASHERS- A unit to suit most every application, cold, hot and pressure cleaning detergents. Tri-Mech Inc . 519-638-2836
FIREWOOD- SEASONED hardwood. 12" or 16" lengths available. Picked up or delivered. 519-846-5010 or cell 519-575-5723.
VAN TRAILERS to rent or buy. Call Reg Small for more details, 519-323-2191.
FIREWOOD -OPEN for Season. Pure hardwood slabs 15" long, no small pieces. Also, 14" split wood; all on cement. Mixed loads welcome 519-369-6123
MAPLE SYRUP- Amber and Dark available- $10/1L, $20/2L, $39/4L. James Gingrich 7387 3rd line 2 km west of Yatton on north side. 519-669-9895
VARIOUS PALLET racking and particle boards for sale. Call to inquire on sizes available. 905-282-9300
A BUSHCORD(S) of well seasoned hardwood in 12" lengths. $350. Call 519-994-6075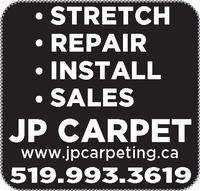 Mortgages and Financial
Private Mortgages
THE MORTGAGE PEOPLE- We do difficult mortgages. 1st, 2nd & 3rd mortgages. Residential, Commercial, Industrial, Farms & Land. Good credit, bad credit, self-employed. We will go to your home. Mortgages are cheaper than your credit card. REVERSE MORTGAGES. No fees up front. One week to complete after everything is signed. Could be sooner! Call Don Madill #M08004349 or Austin Ainslie #M18002432 519-743-5361 or 1-800-361-51141 (Lic#10300) www.themortgagepeople.ca
Personal Services
Cleaning Services
WINDOW CLEANING -J&S Maintenance offers professional residential and commercial window cleaning services. My wife and I would be happy to provide you with a free quote. Please visit our website or call to set up an appointment. 519-221-6815, www.jswindows.org
Personals
OUR LADY OF FATIMA'S "Great Promise" of Aid for Salvation. "I promise to help at the hour of death, with the graces needed for their salvation" whosoever on the first Saturday of five consecutive months shall confess and receive Holy Communion, recite five decades of the Rosary and keep me company for 15 minutes while meditating on the 15 Mysteries of the Rosary with the intention of making reparation to me. St. Joseph Catholic Church, Fergus, ON. Masses: Sat. 5pm, Sunday 9:00a.m. and 11:00a.m.
PROMISES OF THESACRED HEART- Pious souls consecrate to the Sacred Heart of Jesus, in the spirit of reparation, the First Friday of each month. Jesus himself, made twelve promises to those who practice and promote this devotion. 1. I will give them all the graces necessary for their state in life. 2. I will give peace to their families. 3. I will console them in all their troubles. 4. They shall find in My Heart an assured refuge during life, and especially at the hour of death. 5. Tepid souls shall become fervent. 6. Sinners shall find in My Heart the source and an infinite ocean of mercy. 7. I will bless the homes in which the image of My Heart shall be exposed and honored. 8. Fervent souls shall speedily rise to great perfection. 9. I will give to priests the power to touch the most hardened hearts. 10. Those who propogate this devotion shall have their names written on My Heart, never to be effaced. 11. I will pour abundant blessings on all their undertakings. 12. I promise thee, in the excess of the mercy of My Heart, that its all-powerful love will grant to all who receive Holy Communion on the First Friday of every month, for nine consecutive months, the grace of final repentance, and that they shall not die under my displeasure, nor without receiving the Sacraments, and My Heart shall be their secure refuge at that last hour. Catholic Missions in Canada 1-800-361-1128.
Storage
48' & 53' DRY TRAILERS to rent or sell, also 20' sea containers for rent. Merlin Rice, Mount Forest. 519-323-1208
SWAVING STORAGE- Mobile Storage units 16ft. to 22ft. long. Delivery and pick-up. 519-843-1299 Website: www.swaving.ca Email: mike@swaving.ca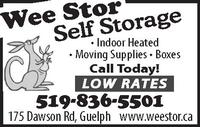 Pets
Pets for Sale
ADORABLE BLONDE female cockapoo puppy. First shots, de-wormed. Ready for good home. $2000. Call 519-323-9306.
Professional Services
Business Services
BOOKKEEPING and PAYROLL Services for small businesses including AR/AP, Government Reportings, Preparation of Financial Statements and Budgets. Please call A.S.E. Equipment/-Cartworl Inc. 519-843-6111 or email admin@aseequipment.ca to set up an appointment
Custom Work
CUSTOM Manure handling (solid or liquid). Skidsteer service available. Barn cleaning etc. 519-831-3730.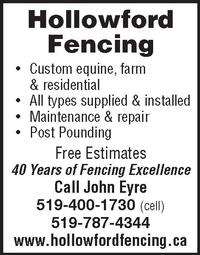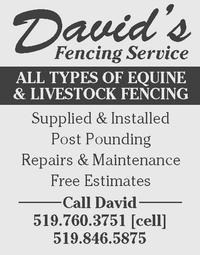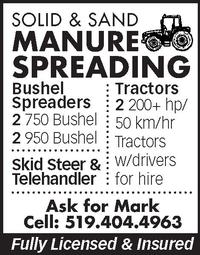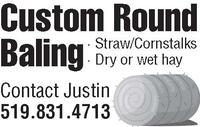 Lawn & Garden
GIB'S GARDEN Property Service. Spring cleanup, garden maintenance, lawn care, patio construction, painting, power-washing, trimming, odd jobs & more! Our team offers a wide variety of quality services. Let us take care of your property needs! Contact Matt 519-362-4896 or gibsgardens11@outlook.com
FIRST Season OPEN!! Veggie-Patio Mini-Gardens, Bedding Tomatoes, Herbs, Lettuce, etc. Hostas, Assorted Perennials. 9312 Concession 6 N, Mount Forest (first farm left, north of Spring Valley Park Rd or SR5E) CLOSED SUNDAYS
STUMP GRINDING- Fast, efficient, versatile track machine great for any situation. For a quote call Robin 519-767-4924 or e-mail info@robinaggus.ca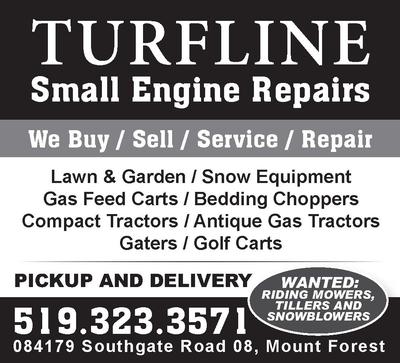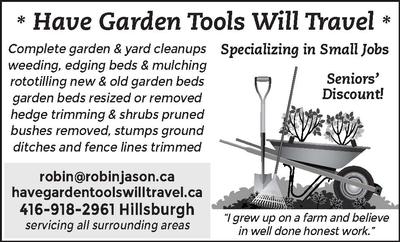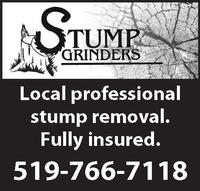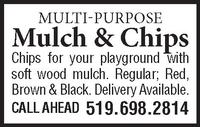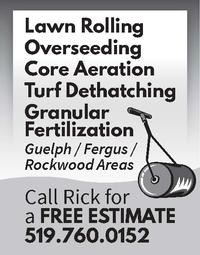 Scrap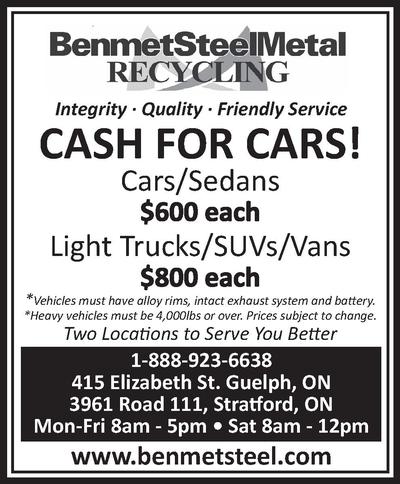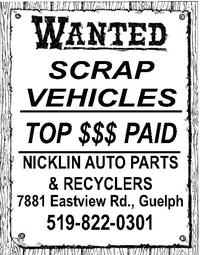 Trades and Services
MARTIN WELL Drilling- Rejuvenate & clean up existing wells. Well extensions. De-commission abandoned wells. Flow tests. Pump service & water treatment. MOE certified. Call Len 519-846-9162, Jeff 519-846-1993 or Mike 519-638-8928. www.martinwelldrilling.com
INTERIOR PAINTING & custom spraying: Cabinet refinishing, doors, trim, furniture and more! Call to arrange a free estimate. 519-660-9831
SMALL ENGINE Service and repair to all makes. Great rates & fast service. Serving Fergus, Arthur and Elora areas. Call 519-766-5633.
SUMP PUMP installations & inspections. Back-up systems installed. Licensed and insured. Ken, 519-831-0422
WETT CERTIFIED Wood & Pellet Technicians. Pellet and wood stove: sales, sweeps, diagnostics, parts, repairs, inspections & installations. Showroom featuring Harman & Enviro Pellet Stoves open by appointment. Doug Beatty & Sons, 519-848-3273
LICENSED PLUMBER- 40 years experience. All types of installations and repairs. Hot water tanks, water softeners installed. Call Ken for a free estimate, 519-831-0422.
RON'S DRYWALL and Renovations. Over 35 years experience. Call Ron at 519-496-7539 or email ron.spncr@gmail.com
STONE MASONRY: Both new and restoration. All types of stonework, flagstone walkways, walls, fireplaces, firepits. No job too small. Serving Elora, Fergus and Belwood. Leslie DeKhors, 416-545-7440(Elora) or lesliedekhors@gmail.com
AB RENOVATIONS Basement, Bathroom and Kitchen renovations, ceramic tile, wall papering, painting, drywall, you name it. Affordable pricing. Free estimates. Fergus and surrounding area. Alan 519-787-1202 or cell 519-830-1202
GREENWAY CHIMNEY: Installs, sweeping, inspections, masonry repairs. WETT certified for your safety. Call 519-820-6369.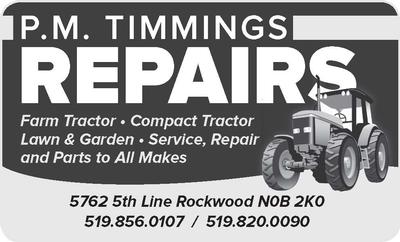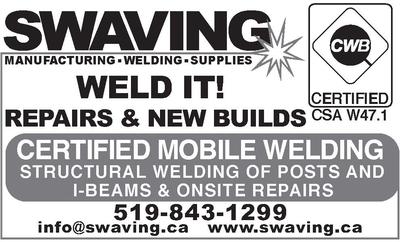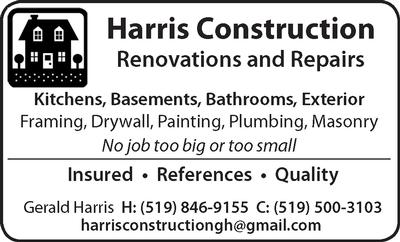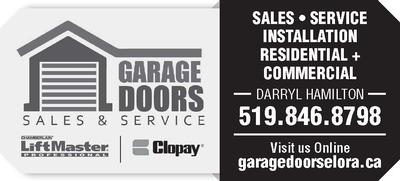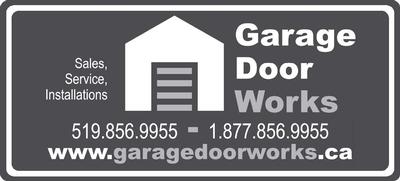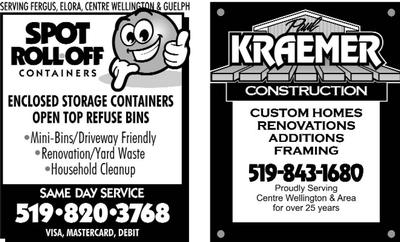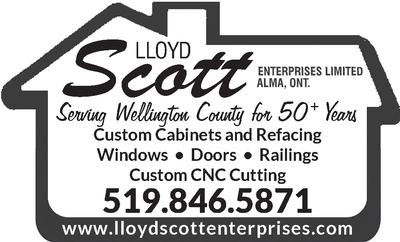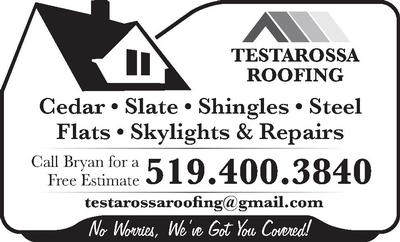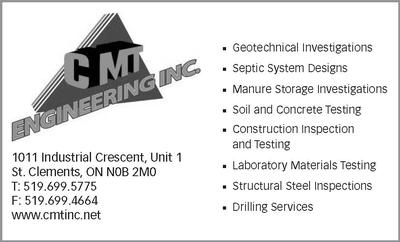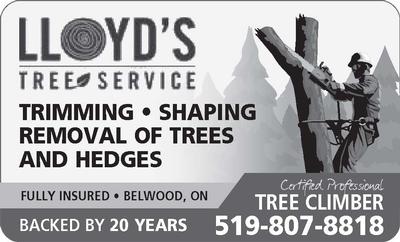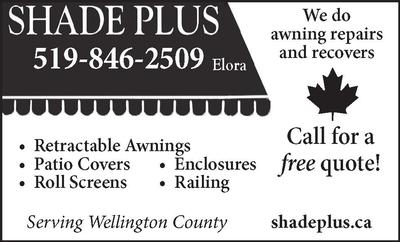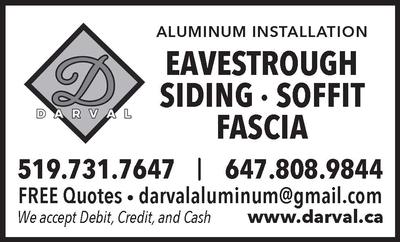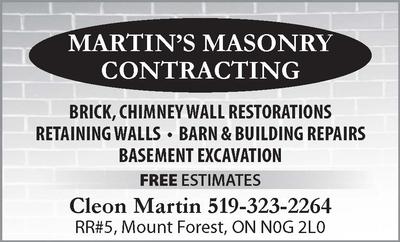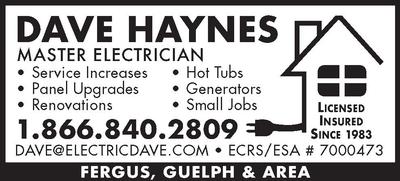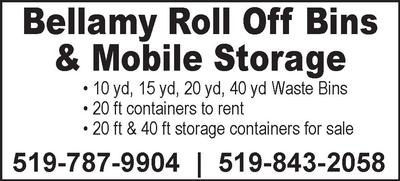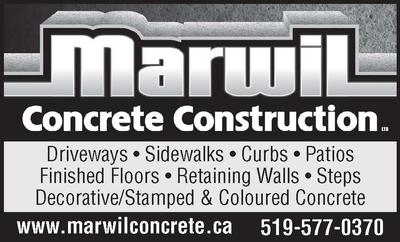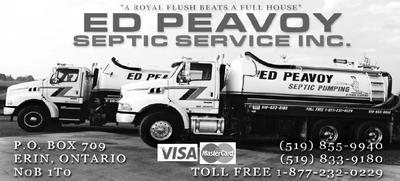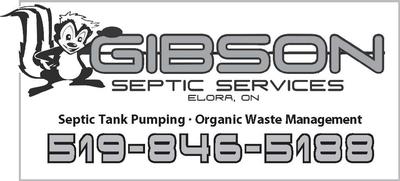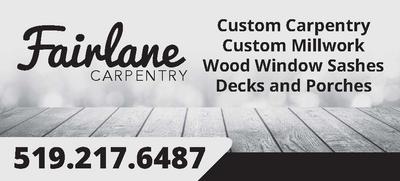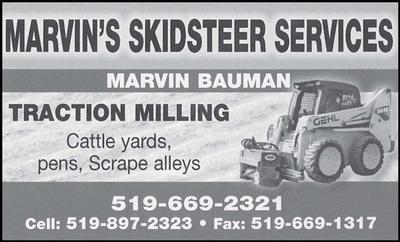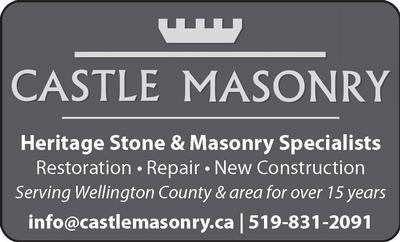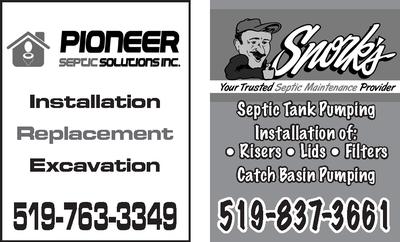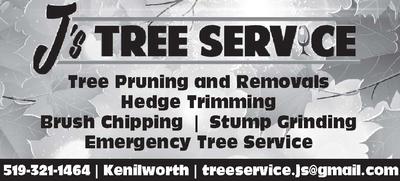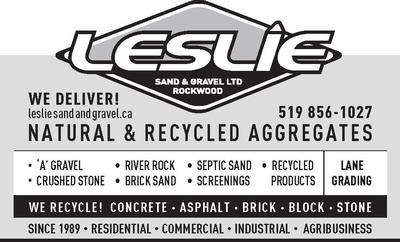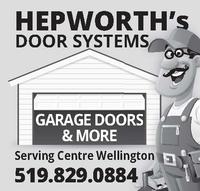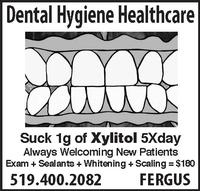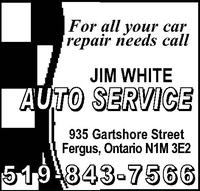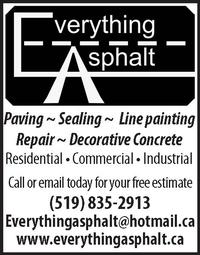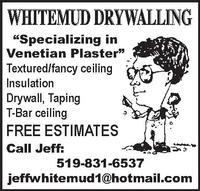 Recreational
Cottages
HOUSE/COTTAGE with a bit of land/acreage wanted. Quiet, non-smoker/abstainer. Non-furnished or partially furnished okay. Pets must be welcome. Security/damage deposit available. Please contact: baldrickbonkers@gmail.com
Vehicles
Cars
WANTED RESTORED 1957 BelAir ragtop or convertible in pristine condition. Call 519-669-9691.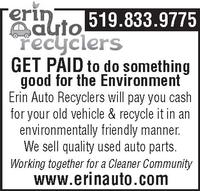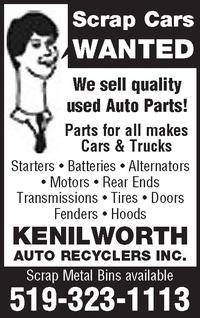 Trailer and Mobile Homes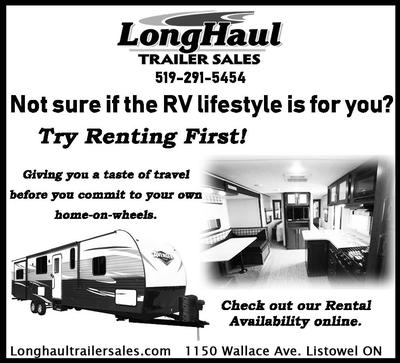 Wanted
Help Wanted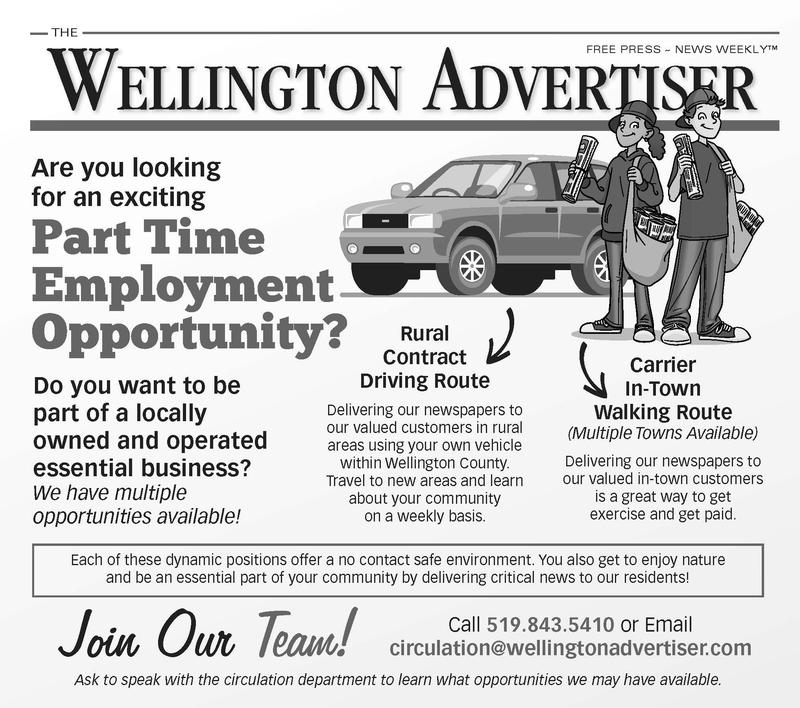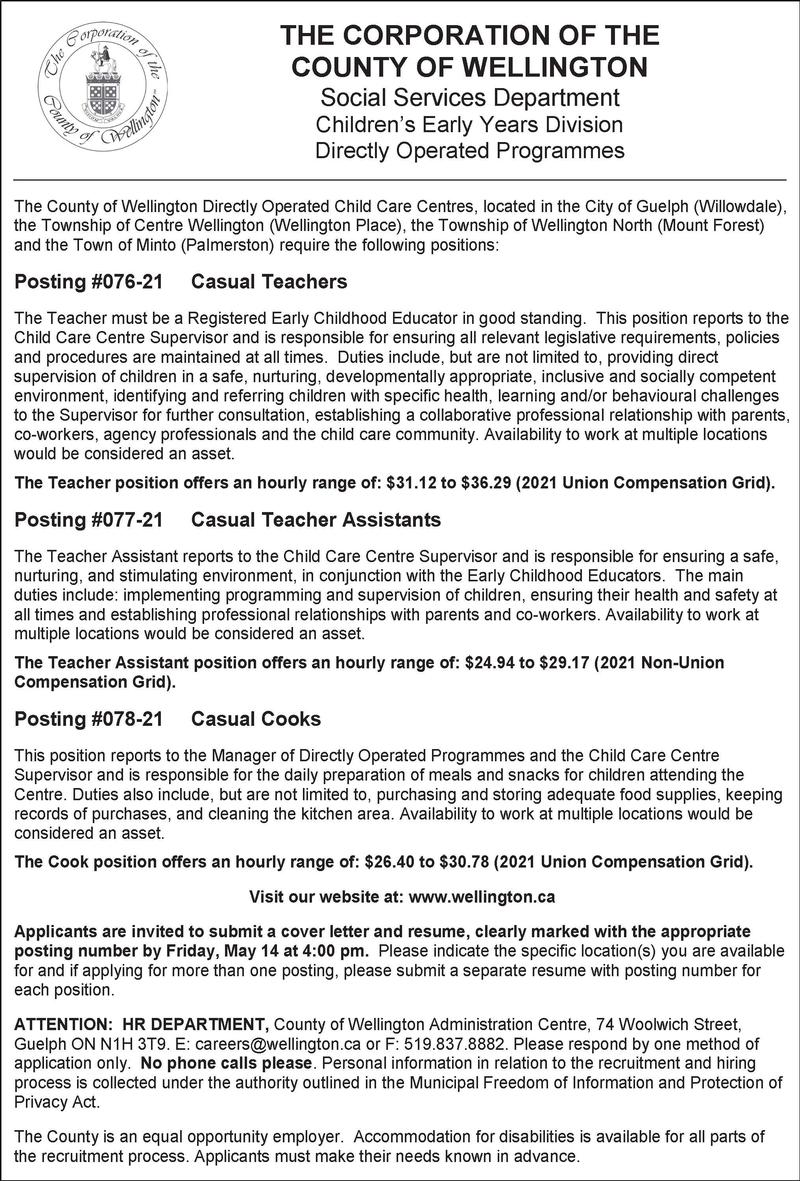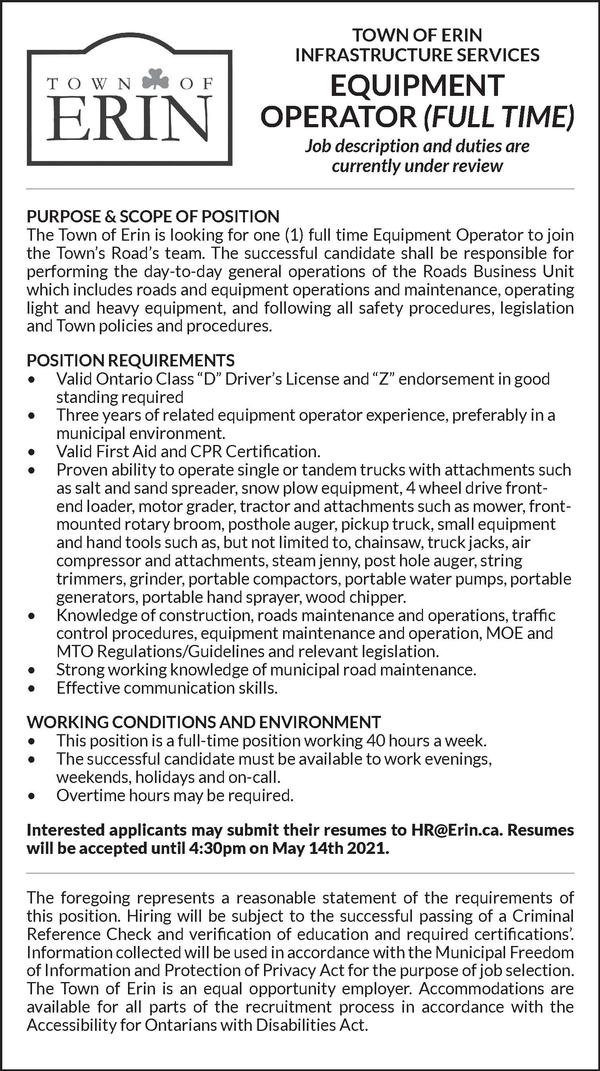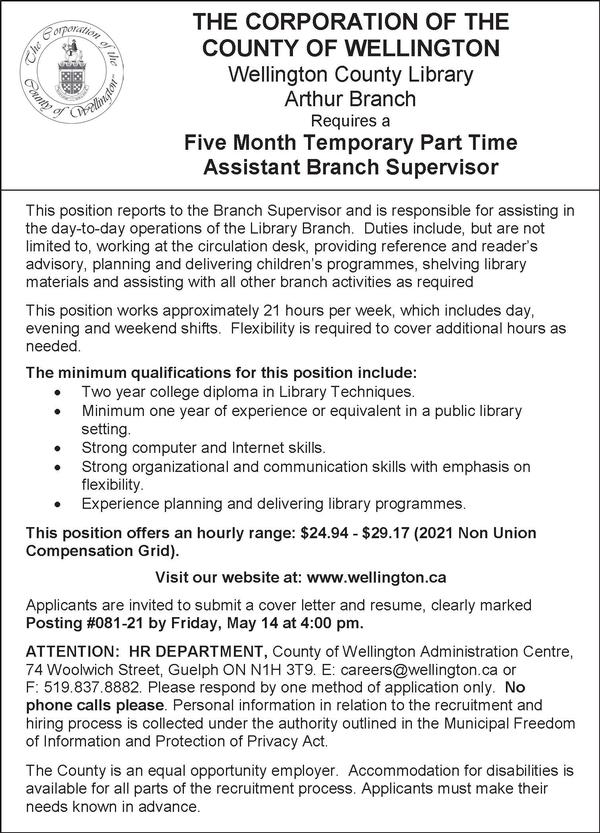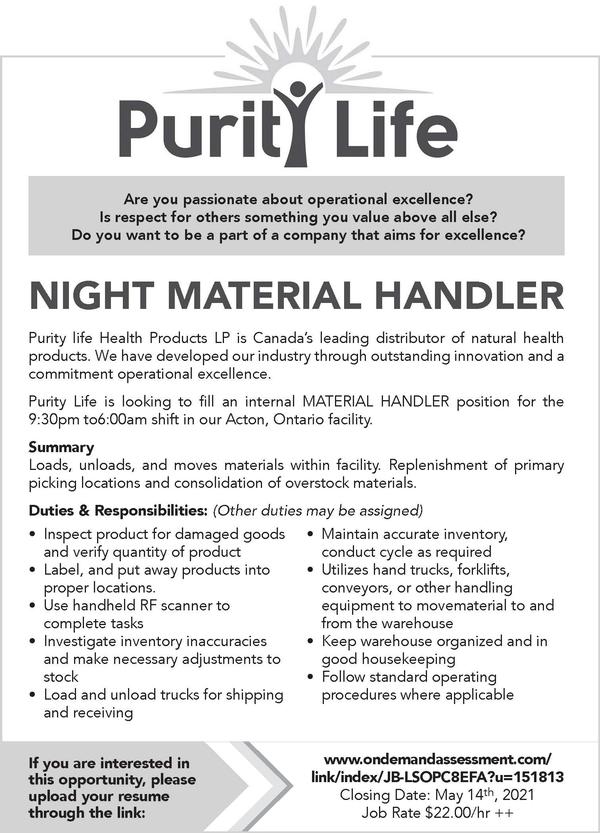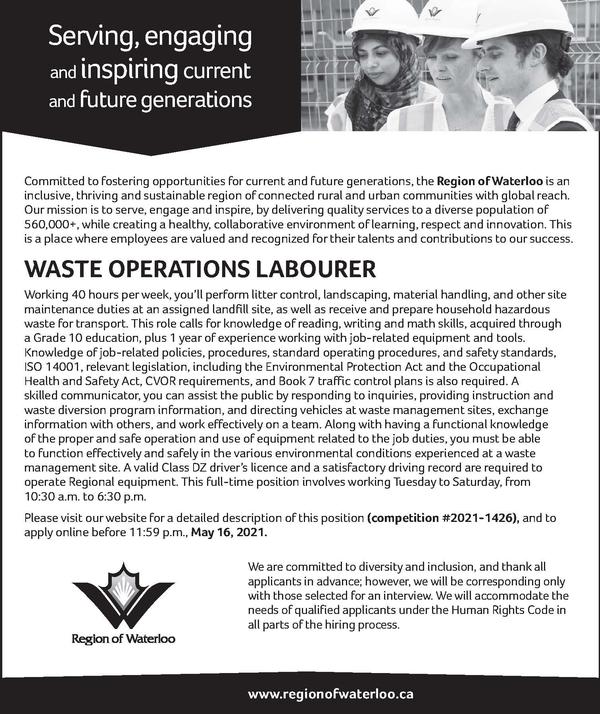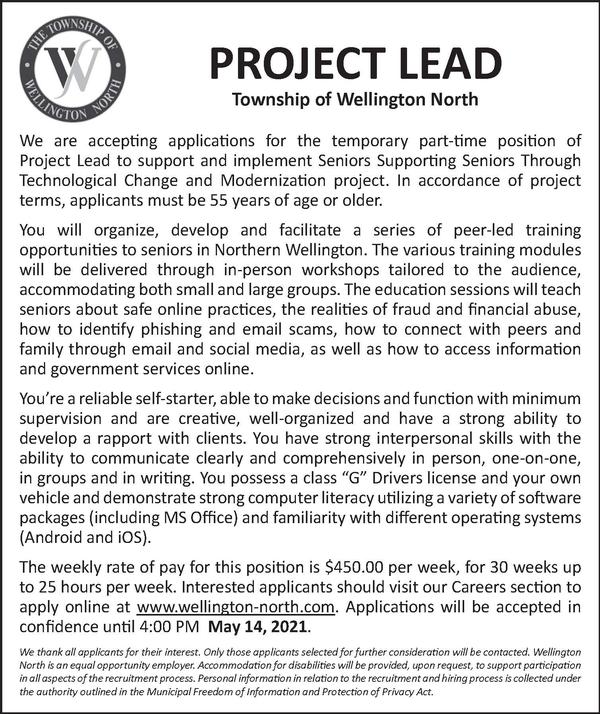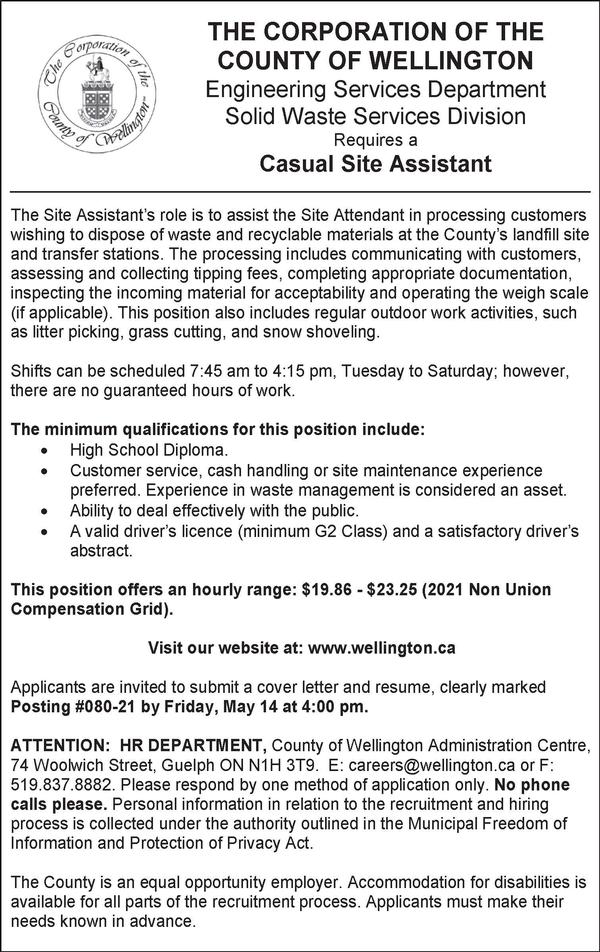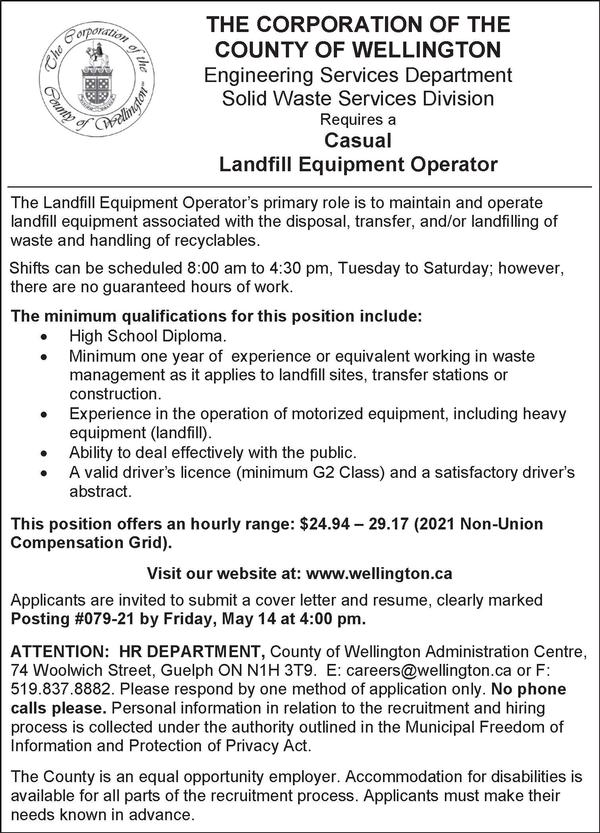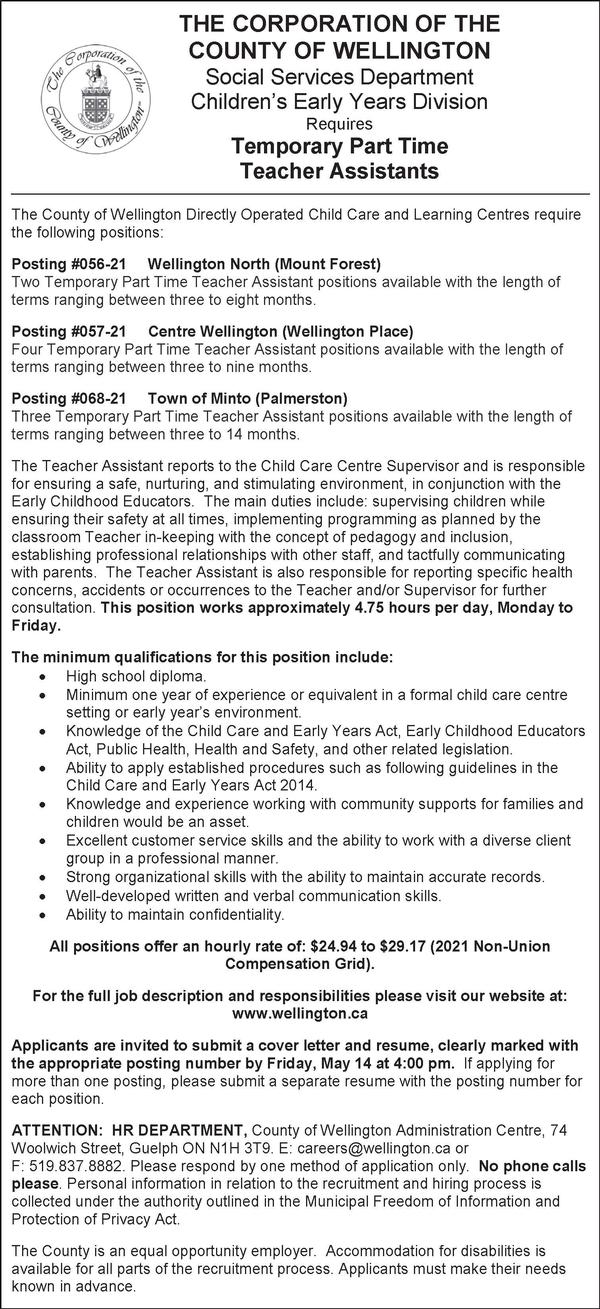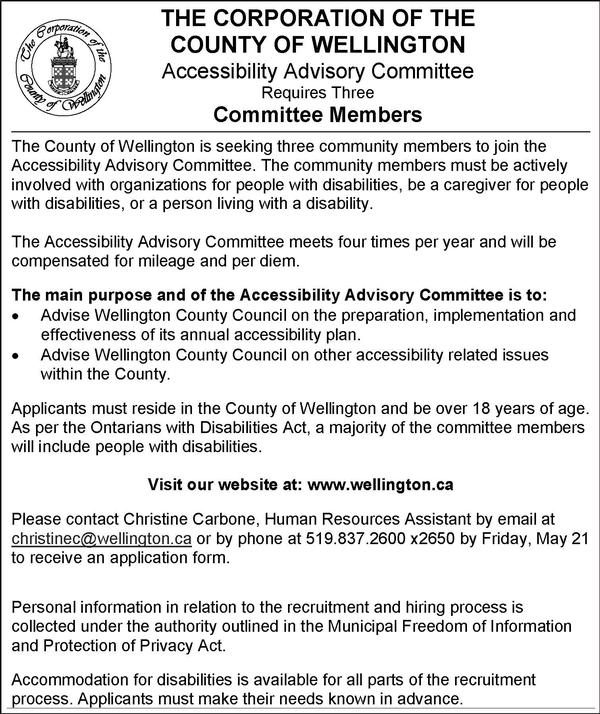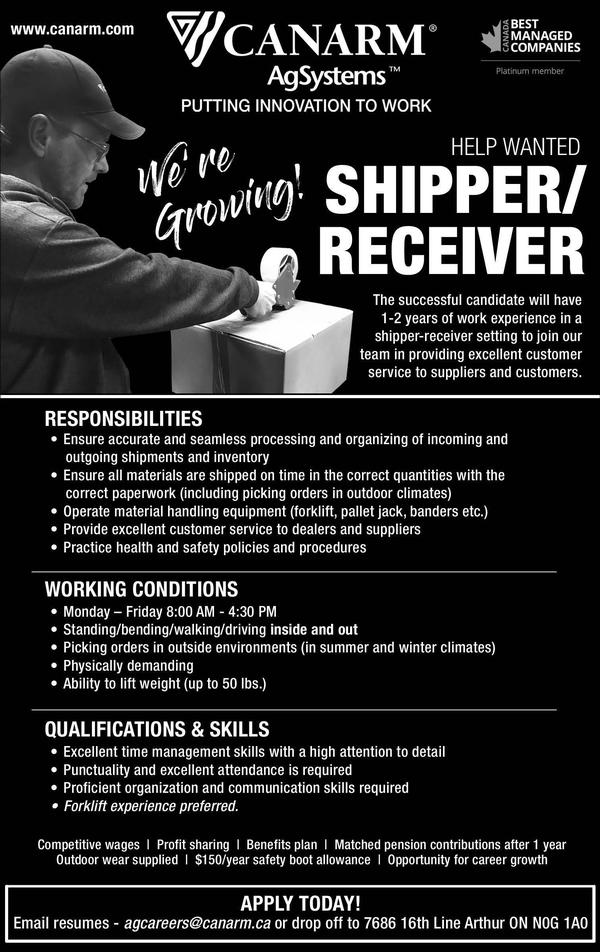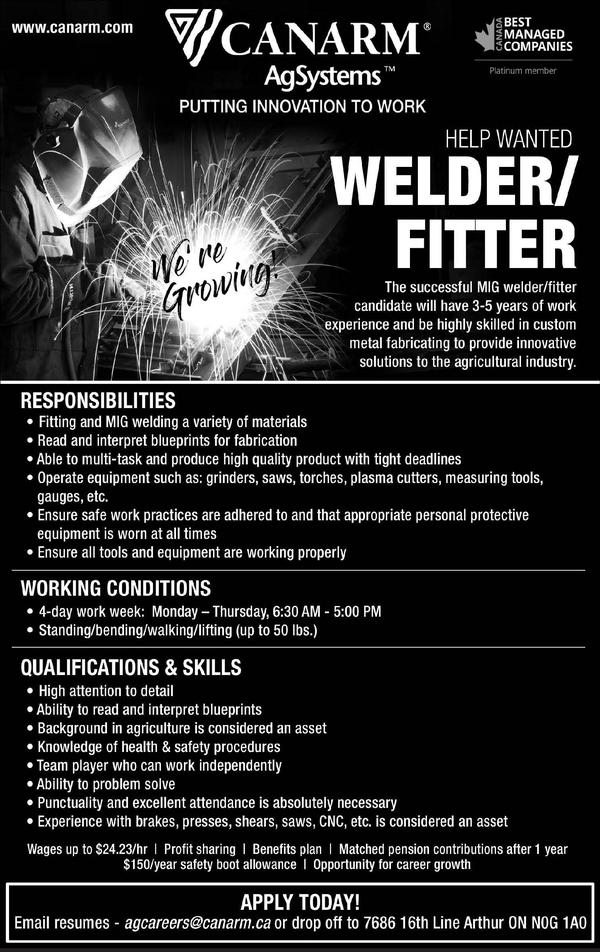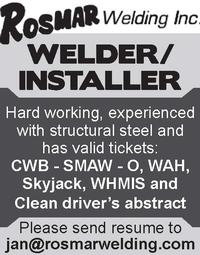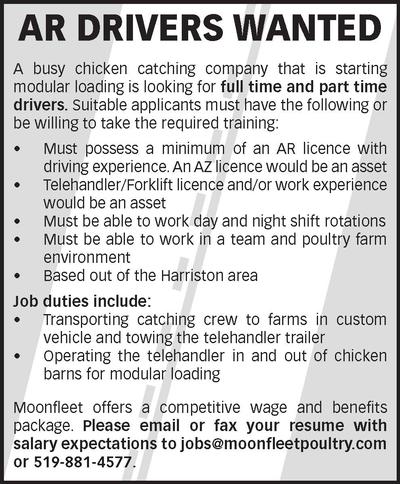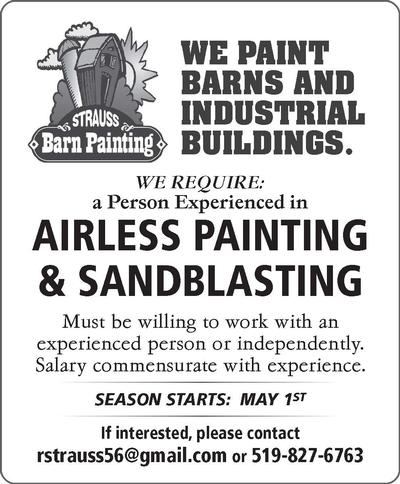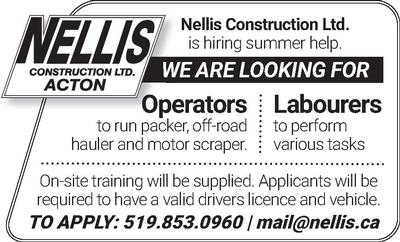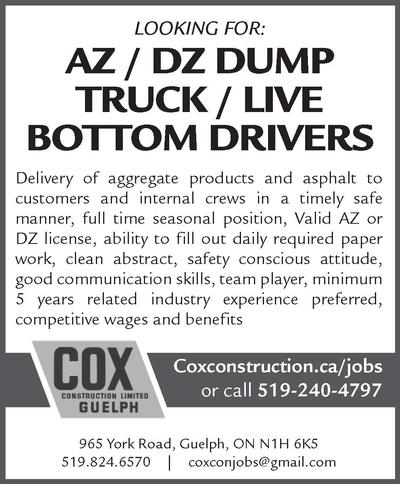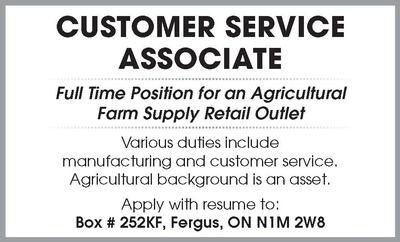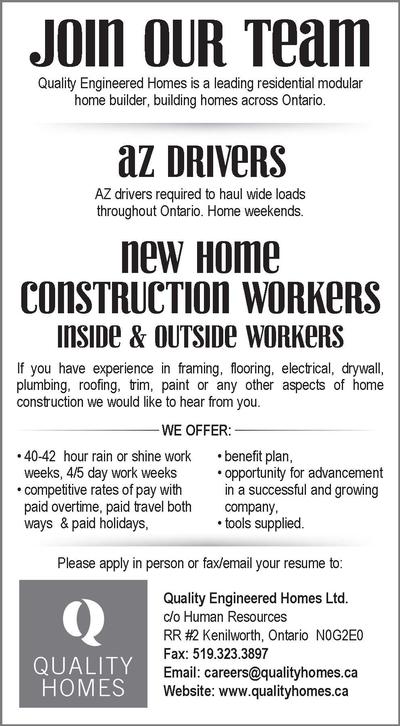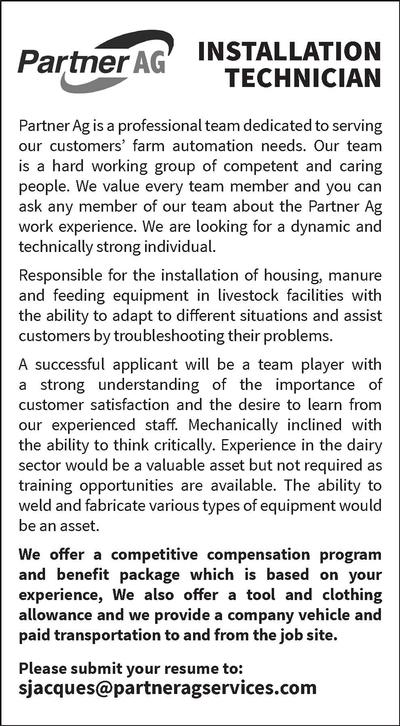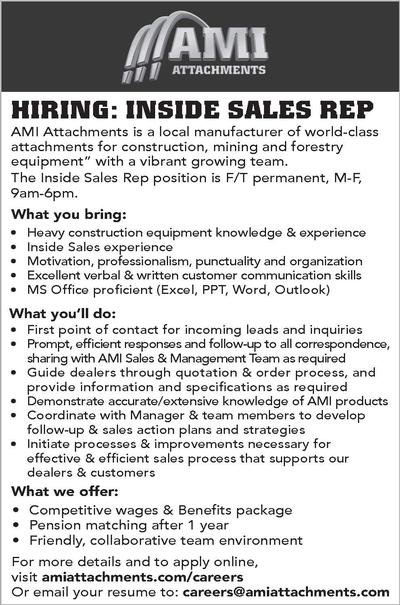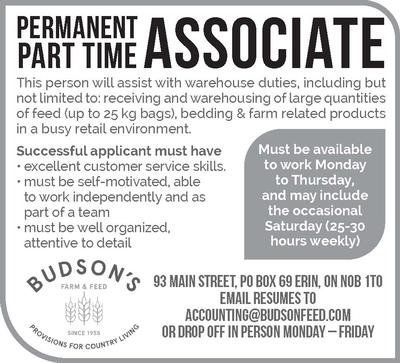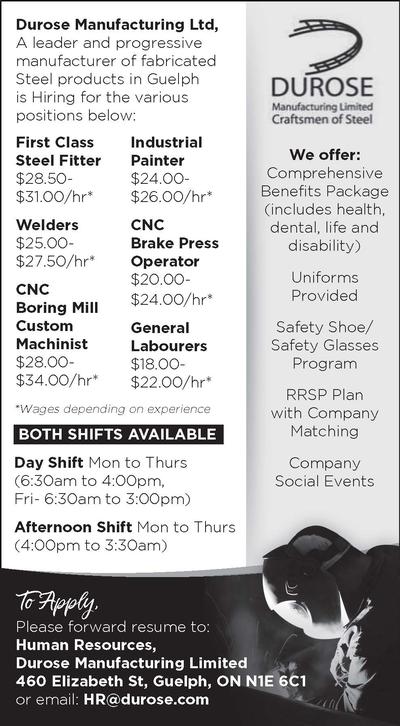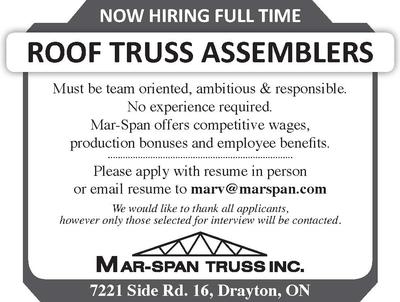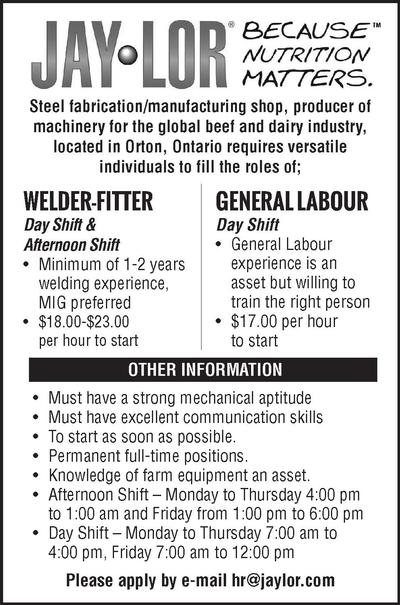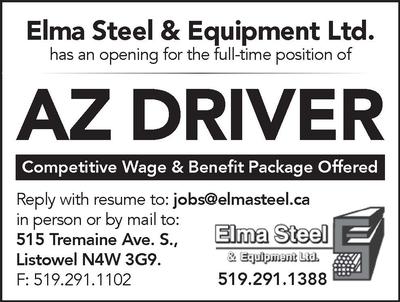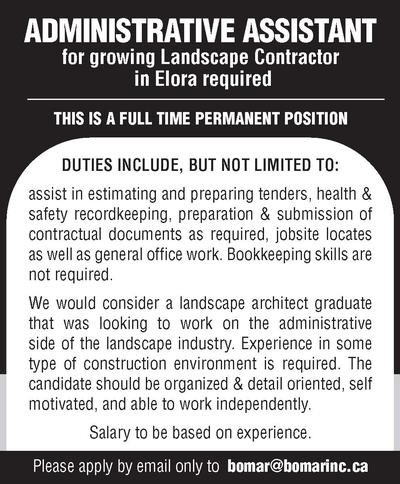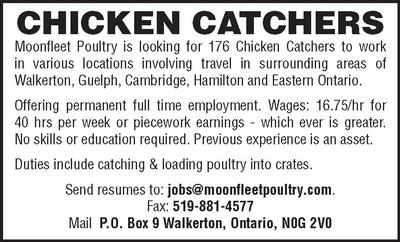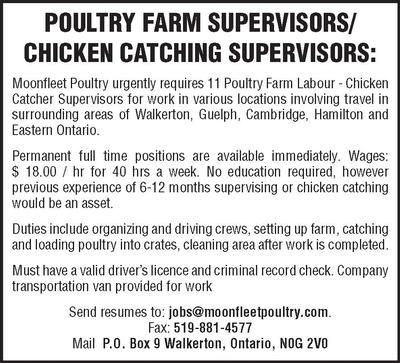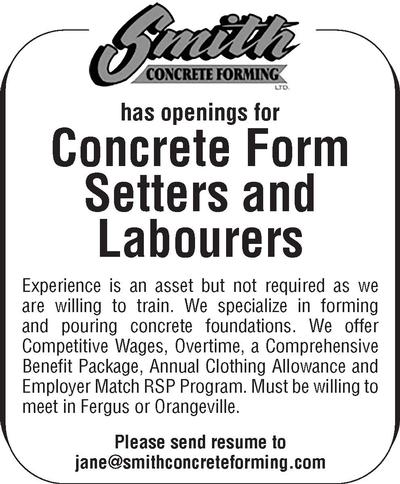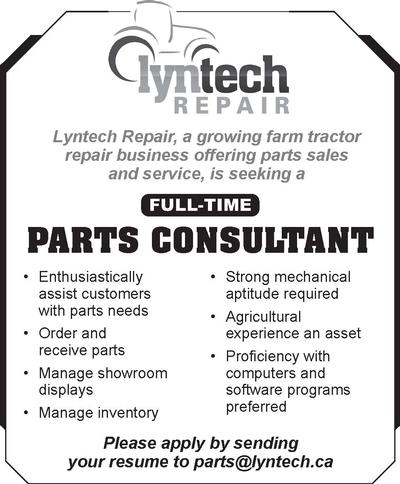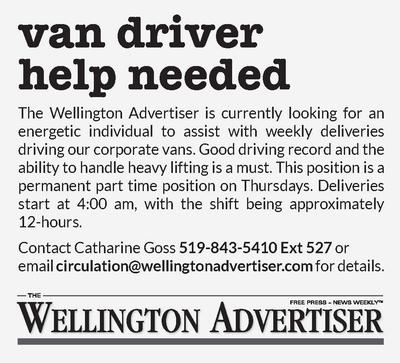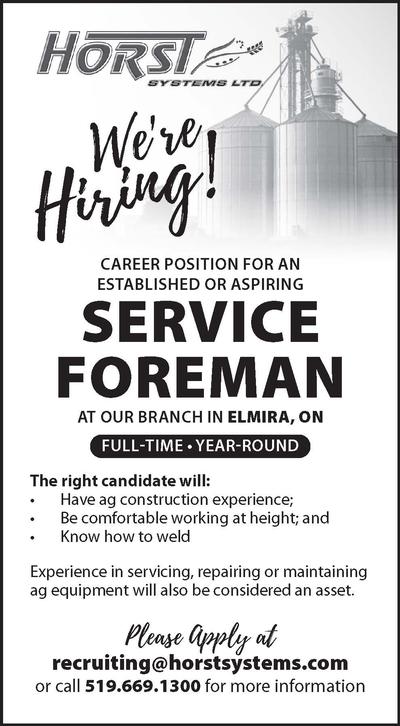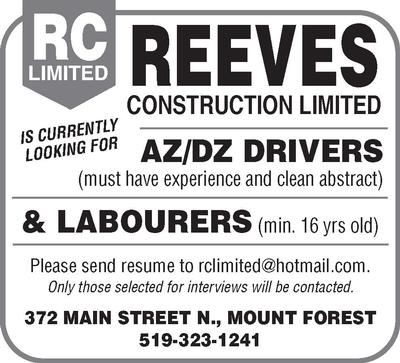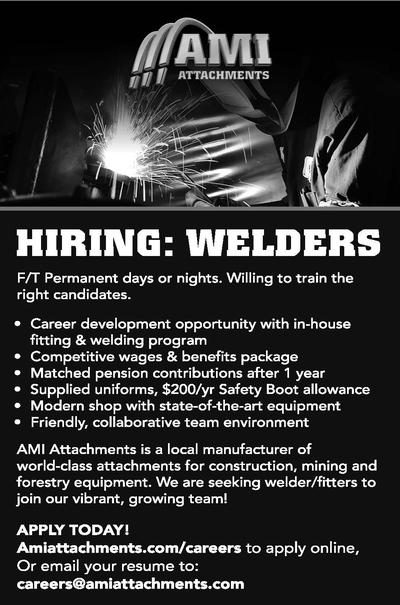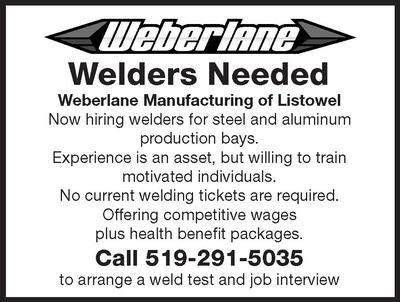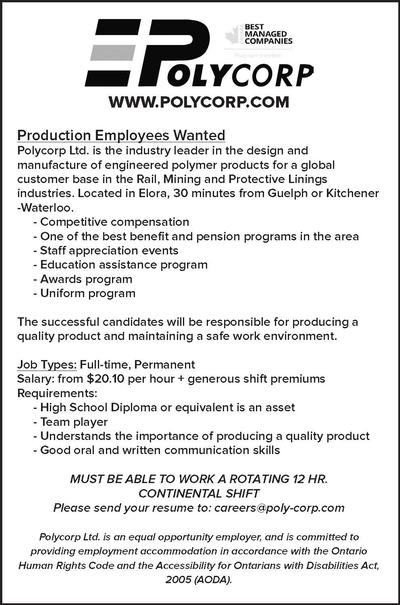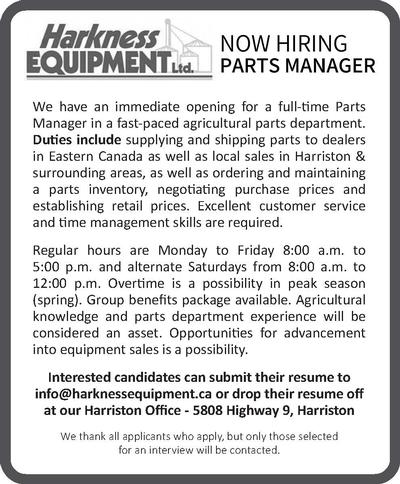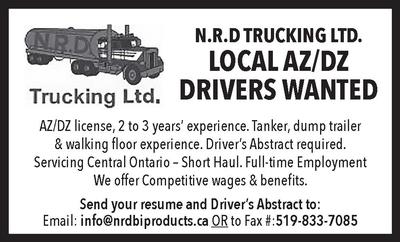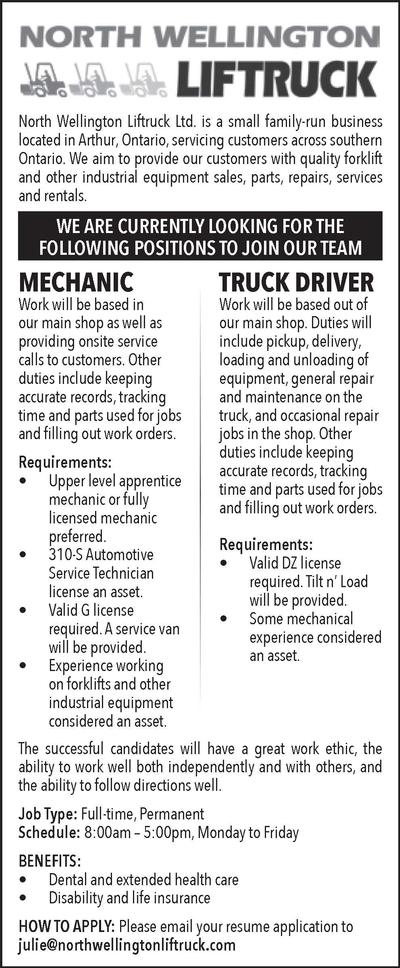 Items Wanted
RECORD ALBUMS wanted- rock, blues, punk, metal. Also looking for 60's-70's receivers, amps, turntables etc. and naptha gas style Coleman lanterns. Call Dave 519-824-3029 or email: blazerville74@gmail.com. If text preferred please use 905-788-5577
STEEL CAR HAULING trailer, tandem wheel, reasonable. Also wanted used open-concept steel box trailer w/ramp for approx. $500. Call 519-669-9691.
USED ADLER brand industrial sewing machine. Reasonably priced. Please call 519-669-9691.
ANTIQUES AND Vintage Treasures We are looking for household items like furniture, porcelain, oriental carpets and collectables. Please call or text Neels 519-830-9277 or Email neelscompion@gmail.com
WANTED-unwanted snowblowers, lawn tractors, rototillers, older farm tractors and equipment for reconditioning. Will pick up. Bob 519-400-2925 No Sunday calls.
WANTED TO BUY: box of 45 records for juke box. Old rock 'n roll, 50's & 60's. Call 519-669-9691. ab
USED GMC Pickup truck wanted with 8ft. box. Reasonable. 519-669-9691
WANTED TO BUY- COCA COLA collectibles and any other soda collectibles. Also looking for pinball machines, old milk bottles, old dinky toys and gas and oil collectibles. Call 519-830-0759.
PINBALL MACHINES ... pinball machine just sitting collecting dust? Call Bruce at 519-827-6221. I'll come have a look and offer fair value for it.
USED JUKEBOX (Seeburg or Wurlitzer) showing mechanism. Early 60's to early 70's for fair price. Call 519-669-9691.
BICYCLE BUILT for 2, any condition. Call 519-843-3429
Wanted to Rent
REPUTABLE TENANTS seeking long-term lease or lease-to-own property in Erin, Hillsburgh, Orton area. Looking for a larger country home preferably with additional 2500+ sq. ft storage building(s) with hydro. References available. Please call 519-943-5023 or email rental@execulink.com
WANTED FEMALE Room mate, faithful & responsible to share rent $500/month Call 226-332-4836