Classifieds
Farm and Livestock
Farm Equipment
NEW IDEA - 2-row Super Sheller, narrow row, field ready. $750 obo. Call 519-824-4599 (Aberfoyle)
PRESERVATIVE ACID tank, for round, square baler, 30 gallon, with pump, Agco Allis model, stored inside $675. John Deere two row siliage corn harvester head, with slip clutch $1,650. 18.4x34 duals, bolt on, could be used as tires and rims $1,250. John Deere garden plow, 3PH three furrow, ace bottom $750. Dan Seifried, Harriston 519-338-2688
Horses
OUTDOOR RETIREMENTboard available near Fergus. Quiet setting with pastures $375/month includes hay & run-in shelter. 519-843-7773.
Livestock
PULLETS ready to lay brown or white. New and used equipment. No order too small. Pullets Plus Inc. 6880 Line 86, Elmira. 519-669-2225.
Wanted: Old and crippled cull cows. Must be able to walk and be drug free. Cash paid. Call Dennis 519-654-7833.
M + M Livestock Wanted: Culled cows. Highest prices. Call collect 519-836-2070 Guelph or 905-852-3238 Uxbridge.
Produce For Sale
MT. FOREST Ag Auctions: Hay, straw, & firewood consignment auction every Wednesday 10am. Located east of Mount Forest @ 43853 Southgate Rd 4. 519-338-5267
STRAW & HAY: large squares of 1st & 2nd cut hay. Straw, small squares wheat straw in bundles of 21. Call 519-575-5723
STRAW FOR SALE: 4x5 net-wrapped, dry, stored inside wheat straw. $44/bale. Call 519-654-2505
HAY FOR SALE: 4x5 700 pounds 1st cut, this years crop, round bales, no rain. 519-835-2425, 519-341-3464
HAY AND STRAW - will deliver in loads of 42-4x5, 72 big square bales. Call Reg Small 519-323-2191.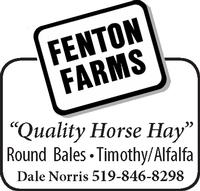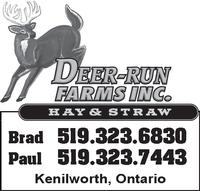 Homes' Apartments & Condos
Apt. for Rent
ACCEPTINGAPPLICATIONS for a basement (down town Fergus) apartment 1 bedroom plus den. Own entrance and driveway. Hydro. Gas and water included. Own laundry room. Best suited for those under 6 foot. Contact Donna at donna.419@hotmail.com
FERGUS 2-BEDROOM apartment. Kitchen-livingroom open concept, private balcony, hookup for washer and dryer. Mature tenant. No smoking/no pets. $1950/month + utilities. Available November. 1st. Call 519-993-1161.
MOUNT FOREST 2 bedroom upstairs apartment, close to downtown, 4 appliances, tenant pays hydro, small yard, parking. Available November 1. 519-323-1124
MOUNT FOREST large main floor 2-bedroom apt., private entrance, use of backyard. Also 2-bedroom apartment in Harriston. 519-323-4091
Vacation Properties
FLORIDA RENTAL (Hernando Fl.) Furnished 2-bedroom, 3-bath home. Includes power (first $100 pd, over $100, renter pays difference). Cable TV with wifi. Garbage pickup. Walking distance to lake, park & bike trails. Available Oct.1/2022-Apr.1/2023. $1800/month with $800 security deposit. Please text Jan, 1-815-222-9580 with name and phone number for further information. Motor home/travel trailer parking available on site.
Items for Sale
Antiques
IRON BUCKET- We are NOT CLOSING- We are changing & adapting to improve- just arrived Royal Doulton Queen Elizabeth & Prince Philip- rare & good-early scales, great portable radios, granite ware. We buy-sell-trade. Less is better- "Lots of Deals" We love Fergus-staying, aim to be better. Leave message on answering machine, 519-787-8287. St. Andrew St. W. 10:30 'til 5ish.
WE ARE looking for antique furniture, porcelain, oriental carpets and art. Please call or text Neels 519-830-9277 or email neelscompion@gmail.com
Garage Sales
312125 16TH LINE East Garafraxa. Sat.Oct.8th, 10:00am-2:00pm. Queen Elizabeth cups&saucers, silver plate&goblet, metal toys, radios, mink fur coat, Group of Seven and Norval Morriseau aboriginal prints, golf clubs. Some free stuff!
END OF SEASON garage sale. October 8,9,10. 9am-?? 5902 Wellington Rd#7 (Elora Road) Guelph. Knick-knacks, household items, air-compressors, hand tools, power tools, glassware, jewelry and much, much more.
MULTIPLE FAMILY YARD SALE, 166 Maple St., Drayton on Saturday, Oct. 8, 8am-3pm. Good quality children's and adult clothes, home decor, books, toys, tools, Jeep Liberty car parts and much more.
Items for Sale
CUB CADET RIDING lawnmower with new blades $1600/ 10 cubic ft dump trailer for mower $150. Blue mobility lift chair $350. Blue sofa bed $300 obo. Peacocks: 2 Blueneck pairs $350/pair, 1 white pair for $400. 2 incubators, $100/ea. Peacock feathers, $1 each. Please contact 519-848-3851
FIREWOOD: WELL seasoned hardwood, cut and split to 14" length, $70/ face cord. Kenilworth area. Delivery available. 519-323-4393
FIREWOOD- SEASONED hardwood. 12" or 16" lengths available. Picked up or delivered. 519-846-5010 or cell 519-575-5723.
FIREWOOD 12" lengths split, seasoned, stored indoors $60/cord 7591 8th Line, Drayton. 519-638-7791
SNOWBLOWERS: NEW walk behind snowblowers in stock at Turfline Small Engine. Call 519-323-3571
WHITE PINE LUMBER- 1in. x 8, 10, 12in. Call for a quote. A. Rogers Sawmill, one mile east of Ennotville. 226-821-3990. Hours: 8am-12, 1-5pm.
2002 KAWAI CN270 rosewood digital piano & bench. 5-Star rating, 88 keys, 55" long. Excellent condition. Asking $900. 519-822-2080
FABRIC SALE at Shady Lawn Fabric. 9089 Conc. 11 Mount Forest. October 10-15, 8:30am-6:00pm. 10% off all fabric. 519-323-4834.
FIREWOOD FOR SALE. Seasoned hardwood. Cut and split in 12" pieces. Delivery available. Call 519-338-5439
WELL Seasoned Firewood for sale. Local delivery included. Call for pricing or to order 226-821-1868.
FIREWOOD LOGS for sale-tractor trailer loads, long links. Call Rick, 519-353-8167
VAN TRAILERS to buy. Call Reg Small for more details, 519-323-2191.
SEASONED FIREWOOD Split hardwood in 12" or 16" lengths. Picked up or delivered. $70/ cord or $260/ bushcord. Call or text Dave at 226-791-0135
PRESSURE WASHERS- A unit to suit most every application, cold, hot and pressure cleaning detergents. Tri-Mech Inc . 519-638-2836
BRIDGESTONE SNOW TIRES on rims. Set of 4. Like new. Off a Chev Equinox. 235/50 R18, $1000 obo. Contact 519-327-9776
FIREWOOD- SEASONED hardwood, split bodywood 12" lengths, Holstein area $70/ cord picked up. 519-334-3873
PETER ETRIL Snyder plates for sale. Set of 12, complete with boxes & certificates. 519-846-5977
STEEL ROOF metal 3x8 feet, used. Good condition. $20 each O.B.O. Call Mac 519-831-0967
A-1 MIXED hardwood, 12in. or 16in. lengths. Call 519-994-6075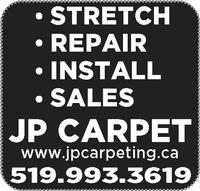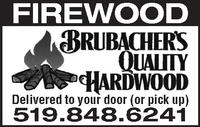 Mortgages and Financial
Private Mortgages
THE MORTGAGE PEOPLE- We do difficult mortgages. 1st, 2nd & 3rd mortgages. Residential, Commercial, Industrial, Farms & Land. Good credit, bad credit, self-employed. We will come to you. We use your equity in your home to get you approved. Mortgages are cheaper than your credit card. REVERSE MORTGAGES. No fees up front. One week to complete after everything is signed. Could be sooner! Call Don Madill #M08004349 or Nicholas Seibert #M19000535 519-743-5361 or 1-800-361-5114 (Lic#10300) www.themortgagepeople.ca
Personal Services
Child Care Available
DAYCARE AVAILABLE, references, CPR, 35yr. experience, in your home or mine, Mount Forest, area. Call 905-460-6932. Reasonable.
Cleaning Services
HOUSEKEEPING AVAILABLE Call 519-803-0911
Music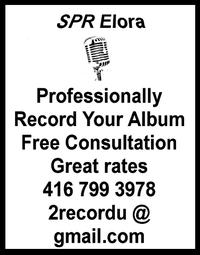 Personal Care
CAREGIVER AVAILABLE to assist elder person with companion activities and appointments. Up to 10 hours weekly. Contact 519-835-1754
Personals
OUR LADY OF FATIMA'S "Great Promise" of Aid for Salvation. "I promise to help at the hour of death, with the graces needed for their salvation" whosoever on the first Saturday of five consecutive months shall confess and receive Holy Communion, recite five decades of the Rosary and keep me company for 15 minutes while meditating on the 15 Mysteries of the Rosary with the intention of making reparation to me. St. Joseph Catholic Church, Fergus, ON. Masses: Sat. 5pm, Sunday 9:00a.m. and 11:00a.m.
PROMISES OF THESACRED HEART- Pious souls consecrate to the Sacred Heart of Jesus, in the spirit of reparation, the First Friday of each month. Jesus himself, made twelve promises to those who practice and promote this devotion. 1. I will give them all the graces necessary for their state in life. 2. I will give peace to their families. 3. I will console them in all their troubles. 4. They shall find in My Heart an assured refuge during life, and especially at the hour of death. 5. Tepid souls shall become fervent. 6. Sinners shall find in My Heart the source and an infinite ocean of mercy. 7. I will bless the homes in which the image of My Heart shall be exposed and honored. 8. Fervent souls shall speedily rise to great perfection. 9. I will give to priests the power to touch the most hardened hearts. 10. Those who propogate this devotion shall have their names written on My Heart, never to be effaced. 11. I will pour abundant blessings on all their undertakings. 12. I promise thee, in the excess of the mercy of My Heart, that its all-powerful love will grant to all who receive Holy Communion on the First Friday of every month, for nine consecutive months, the grace of final repentance, and that they shall not die under my displeasure, nor without receiving the Sacraments, and My Heart shall be their secure refuge at that last hour. Catholic Missions in Canada 1-800-361-1128.
Storage
20FT SHIPPING containers for sale or rent. Also, 40FT Shipping containers for sale. Merlin Rice 519-323-1208 or 519-323-8670
INSIDE VEHICLE storage available for cars and vans. Private location north of Rockwood. 519-856-2538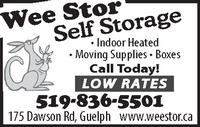 Pets
Pets
BLACK KITTEN with white bib, litter box trained, also tabby tom cat-kitten, friendly. Call for details, reasonable prices, mornings- Harriston 519-338-2688
LOOKING FOR someone to play/exercise/walk two well-behaved border collies on our 2-acre Rockwood property, 2-3 times per week. 519-856-2801
Pets for Sale
GOLDEN RETRIEVER purebred female born May 2021. $400. Please call 519-855-4275
Professional Services
Custom Work
CUSTOM Manure handling (solid or liquid). Skidsteer service available. Barn cleaning etc. 519-831-3730.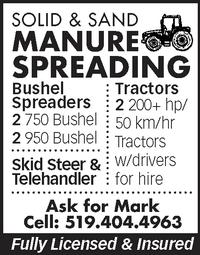 Lawn & Garden
GIB'S GARDENS Property Service: Garden maintenance and mulching, stone patios and walkways, lawn care, sodding, painting, garbage and brush removal, trimming, eavestrough cleaning, odd jobs and more! Let our team take care of your property needs in our 8th season! We offer quality services at competitive rates. Call or text Matt 519-362-4896, or email gibsgardens11@outlook.com. Local, reliable, experienced.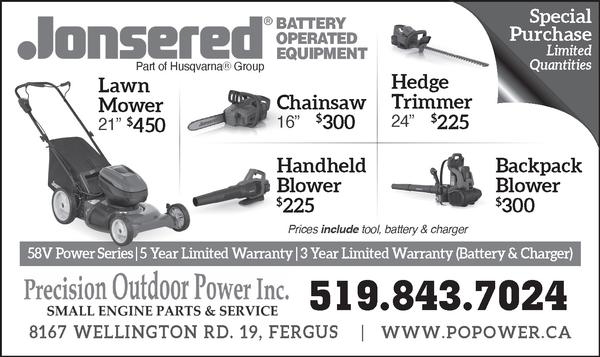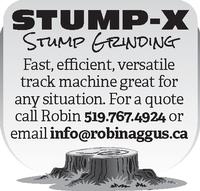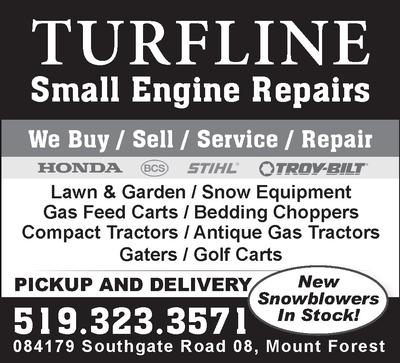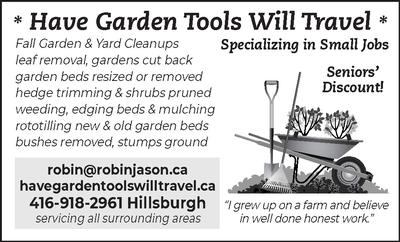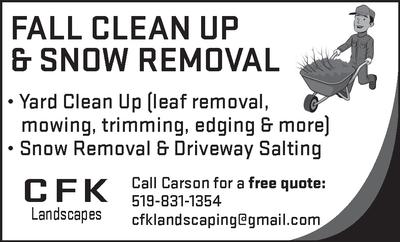 Scrap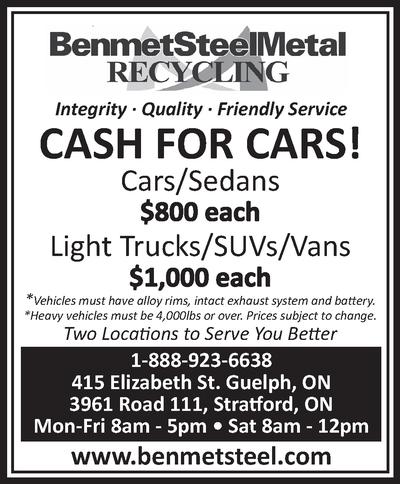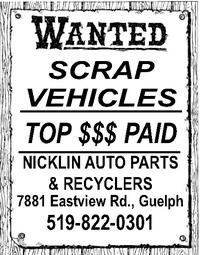 Trades and Services
CONTRACTOR REPAIRS, restores, remodels, builds and jacks up farm and storage buildings, cottages, homes, etc. Also roofing, siding, doors, windows, fencing, cement work, beams, posts, timbers, framework, rafters, foundations, decks, docks installed, replaced, repaired. Brian McCurdy 519-986-1781/ 519-375-0958.
RENOVATOR - 30 years experience. Deck restorations. Install baseboards & trim work, laminate flooring and vinyl plank. Finish basements, kitchens, family rooms etc. Also interior painting. Call for free estimate 519-856-2230
GREENWAY CHIMNEY: Installs, sweeping, inspections, masonry repairs. WETT certified for your safety. Call 519-820-6369.
SUMP PUMP installations & inspections. Back-up systems installed. Licensed and insured. Ken, 519-831-0422
NEED HANDYMAN services such as: Household repairs and installation, deck repairs/rebuilds and staining, furniture assembly, trailer service and dump runs, painting interior and exterior etc. Call Tony to see if he can help 519-766-7827 www.toneythehandyman.com
AB RENOVATIONS Basement, Bathroom and Kitchen renovations, ceramic tile, wall papering, painting, drywall, you name it. Affordable pricing. Free estimates. Fergus and surrounding area. Alan 519-787-1202 or cell 519-830-1202
LICENSED PLUMBER- 40 years experience. All types of installations and repairs. Hot water tanks, water softeners installed. Call Ken for a free estimate, 519-831-0422.
MARTIN WELL Drilling- Rejuvenate & clean up existing wells. Well extensions. De-commission abandoned wells. Flow tests. Pump service & water treatment. MOE certified. Call Len 519-846-9162, Jeff 519-846-1993 or Mike 519-638-8928. www.martinwelldrilling.com
WETT CERTIFIED Wood & Pellet Technicians. Pellet and wood stove: sales, sweeps, diagnostics, parts, repairs, inspections & installations. Showroom featuring Harman & Enviro Pellet Stoves open by appointment. Doug Beatty & Sons, 519-848-3273
SMALL EXCAVATING/-grading jobs? Call 519-400-9904 for prompt service, best prices and experience! Track skidsteer, dump trailers, excavator, loaders available. Backhoe911@gmail.com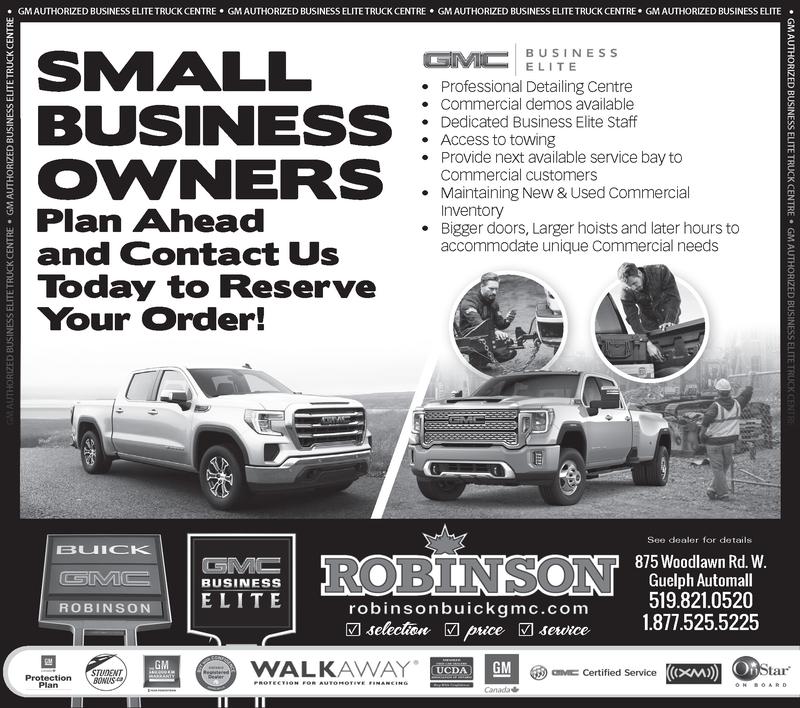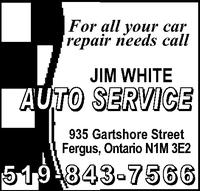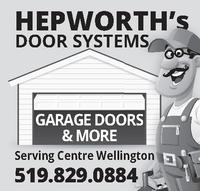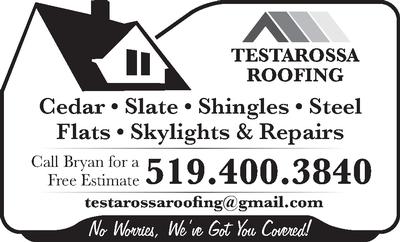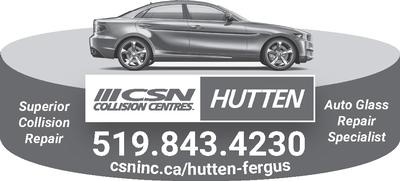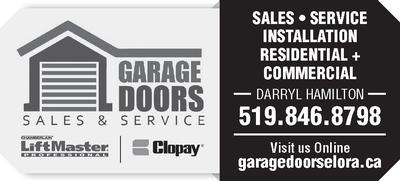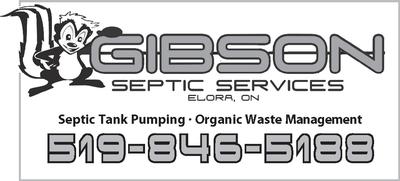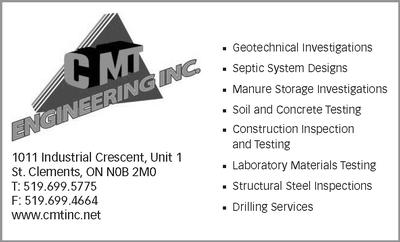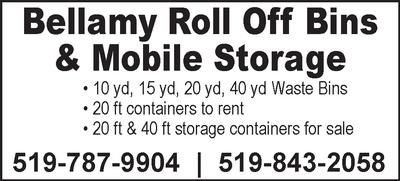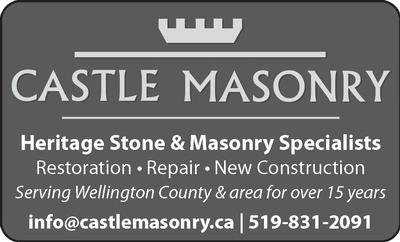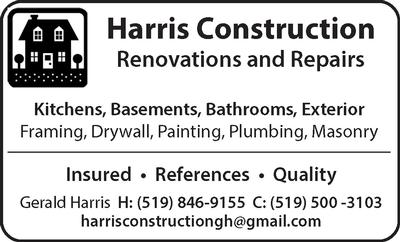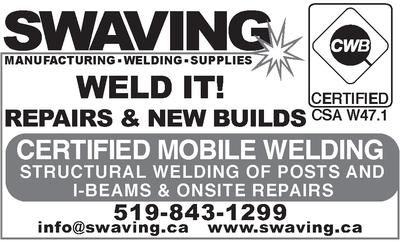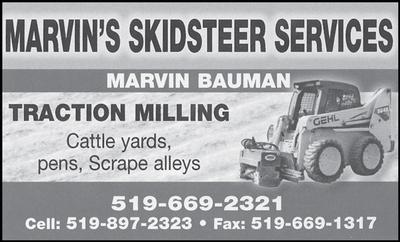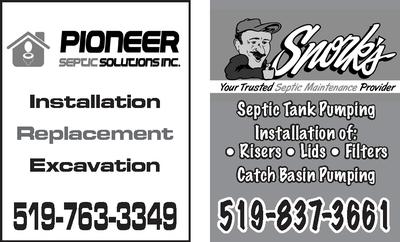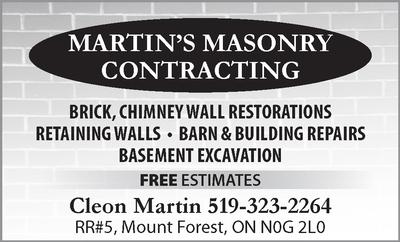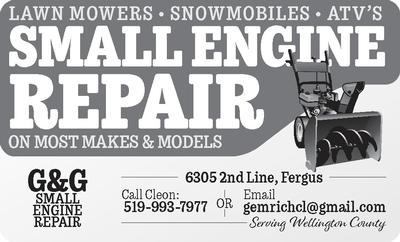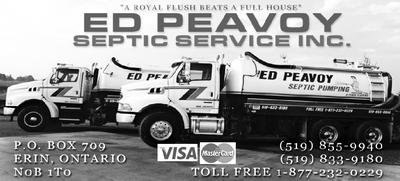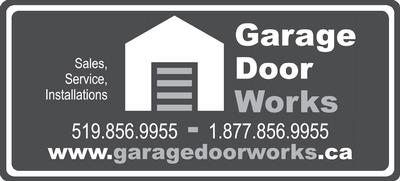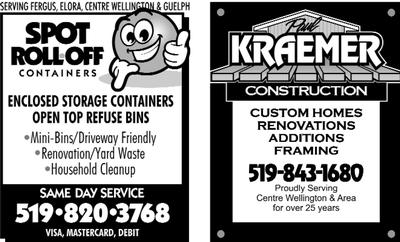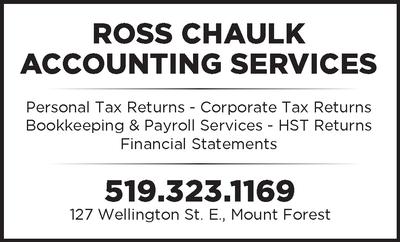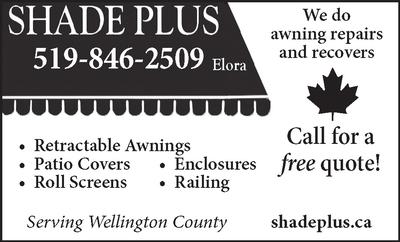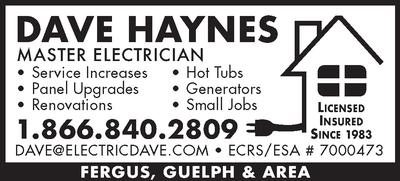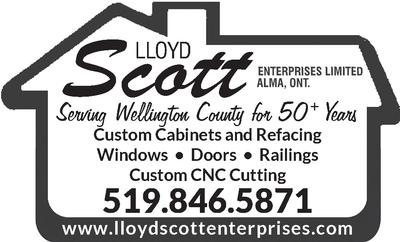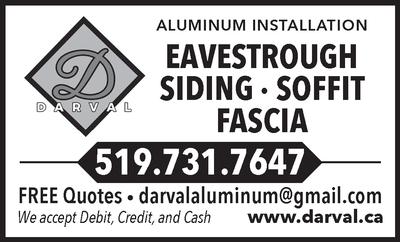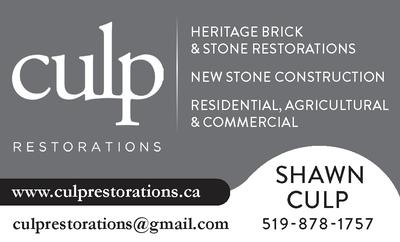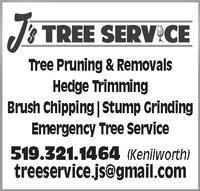 Vehicles
Cars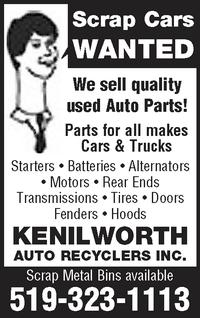 Trailer and Mobile Homes
AWARD YOURSELF a fine old trailer, 2005 Classic 29DSL Award. Roadworthy, nearly new tires. Double slides with lower profile. Make it a good campground home. Make an offer 519-767-9183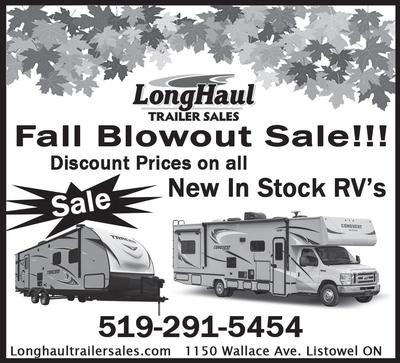 Wanted
Help Wanted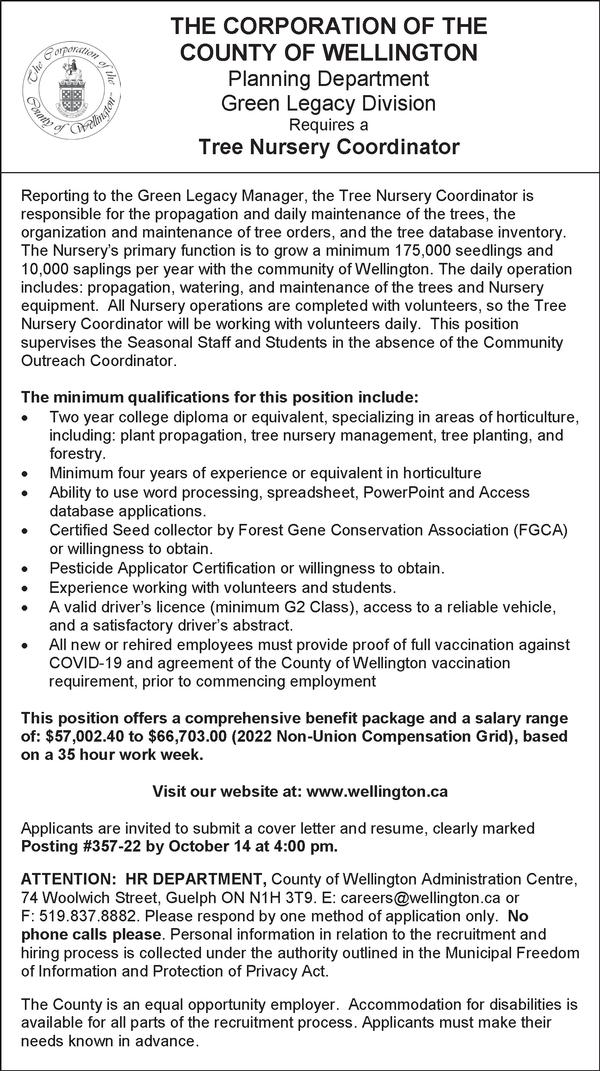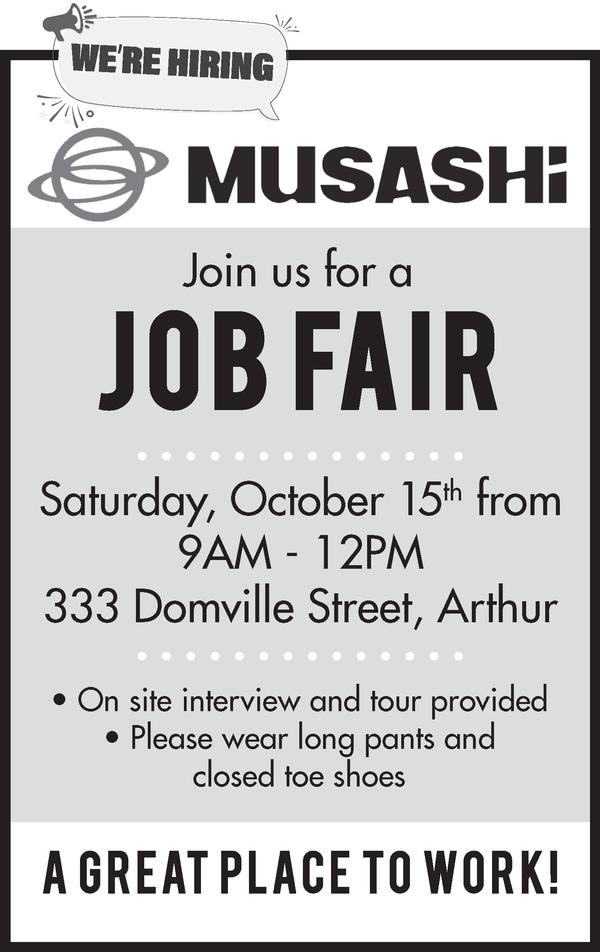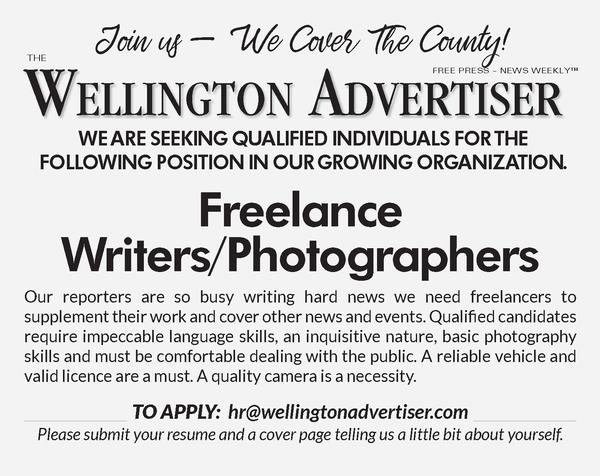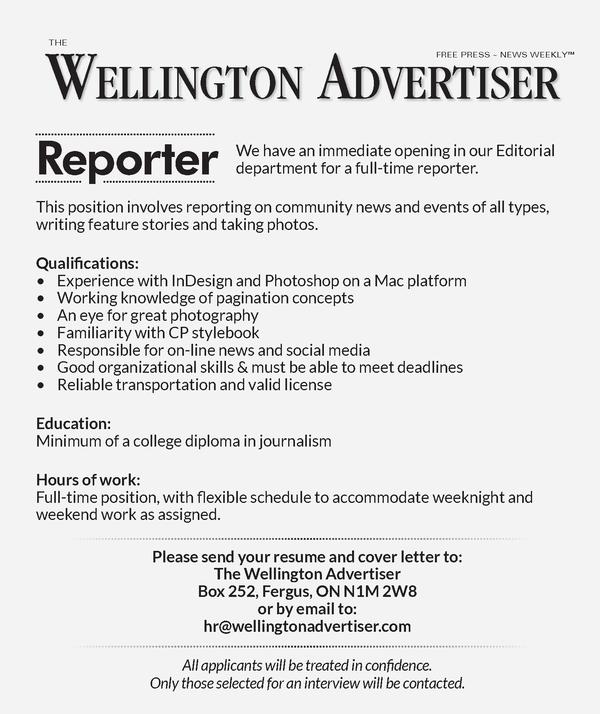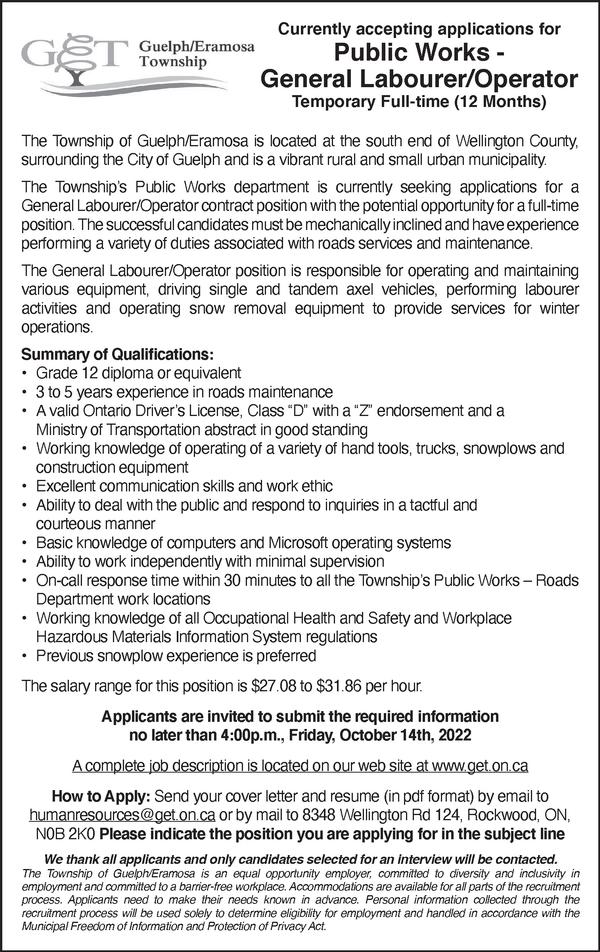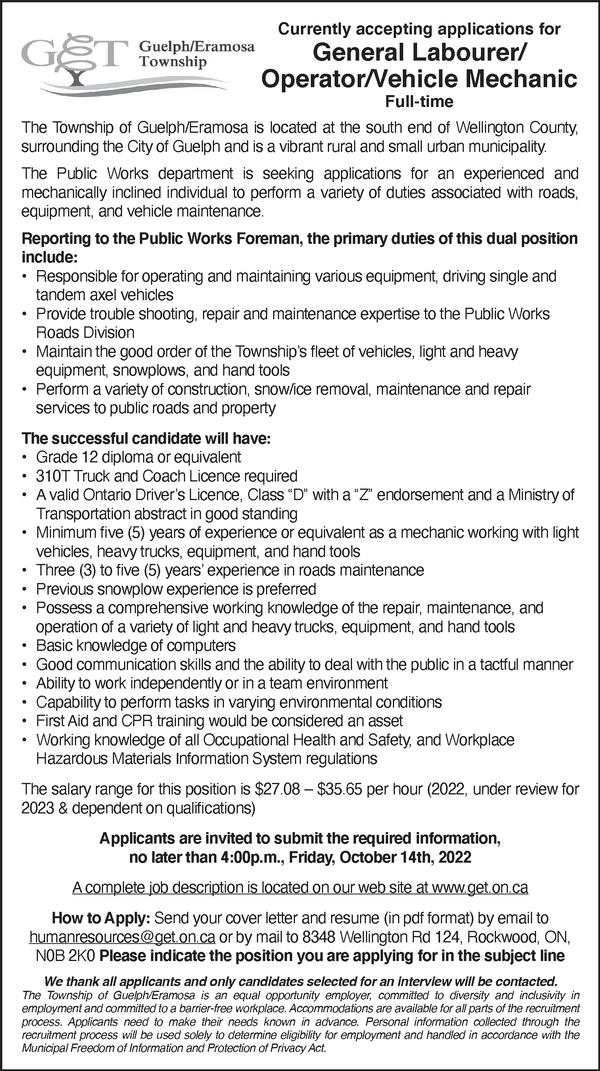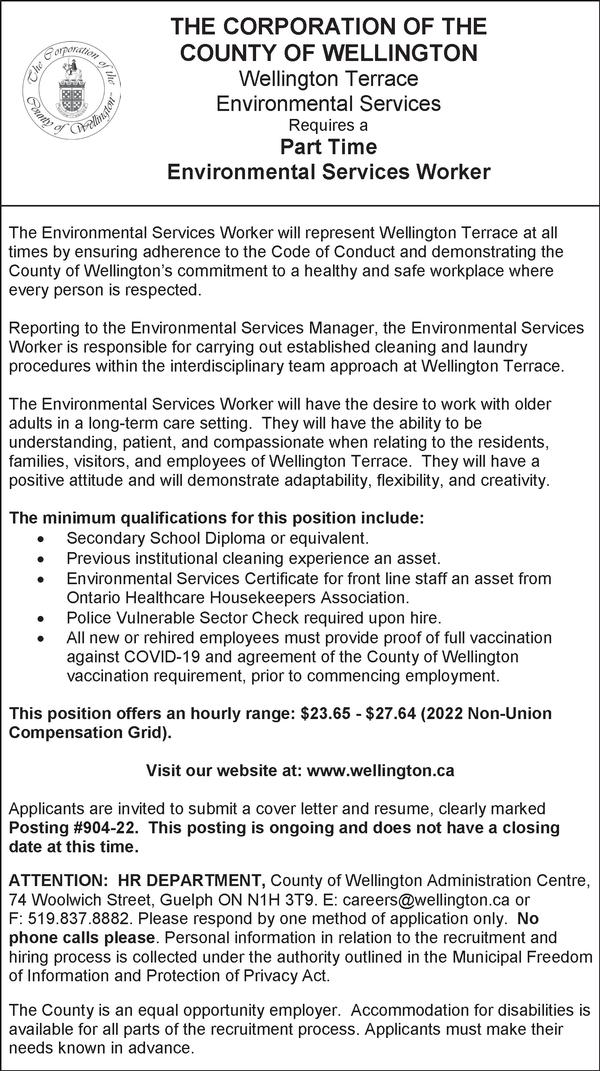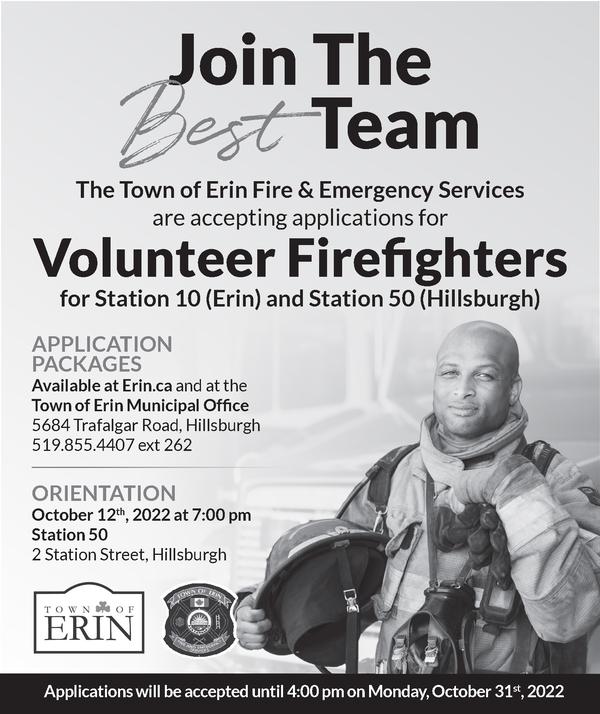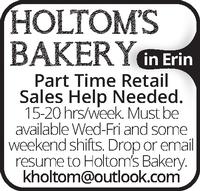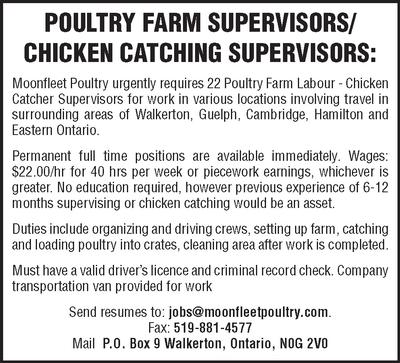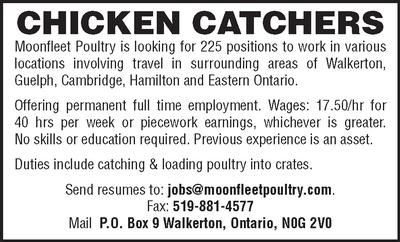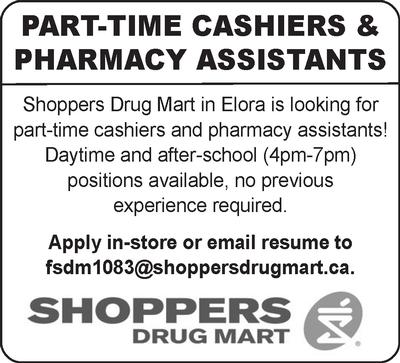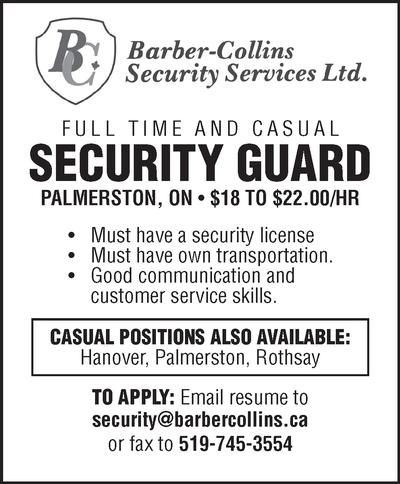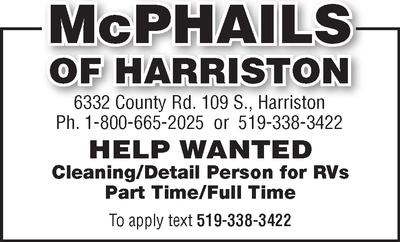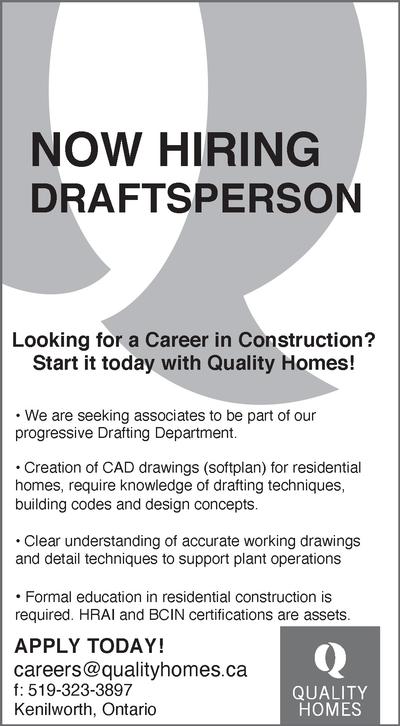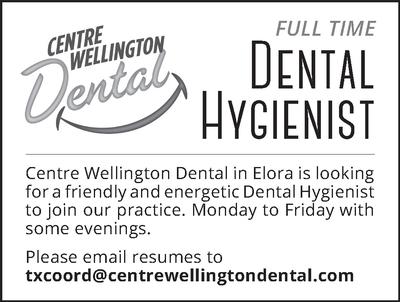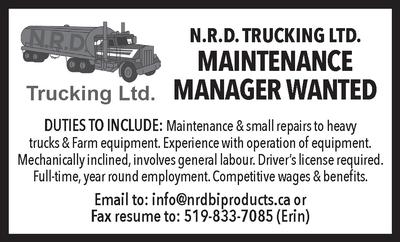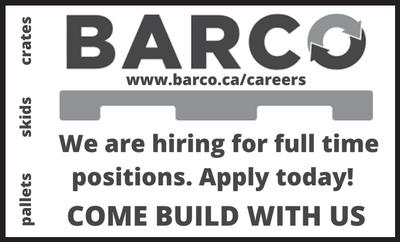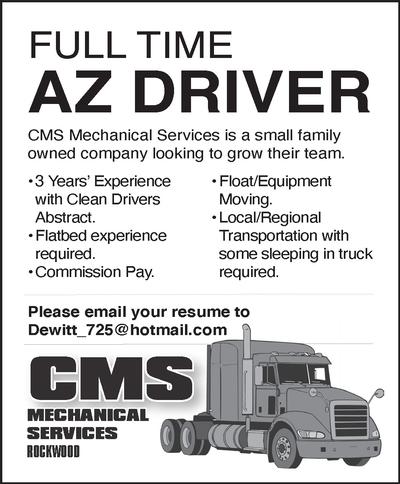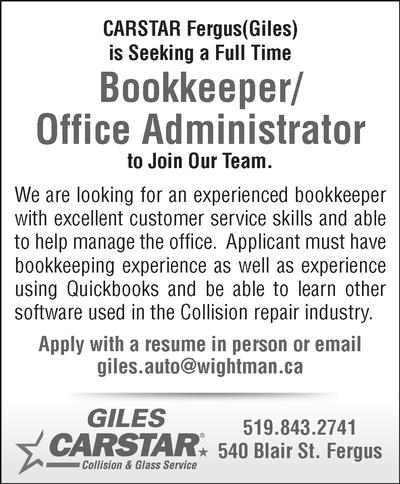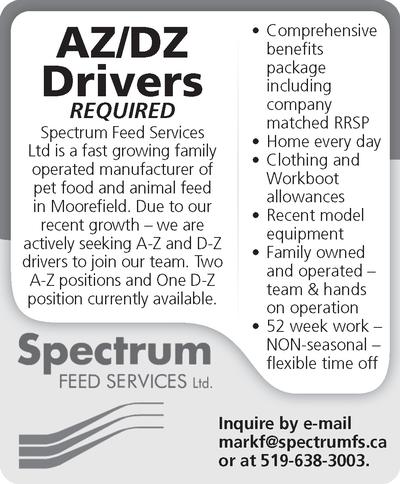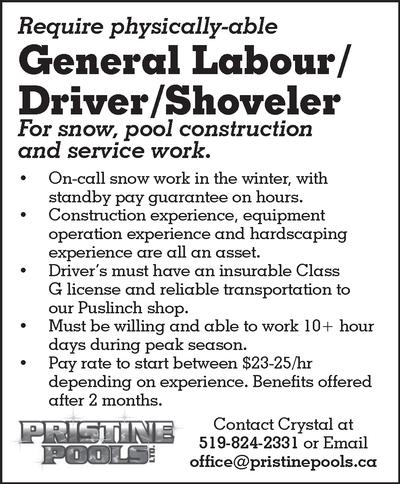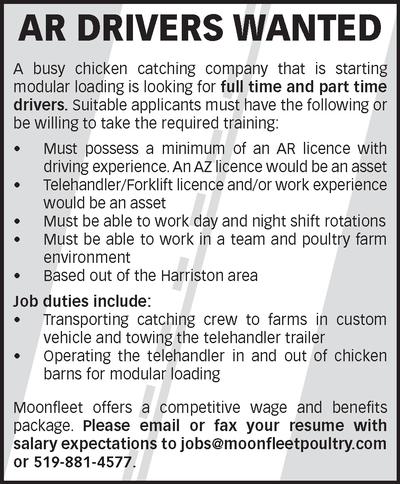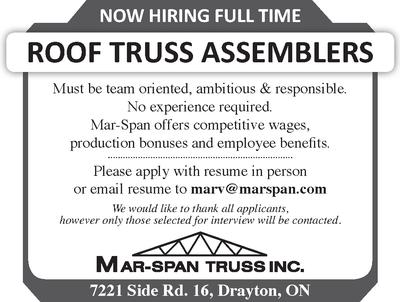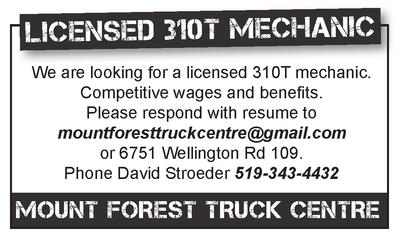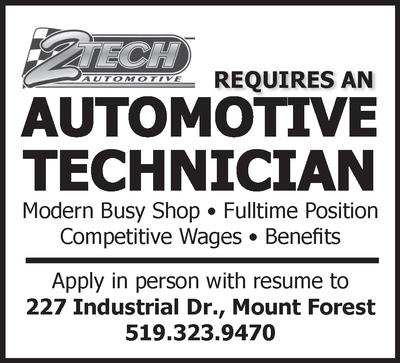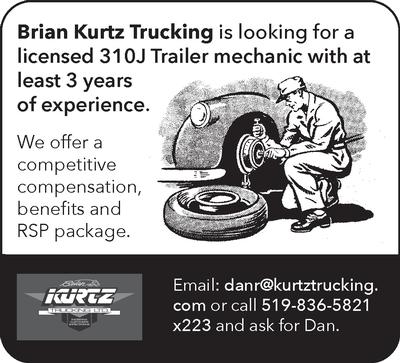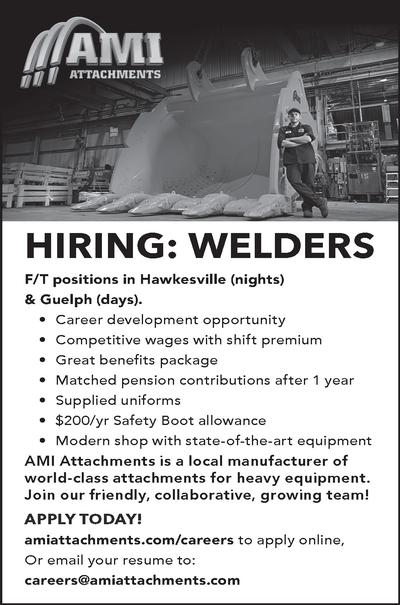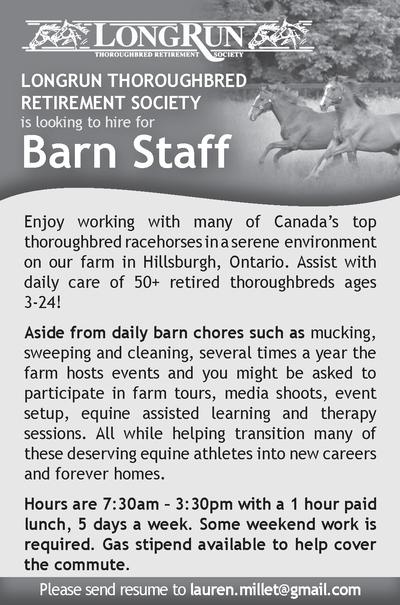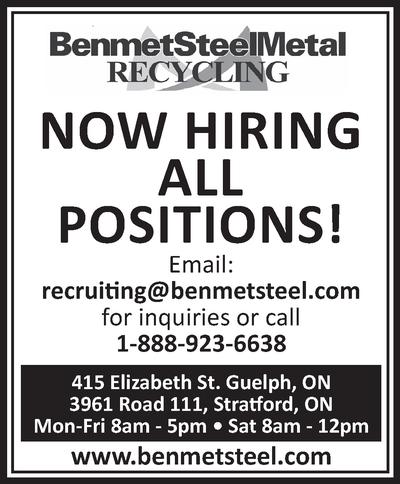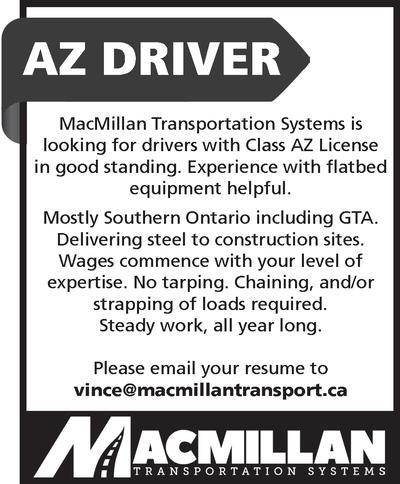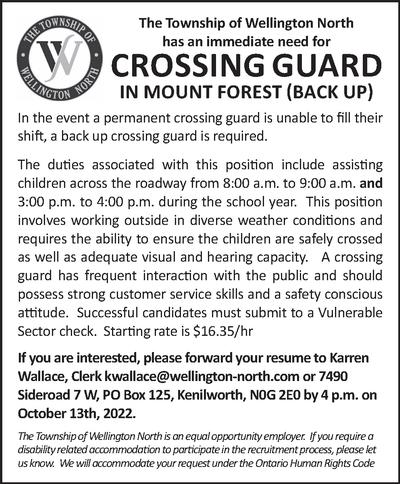 Items Wanted
WANTED TO BUY- COCA COLA collectibles and any other soda collectibles. Also looking for pinball machines, old milk bottles, old dinky toys and gas and oil collectibles. Call 519-830-0759.
PINBALL MACHINES ... pinball machine/ arcade games just sitting collecting dust? Call Bruce at 519-827-6221. I'll come have a look and offer fair value for it.
WANTED-unwanted snowblowers, lawn tractors, rototillers, older farm tractors and equipment for reconditioning. Will pick up. Bob 519-400-2925 No Sunday calls.