Classifieds
Farm and Livestock
Agriculture
THALEN ENTERPRISES Ltd has a lots of good USED product - 10" - 48" fans, Nursery and finish feeders, cast, fiberglass flooring, and much more. Call 519 291-3464
Farm Equipment
TRACTOR, UNIVERSAL 500, Blue in colour, diesel, 3PH, new power steering pump, cab, new heater, $6700. Field sprayer, Calsa, 100 gallon, 24' Hawksville boom, new water pump, used this spring, $975. 18.4 x 34 Goodyear Duals, bolt on, could be used as tires and rims, pair, $1,250. John Deere 145 plow, 14 inch, 3PH semi mount, four furrow, $1,250 Dan Seifried, 8th Line Harriston. 519-338-2688
3140 JD TRACTOR w/cab, approx. 85hp., in good condition, $12,000; 995 David Brown tractor w/cab, 65hp., in good condition, $7000; 454 International tractor w/loader, 45hp., $7000; 144NH hay inverter, $1200; 5-bar Ford side rake, $800; 336 JD baler with kicker, $3000. 519-216-8052
NEW HOLLAND 648, 4x5 silage special baler. Always shedded and in excellent condition. Conn area. 519-923-5999.
492 NH HAYBINE, complete service, field ready, $6000; 36ft. George White elevator w/-motor, $450. 519-373-7975
FOR SALE 3 Hay Wagons with wood flat racks 2 -9'x16', 1 - 8'x16' stored inside. Call David 519-843-2351
Farm Land Wanted
WANTED LAND to Rent: RJM Cattle is looking to rent land to grow corn, beans, wheat, covercrop in a 3 yr. rotation. Will apply cattle manure after wheat on long term rentals if landowner wishes. Call Randy 519-589-6800
Livestock
FOR SALE: Red Angus, Simmental and Red Angus-Simmental yearling bulls bred for calving ease, muscling, temperament and growth. AgSights tested. Open and bred heifers for sale. James, Joan and Robert McKinlay 519-599-6236, 226-668-0775
Wanted: Old and crippled cull cows. Must be able to walk and be drug free. Cash paid. Call Dennis 519-654-7833.
M + M Livestock Wanted: Culled cows. Highest prices. Call collect 519-836-2070 Guelph or 905-852-3238 Uxbridge.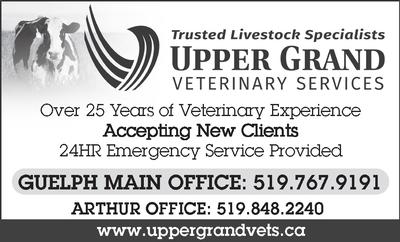 Produce For Sale
BALER TWINE for sale: net wrap, balewrap, black and white silage covers. Also selling 'The Juice' hay preserver for Nuhn Forage. Call Elvin at Weber's Farm Supply, Mount Forest. 519-323-1043.
ROTARY WHEAT straw 3x4x6 .08 cents per pound. Bales approx 680 pounds. Call 519-820-9365
MT. FOREST Ag Auctions: Hay, straw, & firewood consignment auction every Wednesday 10am. Located east of Mount Forest @ 43853 Southgate Rd 4. 519-338-5267
HAY AND STRAW - will deliver in loads of 42-4x5, 72 big square bales. Call Reg Small 519-323-2191.
34 ACRES standing hay, alfalfa / timothy mix. Belwood area, County Rd 16 & Queen Mary Rd. Also 3x3 wheat straw bales. Call 519-843-1428
STRAW & HAY: large squares of 1st & 2nd cut hay. Straw, small squares wheat straw in bundles of 21. Call 519-575-5723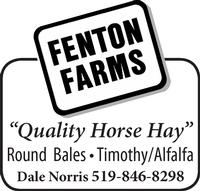 Homes' Apartments & Condos
Apt. for Rent
COUNTRY PROPERTY 7 minutes to Fergus, 10 minutes to Guelph, one bedroom apartment. Lower level in raised bungalow, air-conditioned, separate entrance, on large water-front property, great in summer, skating in winter, like being in cottage country close to town, optional use of swimming pool. No smoking. Shared laundry. $1600 including utilities. Call 519-767-2032
For Rent
LOVELY ONE-BEDROOM apartment on the ground floor in an accessible building, 120 David St E, Elora. Open House Fridays and Saturdays 1 pm - 3 pm. Rent is $1725, including heat and hydro. For more information call 519-830-4226.
Homes for Sale
THINKING OF selling your house? Give me a call for a free market evaluation and we can discuss further. Alex Labuda from Coldwell Banker Peter Benninger Realty Ltd, Call 226-500-4749 or E-mail: lab.alex16@gmail.com
Read more
Items for Sale
Antiques
IRON BUCKET- New ideas Yeah! We want crocks, toys, old mags, cool records. (Old tins & neat old bottles, any advertising- granite & tin ware.) The cool-groovy mid century! Give a shout out to us. 519-787-8287 (answering machine) St. Andrew St. W. Fergus (10-ish till 5-ish/ mostly reliable). Closed June 5th & 12th. Need a break!
Garage Sales
410 YORK St. Mt. Forest "EVERY SATURDAY" 9am-3pm until further notice. Over 50 yrs. of collecting a variety of new and old items, antiques, collectables, houseware, classic pop bottles, ceramic molds, lots of brass, premium 7 gal nursery pots, tools, bicycles, (vintage Industrial) dolly, cast iron pulleys, gear assemblies, vintage farm implements eg. pitchforks shovels, sand casting foundry equipment eg. flask jackets, gas kilns, plus much more.
EDEN MILLS Yard Sale from Barden to Wilson St., June 10th 8am to noon. Donations to the hall are appreciated.
7TH ANNUAL Strathcona Village Multifamily neighborhood garage sale. Large selection of household items, furniture, clothing, sporting goods, outdoor living and more. You may even find some freebee's along the way. Come early for best selection. Saturday, June 3rd, 8am to 1pm 740 Princess St. Mount Forest.
VICTORIA CRESCENT, Fergus. Several yard sales. North on Hwy#6 , left on SR#19 (Blinkhorns), first left. Follow signs. Sat.June 3rd, 9am-1pm.
SAT.&SUN. JUNE 3&4, 8am-2pm. 7 Wellington Dr. Elora. Saddles, horse tack, dehumidifiers and much more.
MOVING SALE, 271268 15th Line East Garafraxa. Shop and gardening tools, furniture, antique dishes, down riggers, pull behind fertilizer spreader, brand new bathtub and many misc. items. June 3&4 from 8am-2pm.
CONESTOGA ESTATESAnnual Garage/Bake Sale in community centre and at individual homes. Sat. June 10 8am-2pm, BBQ 11am. 8773 Conc. 9, Arthur Township (Near Kenilworth).
131 CHURCH ST. Elora (at the corner of Mary St.) Sat. June 3, 9am-1pm. Something for everyone, including some antiques.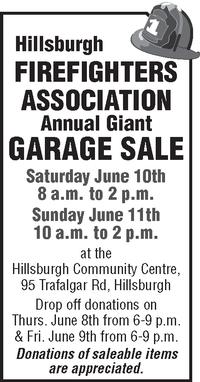 Items for Sale
ONGOING COLLECTIBLES shed sale until Sept.30. Tues-Sat., 10=4, Sunday, 1-4 (hours may vary, please call ahead). Pottery, model kits, books, magazines, die cast, coke stuff, toys, movies, vinyl & literature. Fire#082768 Letterbreen Rd. From Mount Forest Hwy#6N, 3.5km past Spot Restaurant, 1km west on Letterbreen Rd. 519-994-6391.
WHITE PINE LUMBER- 1in. x 8, 10, 12in. Call for a quote. A. Rogers Sawmill, one mile east of Ennotville. 226-821-3990. Hours: 8am-12, 1-5pm.
FIREWOOD- SEASONED hardwood. 12" or 16" lengths available. Picked up or delivered. 519-846-5010 or cell 519-575-5723.
ICE-CREAM SALE at Hillcrest Home Baking from June 1-17. Premium 2L $4.95, original 2L $3.50. 519-669-1381
VAN TRAILERS to buy. Call Reg Small for more details, 519-323-2191.
CONTRACTOR REPAIRS, restores, remodels, builds and jacks up farm and storage buildings, cottages, homes, etc. Also roofing, siding, doors, windows, fencing, cement work, beams, posts, timbers, framework, rafters, foundations, decks, docks installed, replaced, repaired. Brian McCurdy 519-986-1781/ 519-375-0958.
SCREENED TOP SOIL with some leaf mulch. Best price. Picked up or delivered. Large or small loads. Delivery 7 days/week. 519-823-3007 (Elora)
PRESSURE WASHERS- A unit to suit most every application, cold, hot and pressure cleaning detergents. Tri-Mech Inc . 519-638-2836
NAPIER SPORTZ SUV tent. Model 82000. Used twice. 5 person tent. $250. 519-766-2411.
FRESH DUCK table eggs. $6 dozen, Mount Forest. Please call 519-323-4129
BABY MOBILE paid:$69, asking:$30; double stroller, $100 (obo); dog crate, $65; 2 new dog beds from pet store, $35/each; ceramic 7ft. patio table, paid:$425, asking:$180; new small firepit, $65. Mount Forest, Debbie, 905-460-6932.
6 SADDLES: 3 English ($80/-each), 3 Western ($350/ea.); 2 saddle racks- one holds 4, the other, 3; two dehumidifiers; peacock feathers. 519-848-3851.
A-1 FIREWOOD - mixed hardwood, 12in. or 16in. lengths. Delivery available. $320/bush cord. Also looking for drivers. Call 519-994-6075
NEW 8FT. X 12FT. pine clad with steel roof portable run in shed. Also wooden picnic tables. Call 519-323-3187.
FIREWOOD LOGS for sale-tractor trailer loads, long links. Call Rick, 519-353-8167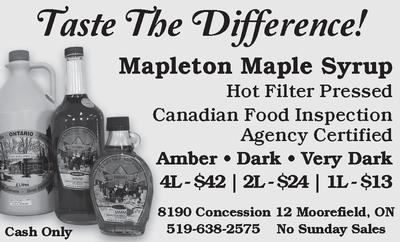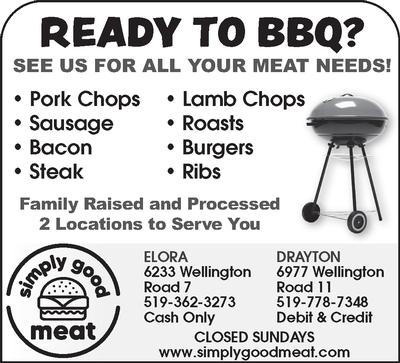 Mortgages and Financial
Private Mortgages
THE MORTGAGE PEOPLE- We do difficult mortgages. 1st, 2nd & 3rd mortgages. Residential, Commercial, Industrial, Farms & Land. Good credit, bad credit, self-employed. We will come to you. We use your equity in your home to get you approved. Mortgages are cheaper than your credit card. REVERSE MORTGAGES. No fees up front. One week to complete after everything is signed. Could be sooner! Call Don Madill #M08004349 or Nicholas Seibert #M19000535 519-743-5361 or 1-800-361-5114 (Lic#10300) www.themortgagepeople.ca
Personal Services
Personal Care
FLOOR INSTALL and repairs. Carpet, laminate, vinyl. Basement stairs from $300 Call 519-369-7662 Free quotes.
Personals
OUR LADY OF FATIMA'S "Great Promise" of Aid for Salvation. "I promise to help at the hour of death, with the graces needed for their salvation" whosoever on the first Saturday of five consecutive months shall confess and receive Holy Communion, recite five decades of the Rosary and keep me company for 15 minutes while meditating on the 15 Mysteries of the Rosary with the intention of making reparation to me. St. Joseph Catholic Church, Fergus, ON. Masses: Sat. 5pm, Sunday 9:00a.m. and 11:00a.m.
PROMISES OF THESACRED HEART- Pious souls consecrate to the Sacred Heart of Jesus, in the spirit of reparation, the First Friday of each month. Jesus himself, made twelve promises to those who practice and promote this devotion. 1. I will give them all the graces necessary for their state in life. 2. I will give peace to their families. 3. I will console them in all their troubles. 4. They shall find in My Heart an assured refuge during life, and especially at the hour of death. 5. Tepid souls shall become fervent. 6. Sinners shall find in My Heart the source and an infinite ocean of mercy. 7. I will bless the homes in which the image of My Heart shall be exposed and honored. 8. Fervent souls shall speedily rise to great perfection. 9. I will give to priests the power to touch the most hardened hearts. 10. Those who propogate this devotion shall have their names written on My Heart, never to be effaced. 11. I will pour abundant blessings on all their undertakings. 12. I promise thee, in the excess of the mercy of My Heart, that its all-powerful love will grant to all who receive Holy Communion on the First Friday of every month, for nine consecutive months, the grace of final repentance, and that they shall not die under my displeasure, nor without receiving the Sacraments, and My Heart shall be their secure refuge at that last hour. Catholic Missions in Canada 1-800-361-1128.
Storage
20FT SHIPPING containers for sale or rent. Also, 40FT Shipping containers for sale. Merlin Rice 519-323-1208 or 519-323-8670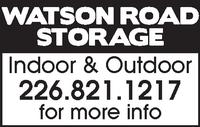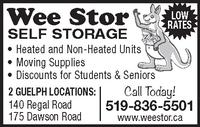 Pets
Pets for Sale
MINI BERNEDOODLE F1tri-coloured puppies. Beautiful litter of 3 females. Intelligent bread, easy to train. Hypoallergenic and non shedding. Aprox 35lbs full grown. Born Apr. 14, ready to go June 9. Puppies come with 1st shots, dewormed, vet check and a starter pack. $1800 each (tax included) 519-698-0935
Professional Services
Business Services
MEDITATION /-MINDFULNESS Teacher has spaces available. Learn to meditate and live mindfully. Call Jenny 437-425-0894
Custom Work
CUSTOM Manure handling (solid or liquid). Skidsteer service available. Barn cleaning etc. 519-831-3730.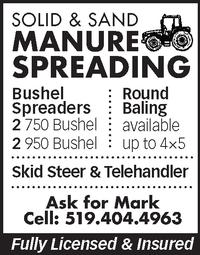 Lawn & Garden
GIB'S GARDENS Property Service: Spring cleanup, gardening, stone patios and walkways, lawn care, sodding, interior and exterior painting, garbage and brush removal, trimming, odd jobs and more! Let us take care of your property needs in our 9th season! We offer quality services at competitive rates. Call or text Matt 519-362-4896, or email gibsgardens11@outlook.com. Local, reliable, experienced.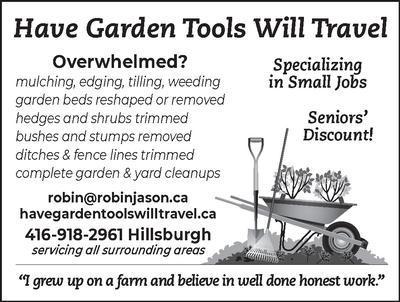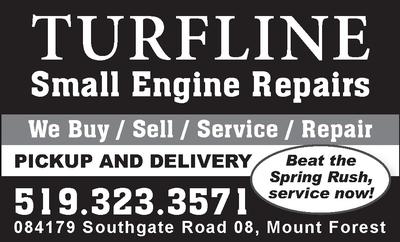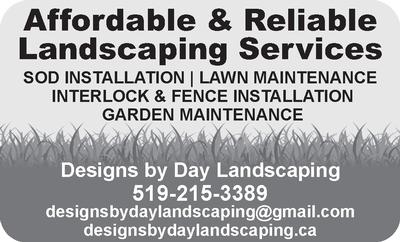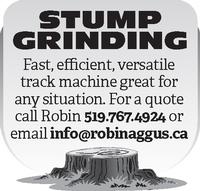 Scrap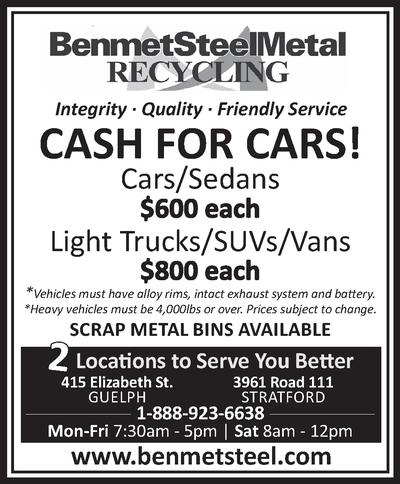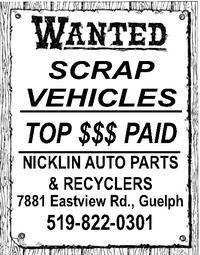 Trades and Services
MARTIN WELL Drilling- Rejuvenate & clean up existing wells. Well extensions. De-commission abandoned wells. Flow tests. Pump service & water treatment. MOE certified. Call Len 519-846-9162, Jeff 519-846-1993 or Mike 519-638-8928. www.martinwelldrilling.com
SUMP PUMP installations & inspections. Back-up systems installed. Licensed and insured. Ken, 519-831-0422
WETT CERTIFIED Wood & Pellet Technicians. Pellet and wood stove: sales, sweeps, diagnostics, parts, repairs, inspections & installations. Showroom featuring Harman & Enviro Pellet Stoves open by appointment. Doug Beatty & Sons, 519-848-3273
RETIRED UPHOLSTERER will re-do kitchen & dining room chairs. Elmira area. Call 519-502-1569 / 226-972-5813.
AB RENOVATIONS Basement, Bathroom and Kitchen renovations, ceramic tile, wall papering, painting, drywall, you name it. Affordable pricing. Free estimates. Fergus and surrounding area. Alan 519-787-1202 or cell 519-830-1202
LICENSED PLUMBER- 40 years experience. All types of installations and repairs. Hot water tanks, water softeners installed. Call Ken for a free estimate, 519-831-0422.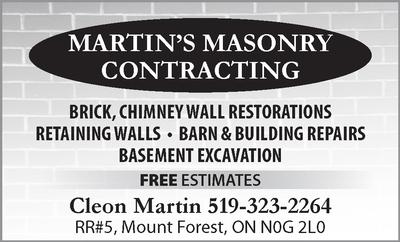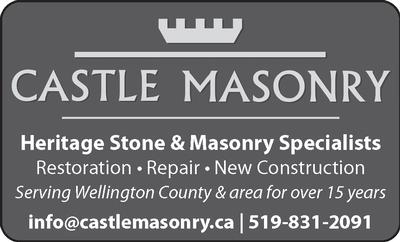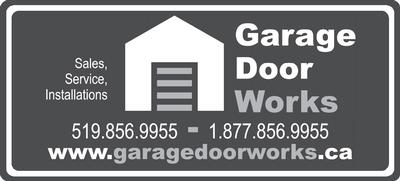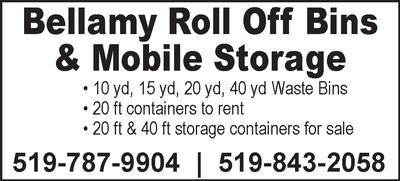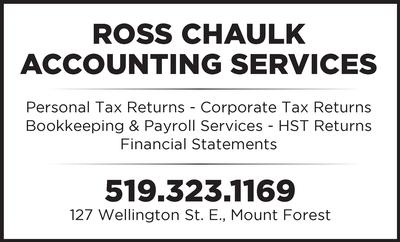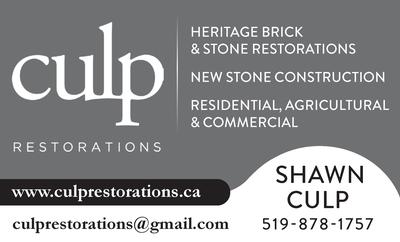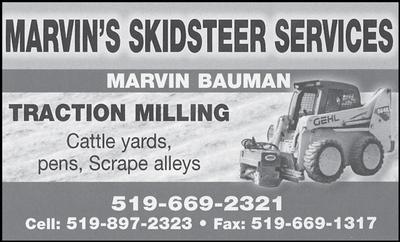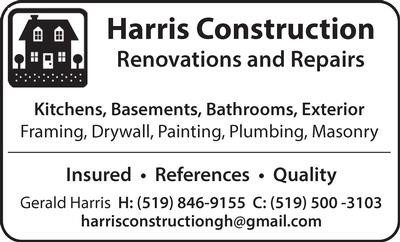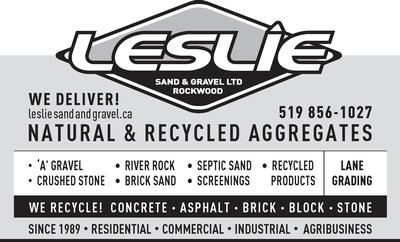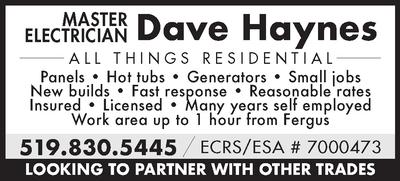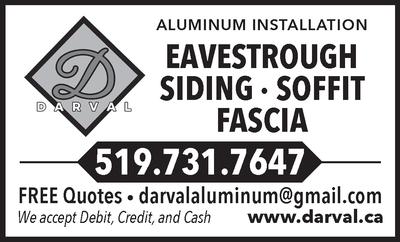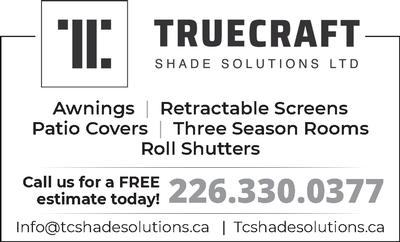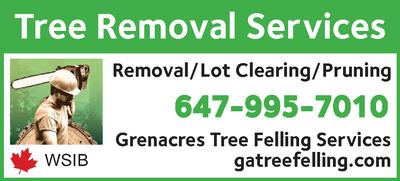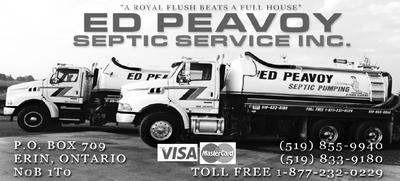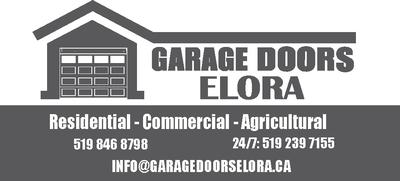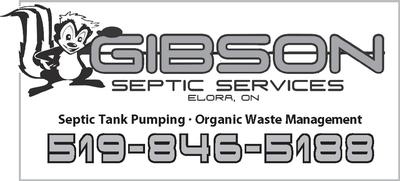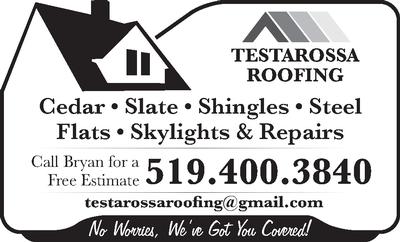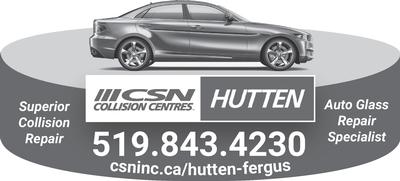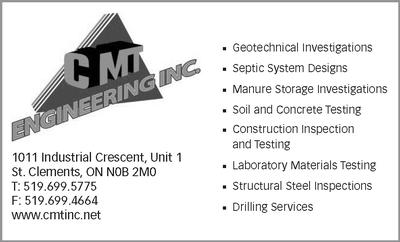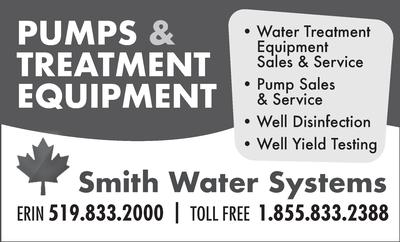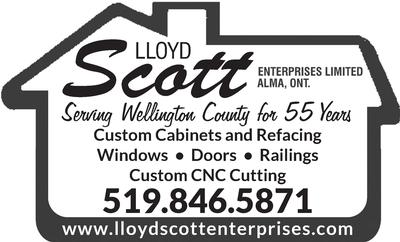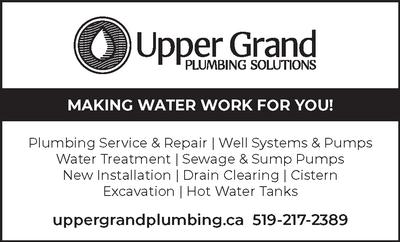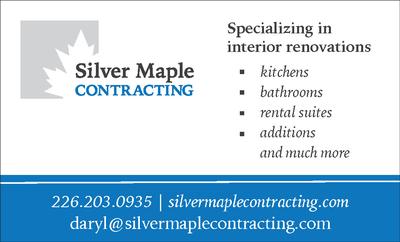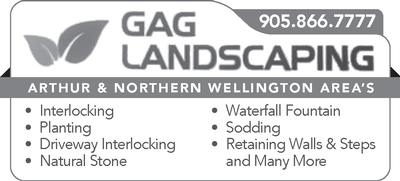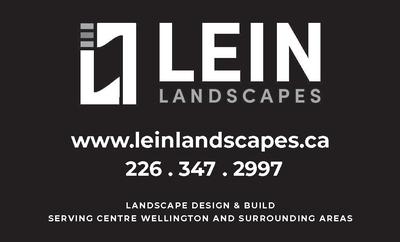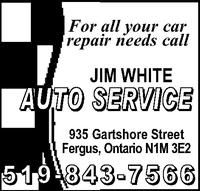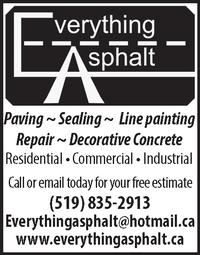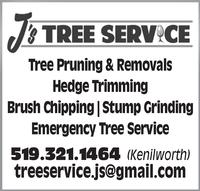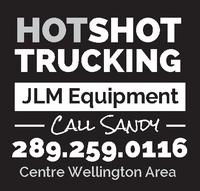 Vehicles
Cars
WANTED TO BUY: Chrysler Grand Caravan (2015-17 or whatever year you have). Private. Cash!!. Please call 519-313-1047.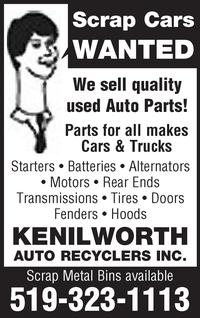 Trailer and Mobile Homes
FOR SALE 2021 Balmoral Park Model "Cottage" with Hard Top Awning & Deck. Railing 40'x10' Price $118,075 (No HST) Plus $5,000 + 650 HST Transfer fees Total $123,725. FIRM Many Extras Included. Alpine RV Resort 46 Alpine St. LINDSAY (Summerhill Resorts Ltd.) Phone Keith & Margaret Post: 705-928-1894
2016 VENTURE RV Touring Edition- Seasonal site Silent Valley Park. 1 bedroom w/king bed, sleeps 4. Complete turn key sale. Includes everything. A must see! Asking $52,000 obo. Contact 519-575-2668 for more information or photos.
2007 NORTHLANDER Eclipse- seasonal site Silent Valley Park. 2 bedrooms, sleeps 10. Complete turn key sale- includes everything. A must see! Asking $50,000 obo. Contact 519-575-2668 for more information or photos.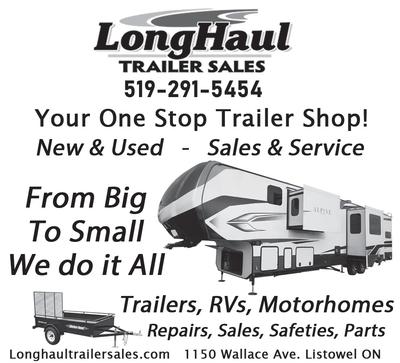 Trucks
2007 FORD 1/2 ton pickup. 166,000 km., excellent shape. Tonneau cover, tow package, running boards, Ford seat covers. $5,500 as-is. 519-338-2933
Wanted
Help Wanted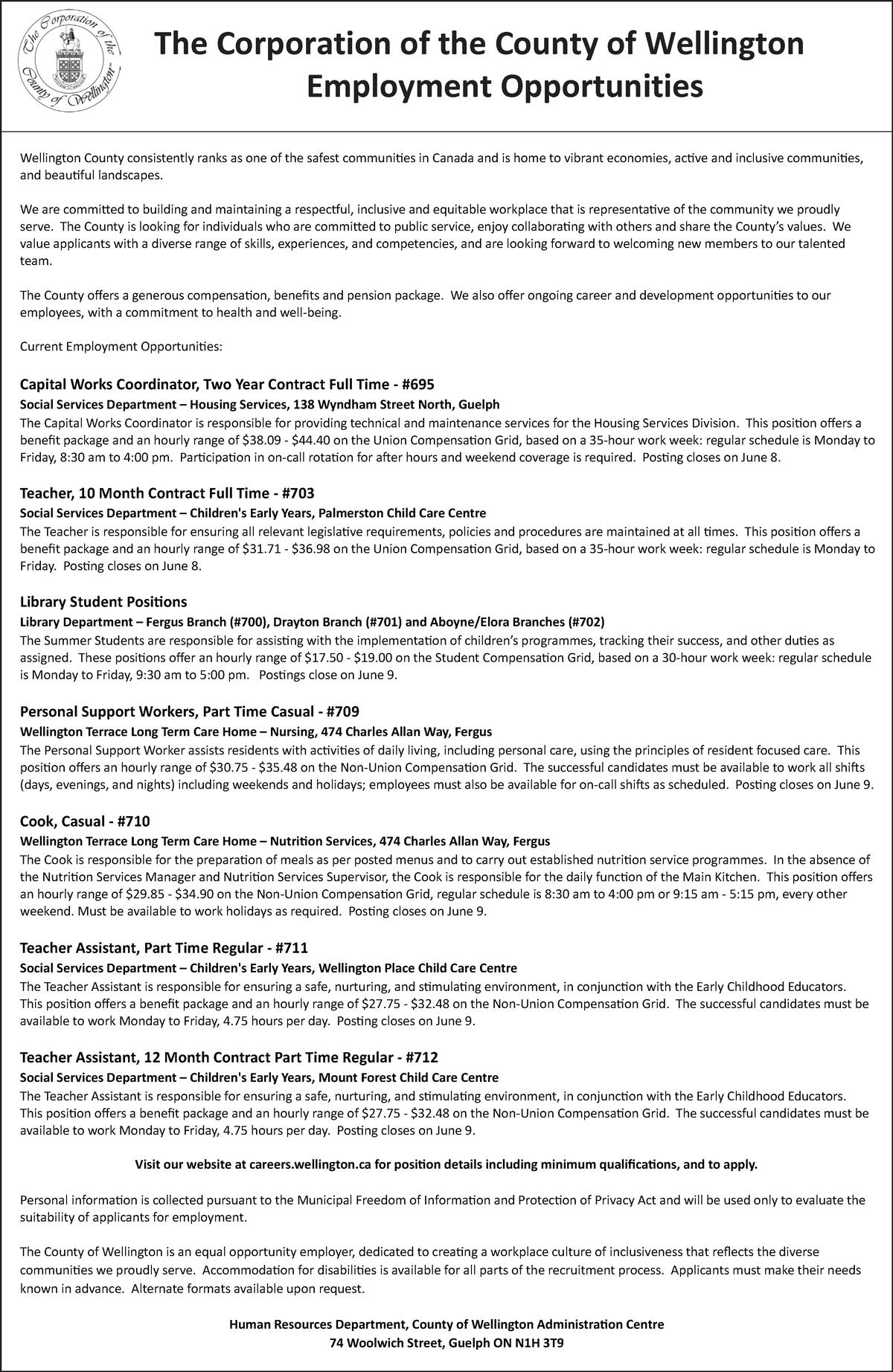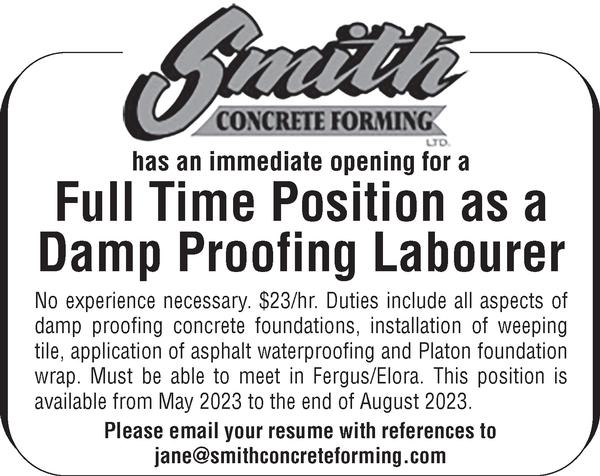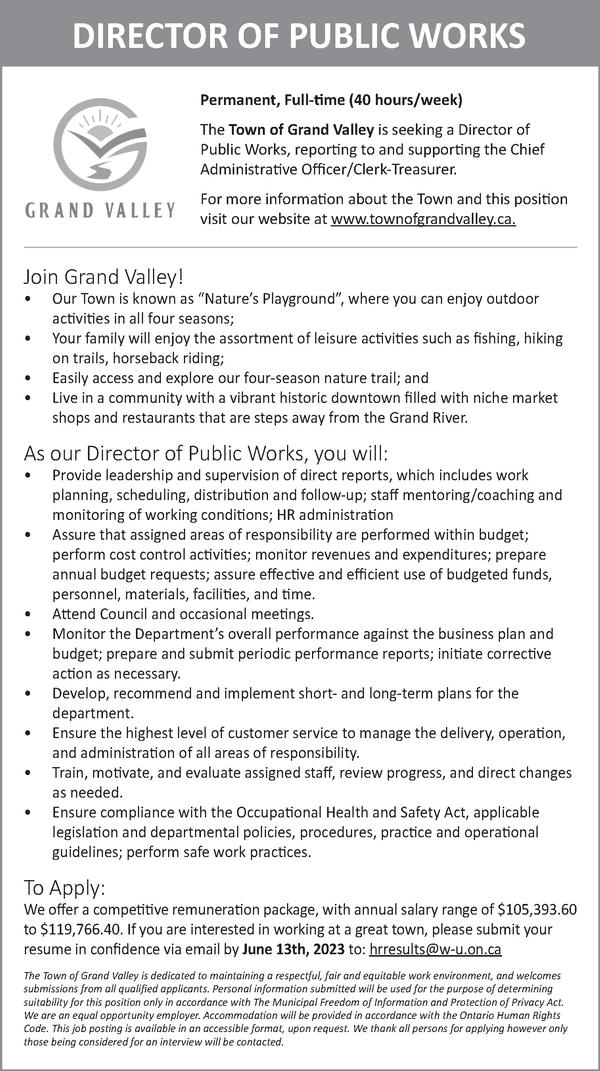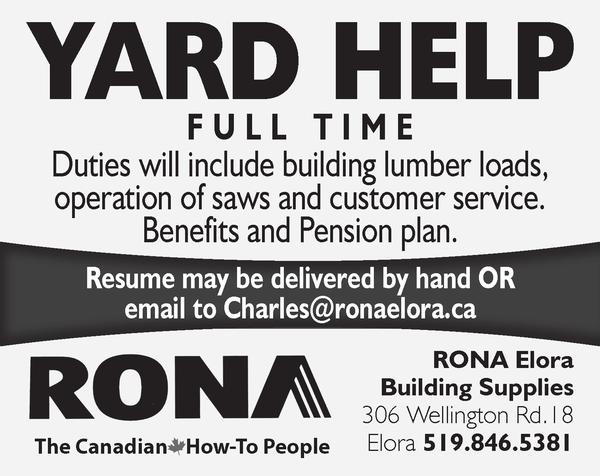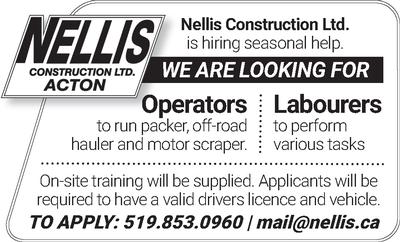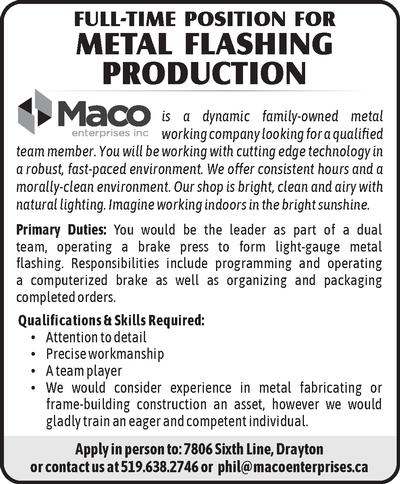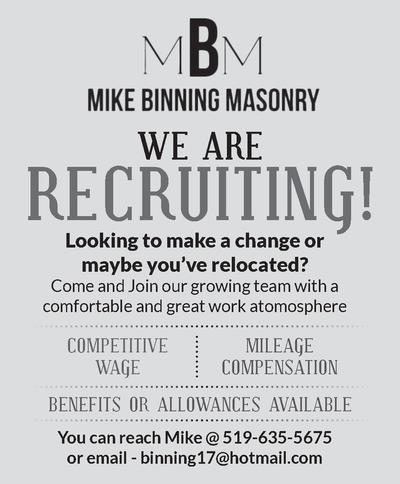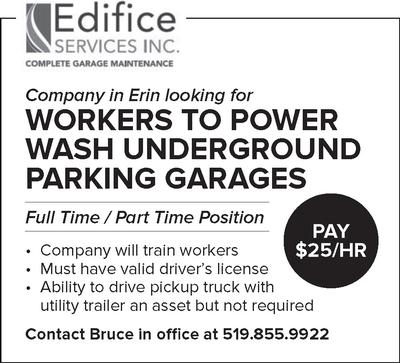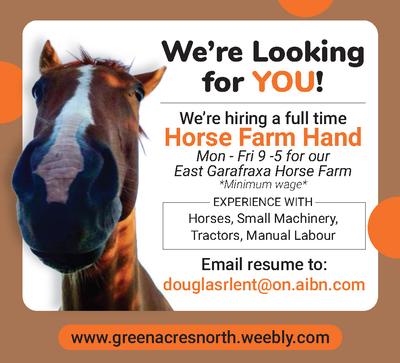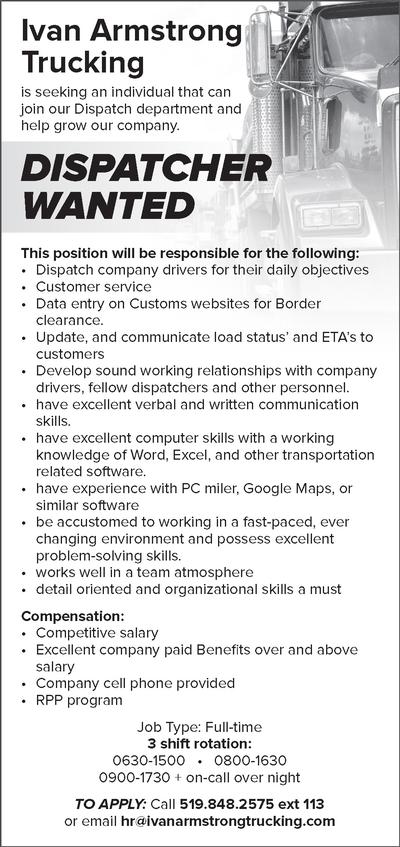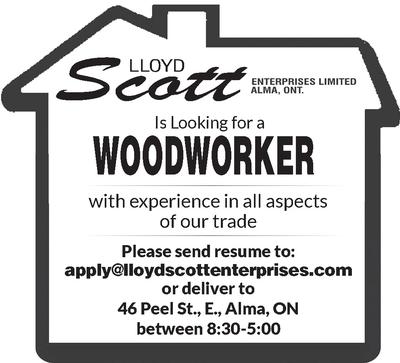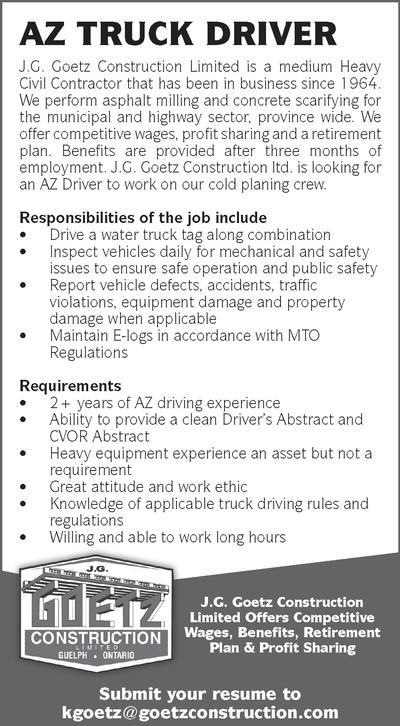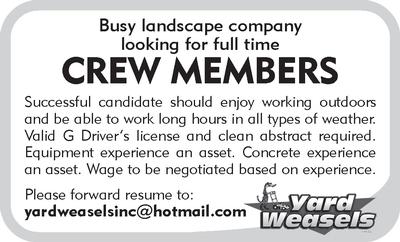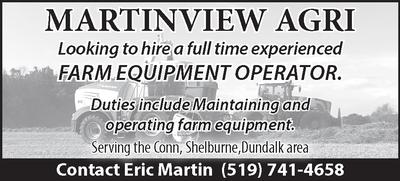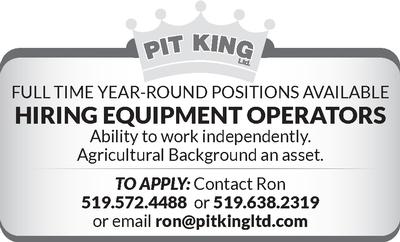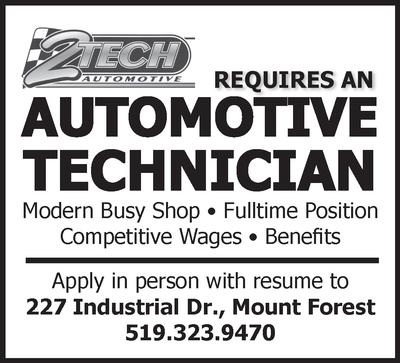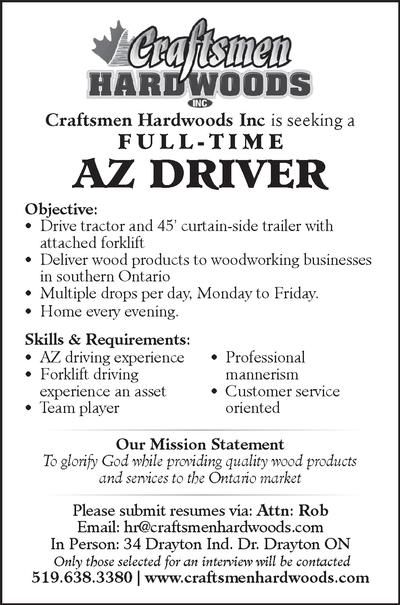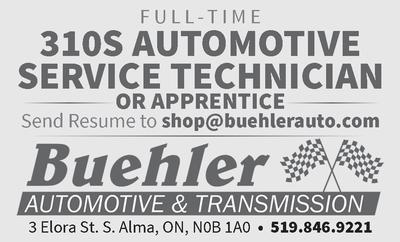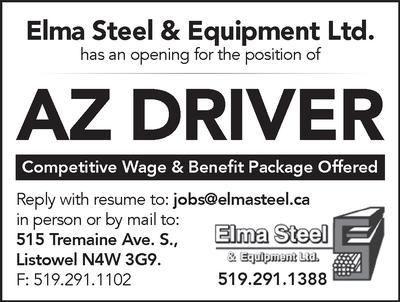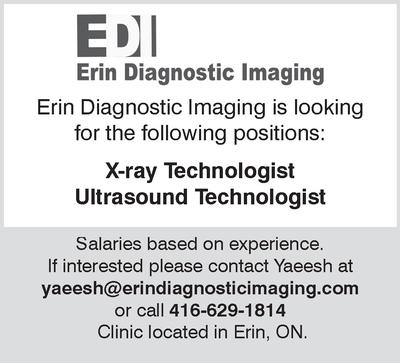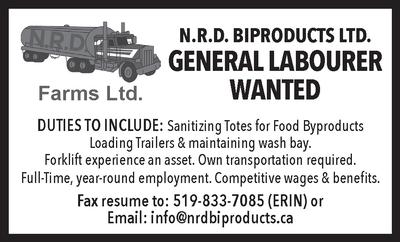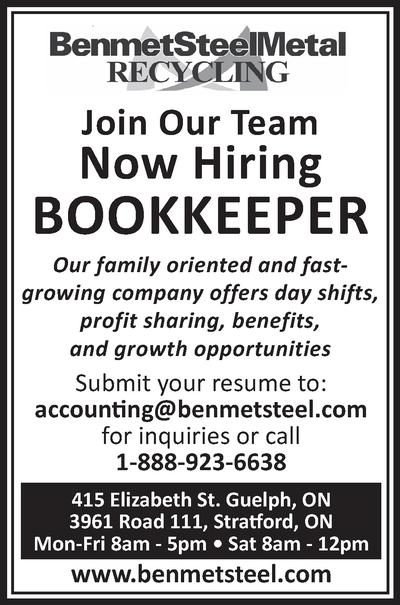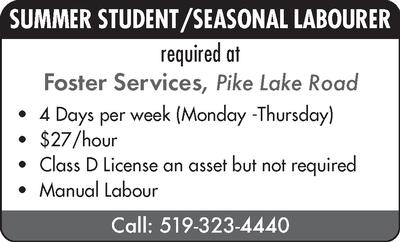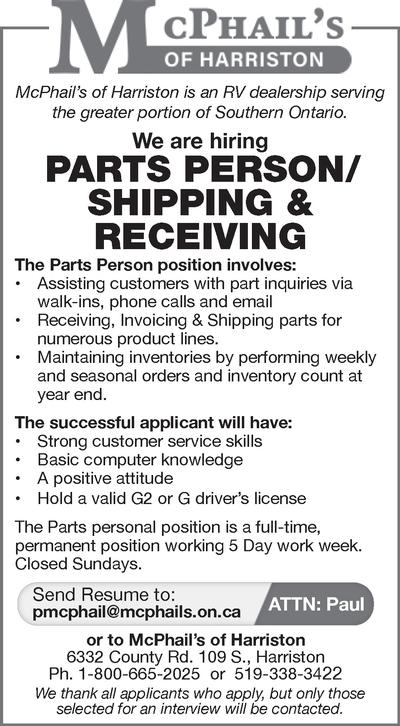 Items Wanted
WANTED TO BUY- COCA COLA collectibles and any other soda collectibles. Also looking for pinball machines, old milk bottles, old dinky toys and gas and oil collectibles. Call 519-830-0759.
WANTED-unwanted snowblowers, lawn tractors, rototillers, older farm tractors and equipment for reconditioning. Will pick up. Bob 519-400-2925 No Sunday calls.
WANTED CEDAR TREES 3ft-12ft, we dig, CASH paid!! Call 905-691-3030
BUYING ATV's, Cars and Trucks. Top prices paid. Call us today at Rockwood Motor Products, 519-856-2222 or email rmp.on@sympatico.ca
AM/ FM Pocket Radio. Also, senior will walk your dog $5. Text or phone 519-831-3983.