Classifieds
Farm and Livestock
Farm Equipment
CORN PICKER, New Idea two row, working order $2,600. Tractor cab, year round, good glass, 37 between fenders $1,250. New Idea 7ft snowblower, late model single auger $1,450. IH 56 corn planter, good condition four row, fiberglass boxes $2,200. Grain auger, with 220 V. motor, Westfield 36ft, 6in $1,650. Dan Seifried, Harriston 519-338-2688
Livestock
PULLETS ready to lay brown or white. New and used equipment. No order too small. Pullets Plus Inc. 6880 Line 86, Elmira. 519-669-2225.
Wanted: Old and crippled cull cows. Must be able to walk and be drug free. Cash paid. Call Dennis 519-654-7833.
M + M Livestock Wanted: Culled cows. Highest prices. Call collect 519-836-2070 Guelph or 905-852-3238 Uxbridge.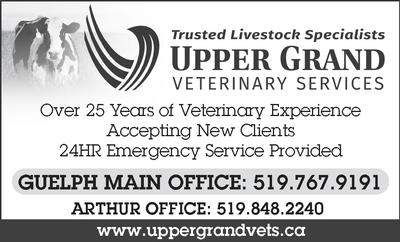 Produce For Sale
MT. FOREST Ag Auctions: Hay, straw, & firewood consignment auction every Wednesday 10am. Located east of Mount Forest @ 43853 Southgate Rd 4. 519-338-5267
STRAW & HAY: large squares of 1st & 2nd cut hay. Straw, small squares wheat straw in bundles of 21. Call 519-575-5723
HAY AND STRAW - will deliver in loads of 42-4x5, 72 big square bales. Call Reg Small 519-323-2191.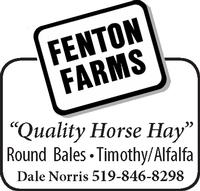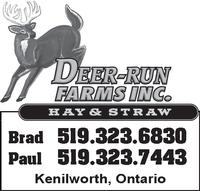 Homes' Apartments & Condos
Apt. for Rent
MOUNT FOREST 2 bedroom, 1 bathroom in a quiet adult building available December 1st 2022. Suitable for mature responsible tenants. New flooring throughout, 950 Square feet. One parking space included. $1200.00 plus Utilities. Call or email for viewing and application. Hapfield Developments Phone:519-323-2000 Email: Brandy@Hapfield.ca
2-BEDROOM available Feb 1st in upscale mature adult building, Palmerston. Main floor. Heat and water included. $1700/month. No pets/no smoking. Contact Gill, 226-792-0699 or 416-453-0699.
2-BDRM APARTMENT in Harriston. Fridge and stove included. Call 519-323-4091 for more details.
Items for Sale
Antiques
ATTN: WE have lots of cool smalls arriving- toys, trains, vintage tins, good old Christmas fun stuff. New deals, chaos, fun insanity. Buy-Sell-Trade "No Big Furniture" 7 days a week- 10:30ish till 5:30ish. Iron Bucket, Downtown Fergus 519-787-8287 Answering Machine! We're here for the long haul!
WE ARE looking for antique furniture, porcelain, oriental carpets and art. Please call or text Neels 519-830-9277 or email neelscompion@gmail.com
Garage Sales
GARAGE SALE daily until December 10th. 581 Katherine St. N. West Montrose.
Items for Sale
WHOLE GARAGE, pretty blue & white, single, super insulated, waterproof, freezer steel inside and out, steel roof, made for classic car storage, option tiny home. Also 10x10 red shed, strong- metal roof and sides- 2 doors, 2 windows. 519-502-1569.
ART SALE, car seat blankets Saturday December 3 10:00 am to 3:00 pm 5725 Third Line, Erin (North of 17th Side Rd) 519-216-0242
ASH $150-500 Depending on size and location. Contact B_rover@icloud.com or 613-503-1260, 613-503-2365
8FT CHRISTMAS tree for sale complete with lights and stand. Asking $200. Contact 519-846-5977.
WINTER TIRES (4) Hankook 215-60-15 Low milage. $280. Contact 519-240-0832
WHITE PINE LUMBER- 1in. x 8, 10, 12in. Call for a quote. A. Rogers Sawmill, one mile east of Ennotville. 226-821-3990. Hours: 8am-12, 1-5pm.
FIREWOOD- A full bush cord of soft wood for sale. Chopped, split and dried for one year. Asking for $125.00 Please call 519-509-1032.
SEASONED FIREWOOD split hardwood, 12-16 lengths, pick up or deliver. $75/cord. Acton area. Contact 519-853-4646.
FIREWOOD FOR SALE. Seasoned hardwood. Cut and split in 12" pieces. Delivery available. Call 519-338-5439
FIREWOOD LOGS for sale-tractor trailer loads, long links. Call Rick, 519-353-8167
VAN TRAILERS to buy. Call Reg Small for more details, 519-323-2191.
STANDING TIMBER for sale, marked by a Forester, cutting permit approved by township, lot is west of Mount Forest, ready to go Call 519-806-9500.
PRESSURE WASHERS- A unit to suit most every application, cold, hot and pressure cleaning detergents. Tri-Mech Inc . 519-638-2836
FIREWOOD- SEASONED hardwood. 12" or 16" lengths available. Picked up or delivered. 519-846-5010 or cell 519-575-5723.
WELL Seasoned Firewood for sale. Local delivery included. Call for pricing or to order 226-821-1868.
SNOWBLOWERS: NEW walk behind snowblowers in stock at Turfline Small Engine. Call 519-323-3571
A-1 MIXED hardwood, 12in. or 16in. lengths. Call 519-994-6075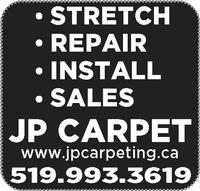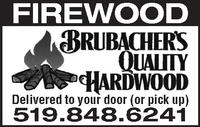 Mortgages and Financial
Private Mortgages
THE MORTGAGE PEOPLE- We do difficult mortgages. 1st, 2nd & 3rd mortgages. Residential, Commercial, Industrial, Farms & Land. Good credit, bad credit, self-employed. We will come to you. We use your equity in your home to get you approved. Mortgages are cheaper than your credit card. REVERSE MORTGAGES. No fees up front. One week to complete after everything is signed. Could be sooner! Call Don Madill #M08004349 or Nicholas Seibert #M19000535 519-743-5361 or 1-800-361-5114 (Lic#10300) www.themortgagepeople.ca
Personal Services
Cleaning Services
COMPASSIONATE HOUSEKEEPER. If you or a family member require help on a day to day upkeep of your home, or if you need assistance with shopping or running errands, please contact Patti 519-648-3468. Breslau, Elmira area preferred within 20km
Storage
SWAVING STORAGE- Mobile Storage units 16ft. to 22ft. long. Delivery and pick-up. 519-843-1299 Website: www.swaving.ca Email: mike@swaving.ca
20FT SHIPPING containers for sale or rent. Also, 40FT Shipping containers for sale. Merlin Rice 519-323-1208 or 519-323-8670
INSIDE VEHICLE storage available for cars and vans. Private location north of Rockwood. 519-856-2538
INDOOR WINTER RV storage. Heated bay. Up to 30ft.long. Fergus area. Call 519-843-3095 for more info.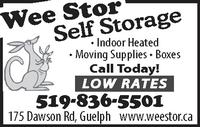 Pets
Pets
SCOTCH COLLIE (Lassie type) pups for sale. $300/each. Call 519-323-0331
Professional Services
Custom Work
CUSTOM Manure handling (solid or liquid). Skidsteer service available. Barn cleaning etc. 519-831-3730.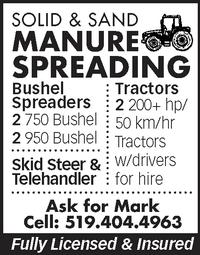 Lawn & Garden
GIB'S GARDENS Property Service: Garden and leaf cleanup , stone patios and walkways, lawn care, sodding, painting, garbage and brush removal, trimming, eavestrough cleaning, odd jobs and more! Let our team take care of your property needs in our 8th season! We offer quality services at competitive rates. Call or text Matt 519-362-4896, or email gibsgardens11@outlook.com. Local, reliable, experienced.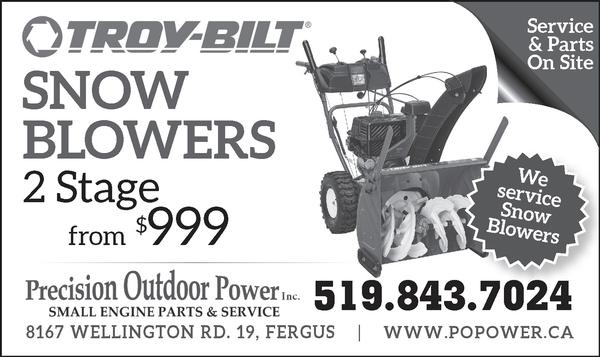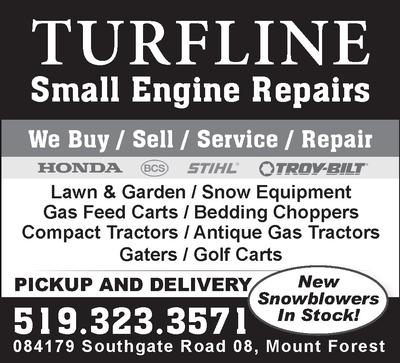 Scrap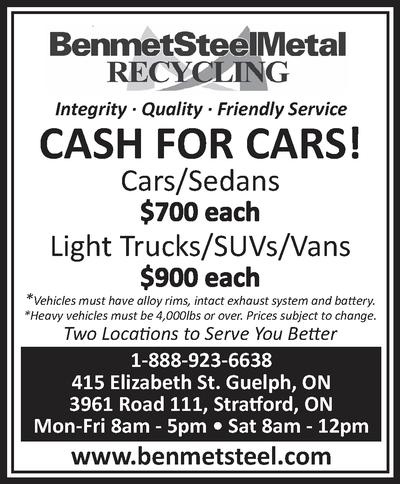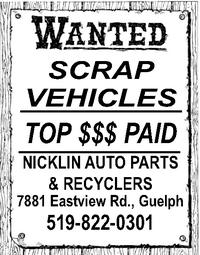 Trades and Services
PREVENTATIVE Maintenance products for your equipment. Sales of Battery Equaliser, the #1 globally tested and proven liquid battery treatment formulated to extend the life and performance of any new or used lead acid battery. PowerUp Lubrication Solutions, protect your equipment with premium lubrication designed to dramatically reduce wear, optimize performance and fuel efficiency and extend service intervals. Call Warren, 519-589-3889.
RENOVATOR (semi-retired) Indoor/outdoor work. Repairs to doors, trim work, decks, fences. All work guaranteed. Free estimates. Call Al at AK Contractors. 519-856-2230
CONTRACTOR REPAIRS, restores, remodels, builds and jacks up farm and storage buildings, cottages, homes, etc. Also roofing, siding, doors, windows, fencing, cement work, beams, posts, timbers, framework, rafters, foundations, decks, docks installed, replaced, repaired. Brian McCurdy 519-986-1781/ 519-375-0958.
LICENSED PLUMBER- 40 years experience. All types of installations and repairs. Hot water tanks, water softeners installed. Call Ken for a free estimate, 519-831-0422.
GREENWAY CHIMNEY: Installs, sweeping, inspections, masonry repairs. WETT certified for your safety. Call 519-820-6369.
MARTIN WELL Drilling- Rejuvenate & clean up existing wells. Well extensions. De-commission abandoned wells. Flow tests. Pump service & water treatment. MOE certified. Call Len 519-846-9162, Jeff 519-846-1993 or Mike 519-638-8928. www.martinwelldrilling.com
AB RENOVATIONS Basement, Bathroom and Kitchen renovations, ceramic tile, wall papering, painting, drywall, you name it. Affordable pricing. Free estimates. Fergus and surrounding area. Alan 519-787-1202 or cell 519-830-1202
SUMP PUMP installations & inspections. Back-up systems installed. Licensed and insured. Ken, 519-831-0422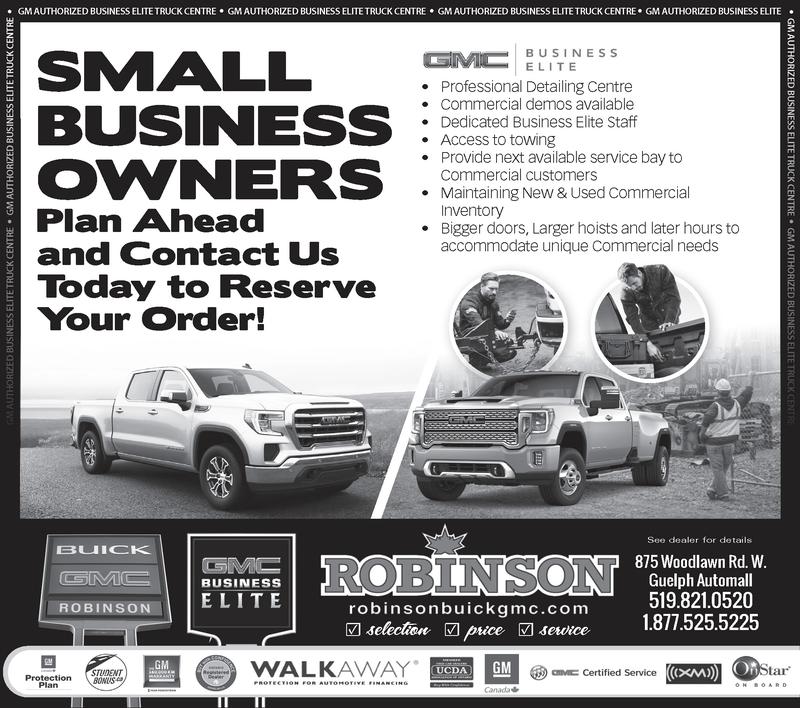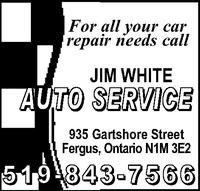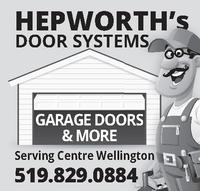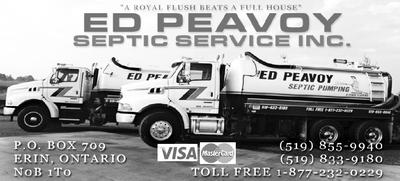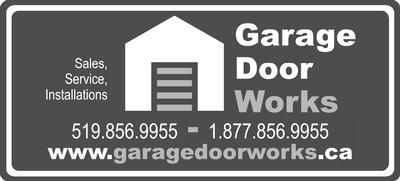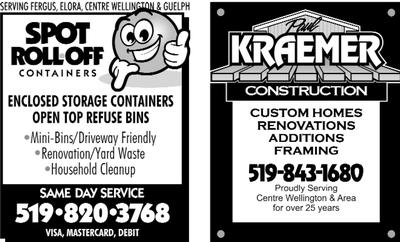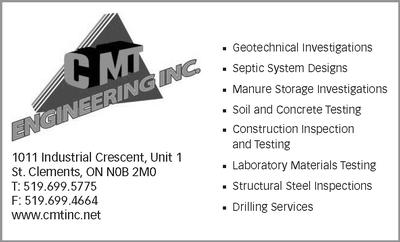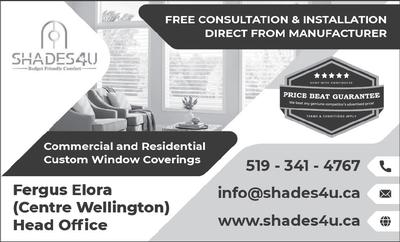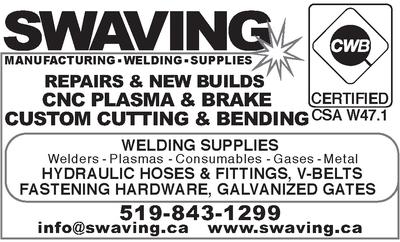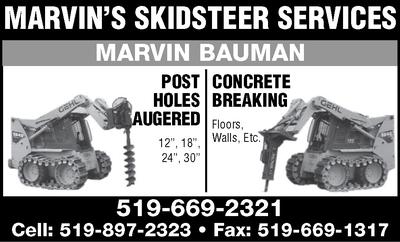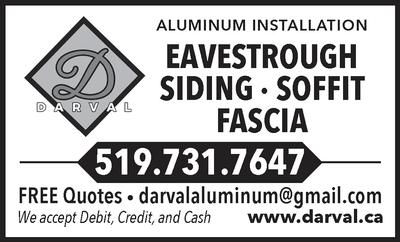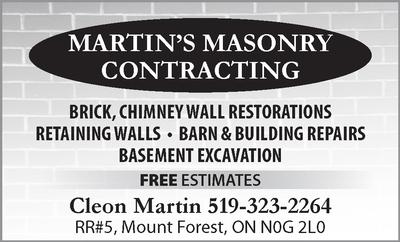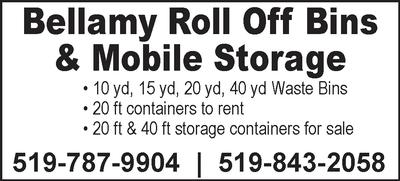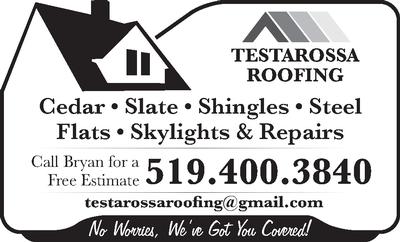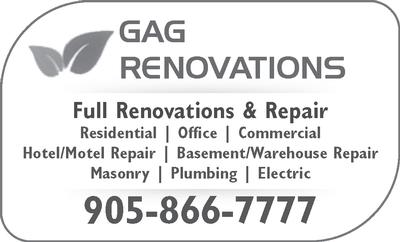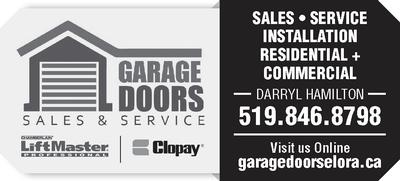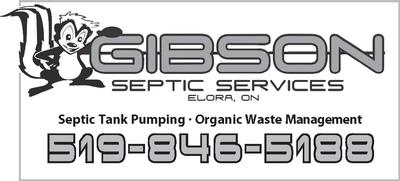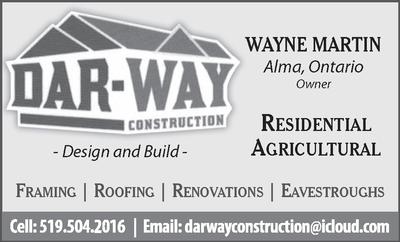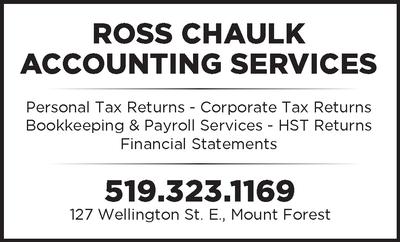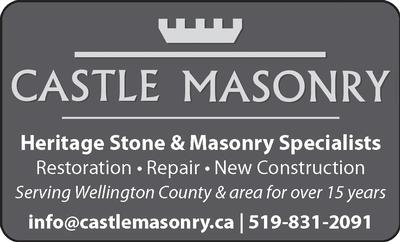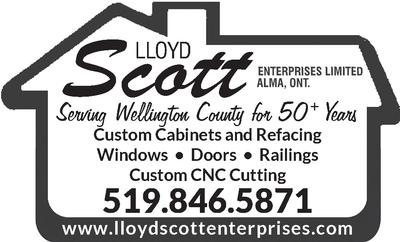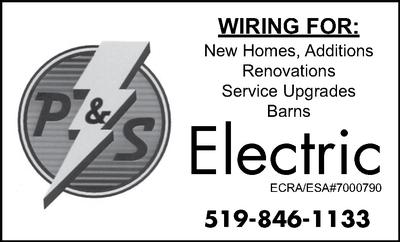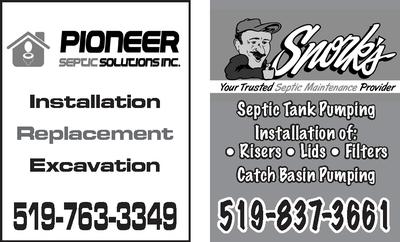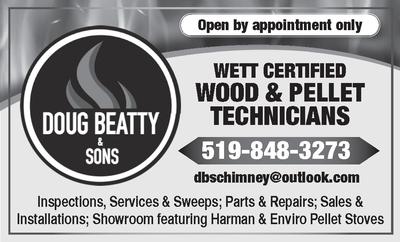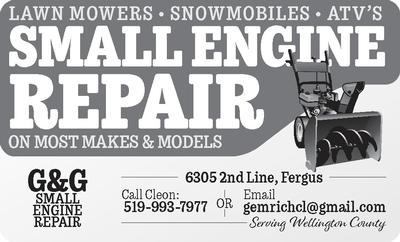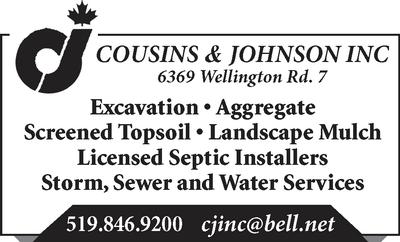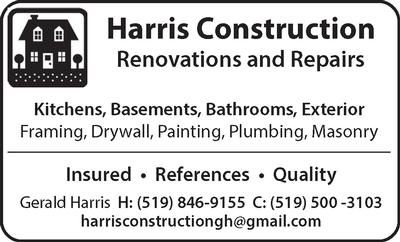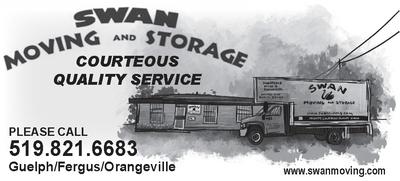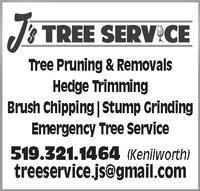 Recreational
Crafts & Hobbies
ARTISAN SALE: Christmas in the Country. Sat Nov. 26, 9-2pm, Seedrioru, 6338 8th Line W, Elora.
Seasonal
Christmas Trees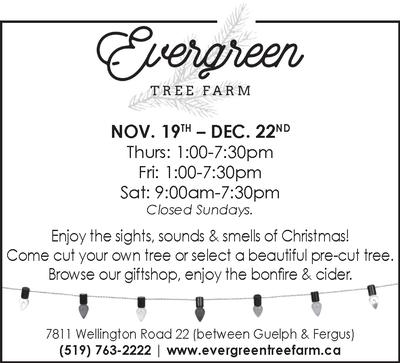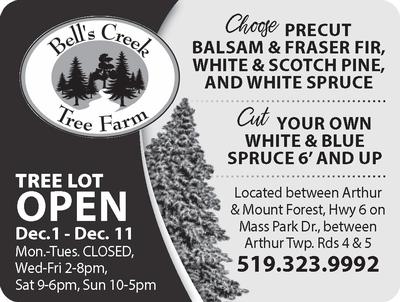 Vehicles
Cars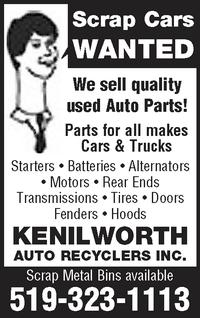 Trailer and Mobile Homes
ENCLOSED TRAILER, 20ft.x8.5ft. plus 4ft. nose, dual axle, brand new /newer used, many extra options, for a business, moving vehicles or made into camper. 519-502-1569.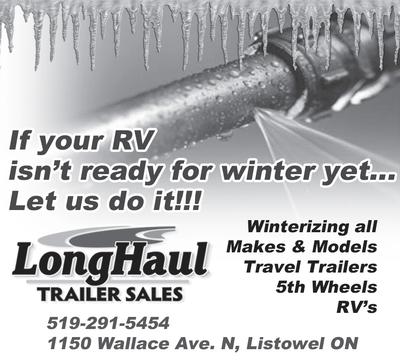 Wanted
Help Wanted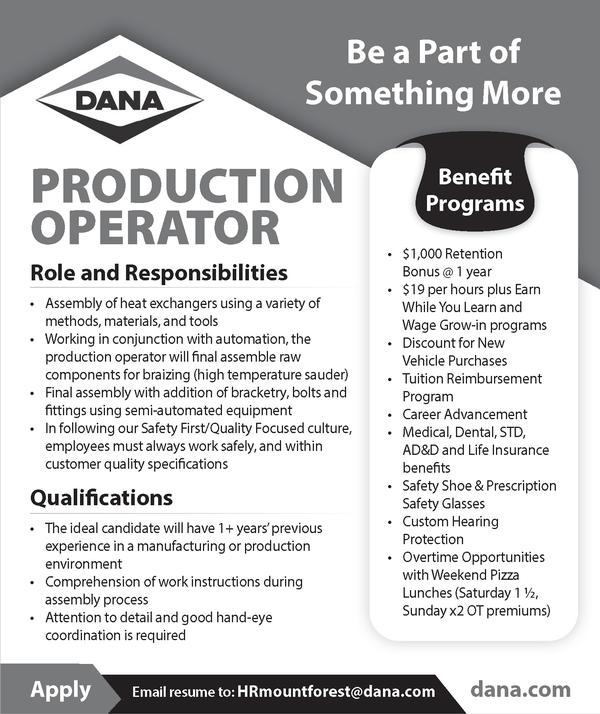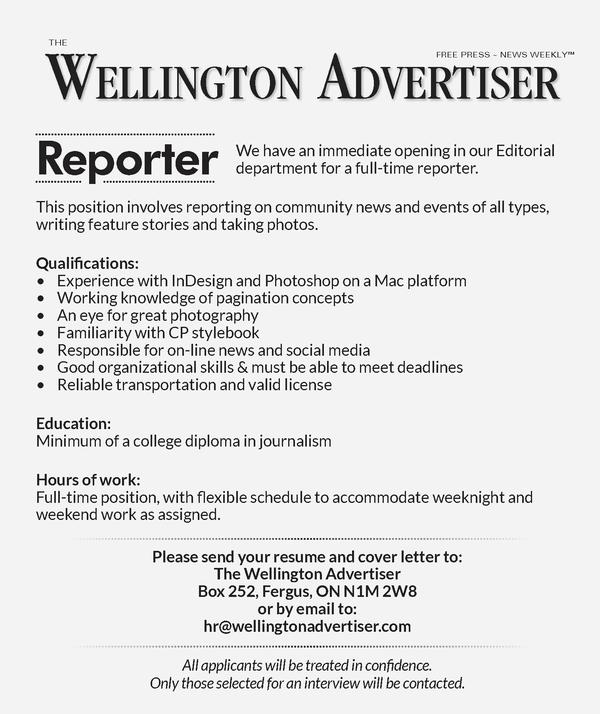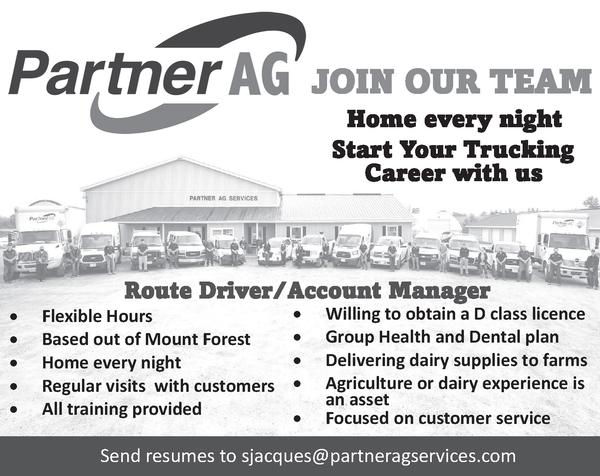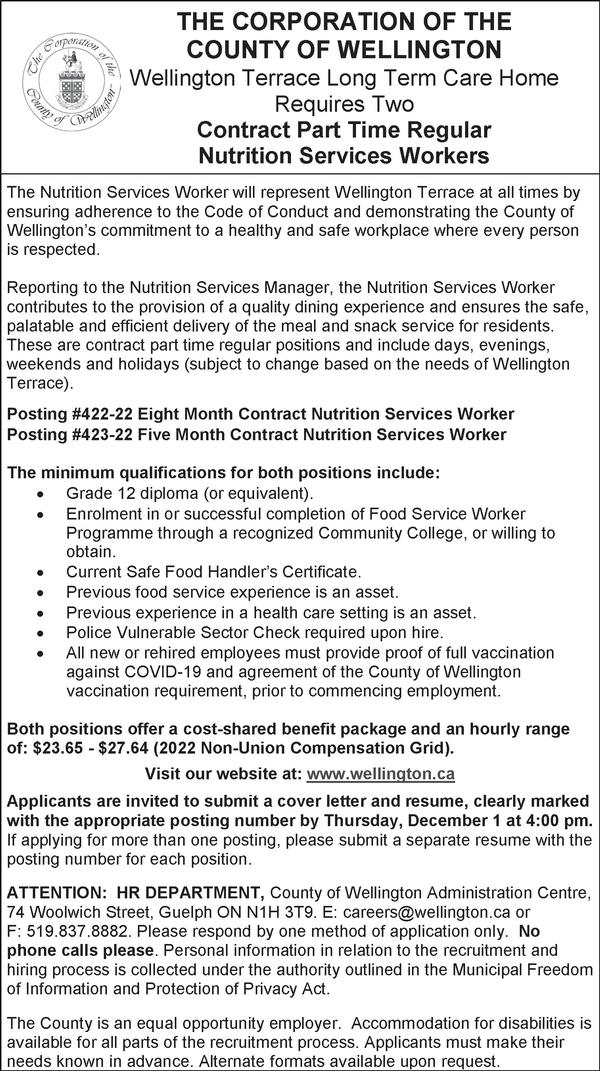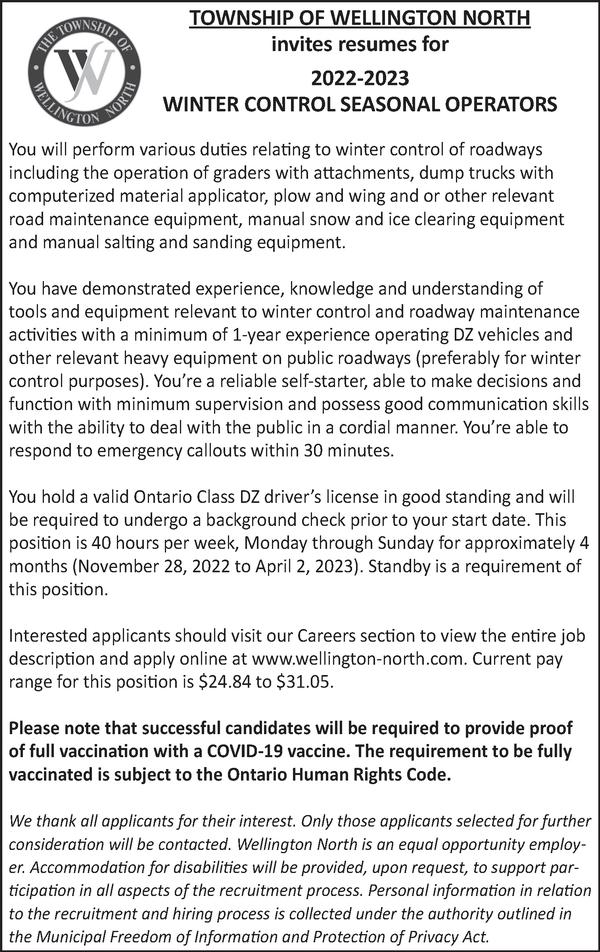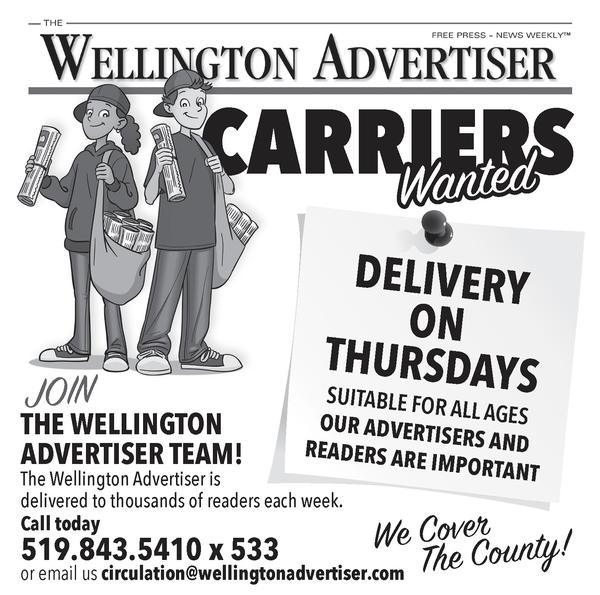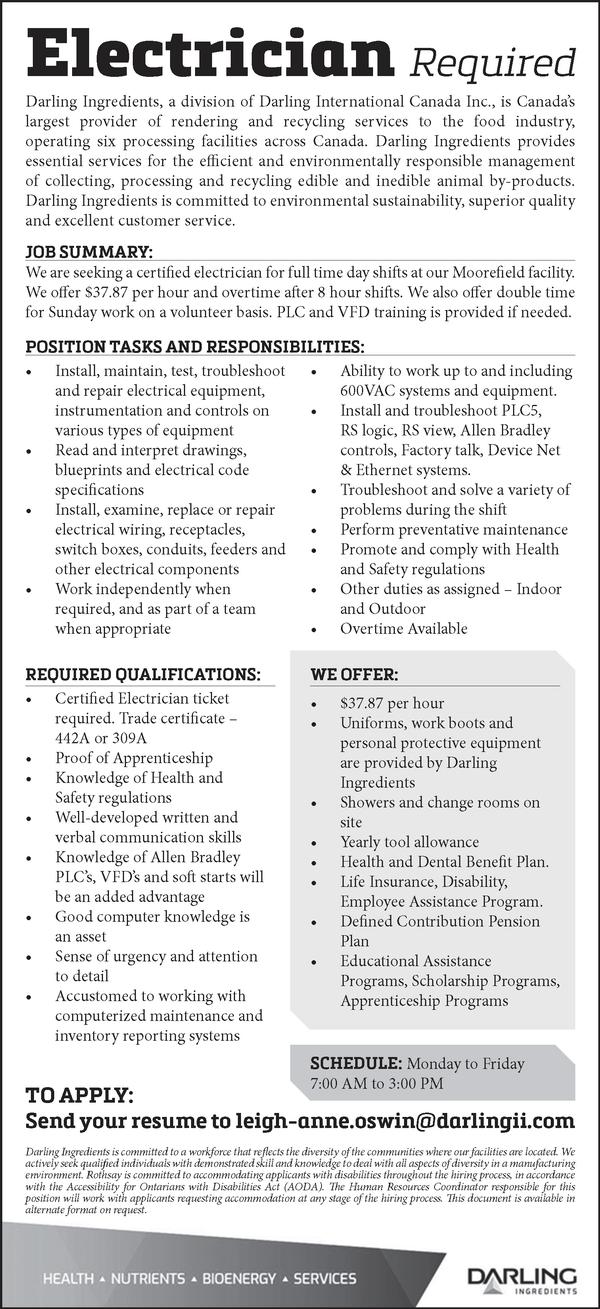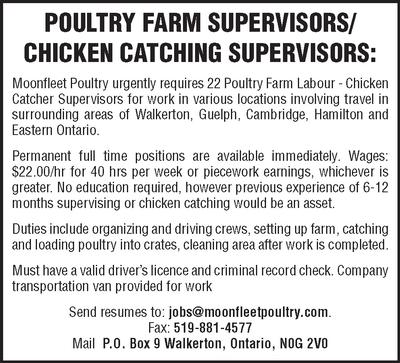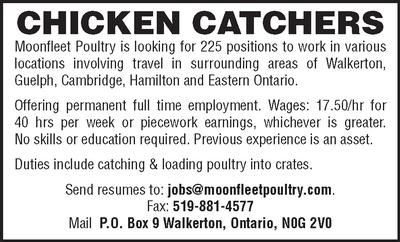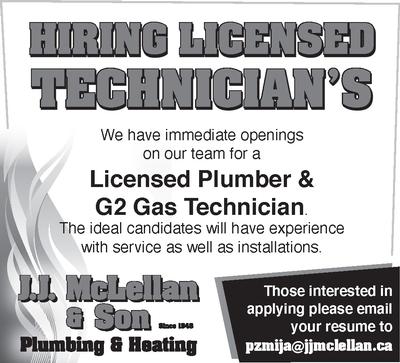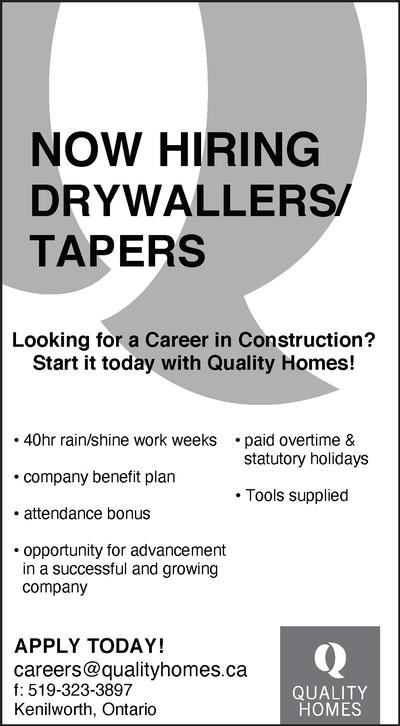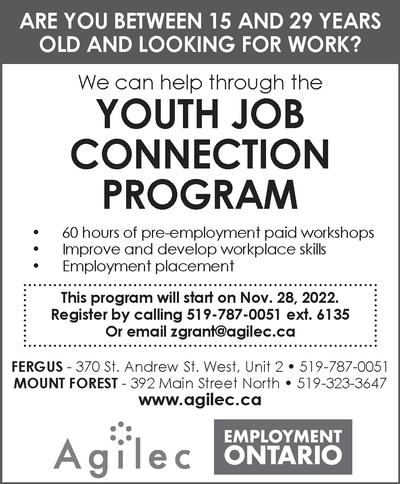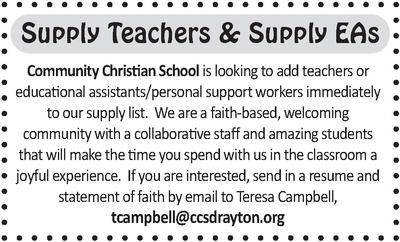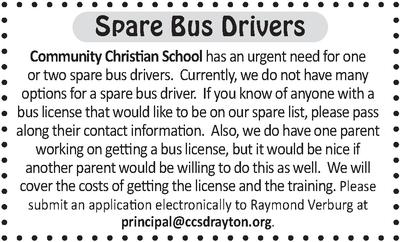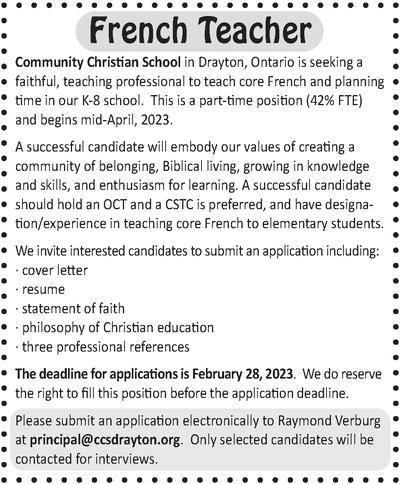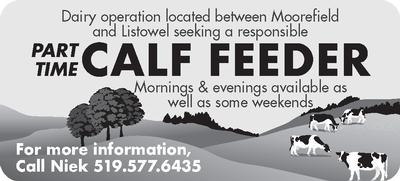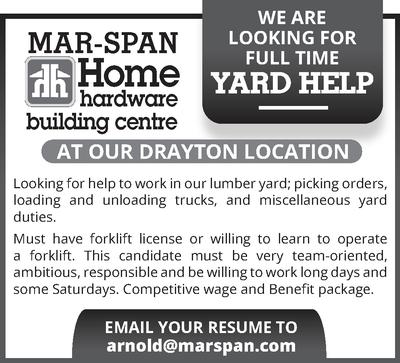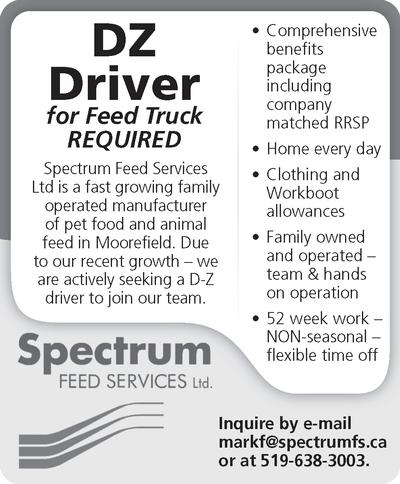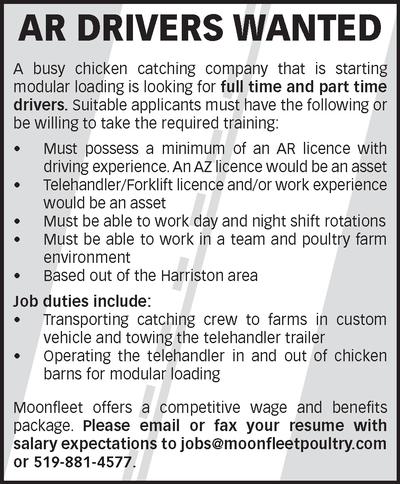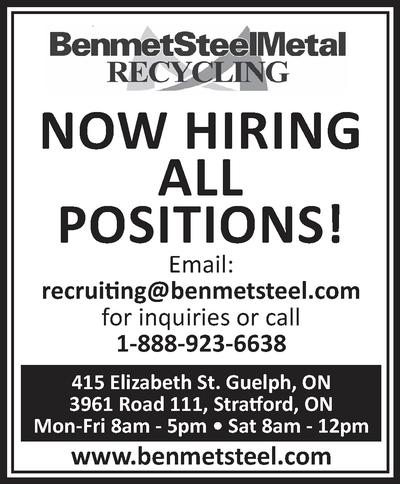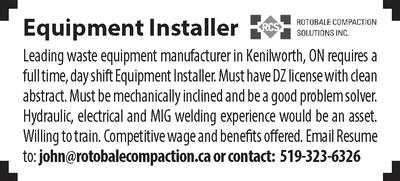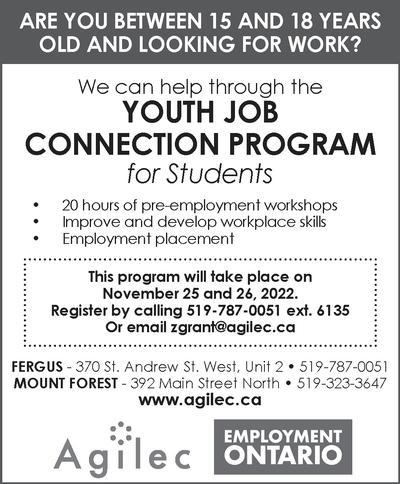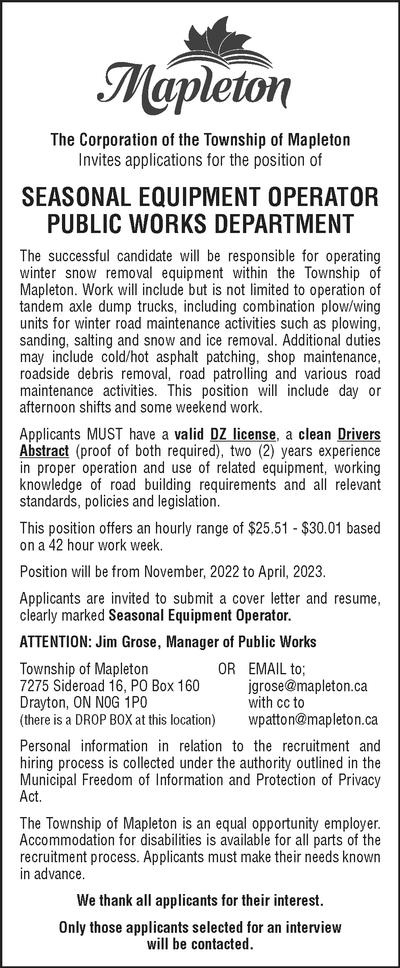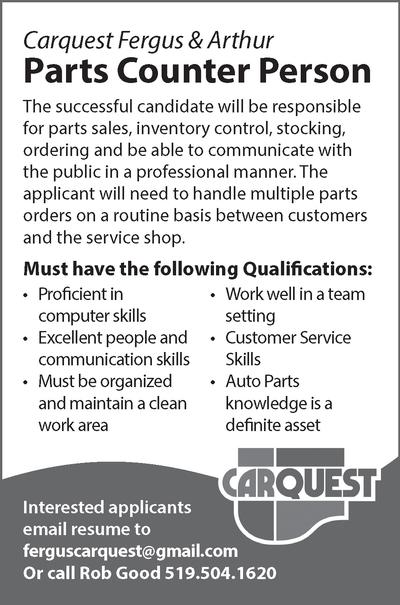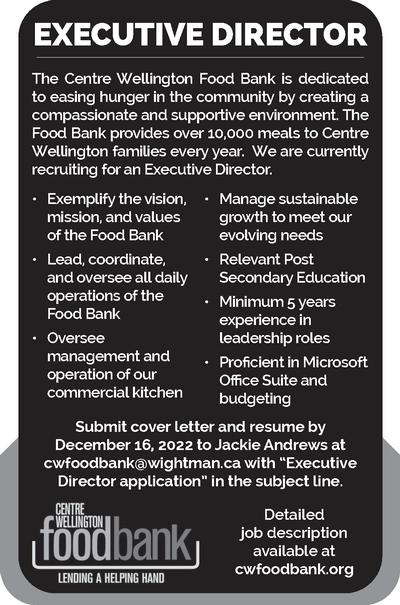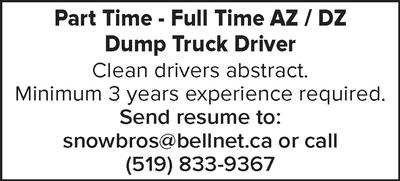 Items Wanted
CONSIGNMENTS/-PURCHASING: 1&2 drawer lamp tables, nesting tables and washstands in good condition. Also pottery, costume/good jewelry and collectables. Call Ken Feakins Antiques and Furniture Refinishing between 9am to 5pm 519-843-1470
WANTED-unwanted snowblowers, lawn tractors, rototillers, older farm tractors and equipment for reconditioning. Will pick up. Bob 519-400-2925 No Sunday calls.
VINTAGE BOOKS and other paper items, catalogues, magazines, post cards etc. Call 519-400-2457 E-mail ronloncke@rogers.com
UNWANTED GUNS??? Properly Licensed Buyer Guns, Cabinets, Collections 705-795-7516.