Classifieds
Farm and Livestock
Farm Equipment
MF 1143 corn head, 30", 4-row; Versatile 8"x41ft auger, hydraulic drive; Allied 8"x61ft auger. Best offer. 519-638-3829 or 519-573-5367.
Farms For Sale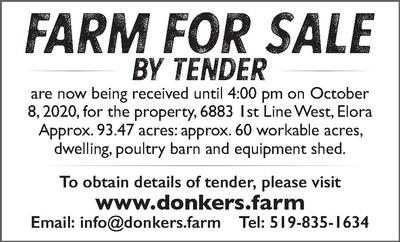 Livestock
M + M Livestock Wanted: Culled cows and old horses. Highest prices. Call collect 519-836-2070 Guelph or 905-852-3238 Uxbridge.
PULLETS ready to lay brown or white. New and used equipment. No order too small. Pullets Plus Inc. Phone 519-669-2225.
Wanted: Old and crippled cull cows. Must be able to walk and be drug free. Cash paid. Call Dennis 519-654-7833.
Produce For Sale
BALER TWINE for sale: net wrap, balewrap, black and white silage covers. Also selling 'The Juice' hay preserver for Nuhn Forage. Call Elvin at Weber's Farm Supply, Mount Forest. 519-323-1043.
WHEAT STRAW- 4x5 rounds. $30/ea. Pick up only. Text: 226-971-1722 or call 519-856-4537. (Rockwood)
MT. FOREST Ag Auctions: Hay, straw, & firewood consignment auction every Wednesday 10am. Located east of Mount Forest @ 43853 Southgate Rd 4. 519-323-2658
SMALL SQUARES grass horse hay. No rain. Pick up or possible delivery. Harriston. ab519-444-8072 / 519-327-8060
STRAW- Small squares in bundles of 21. Also large square bales of chopped wheat straw.. Pickup or will deliver. Call Lavon, 519-575-5723.
HAY FOR SALE round bales 2nd cut 4x4 741 pounds. Green feed grain 4x4 613 pounds. No rain. Fergus 519-341-3464, 519-835-2425
HAY AND STRAW - will deliver in loads of 42-4x5, 72 big square bales. Call Reg Small 519-323-2191.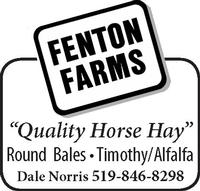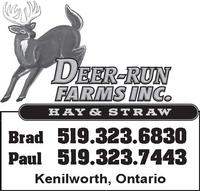 Homes' Apartments & Condos
Apt. for Rent
MOUNT FOREST- newly renovated studio apartment on quiet street overlooking river. Large backyard with ample parking. Close to all amenities. Avail. Oct.1st. $600/month plus utilities. For more info call Roberto 519-580-0185.
2-BDRM, 900SQ.FT. apt. for rent close to downtown Palmerston. Mature tenant preferred. No pets. $950/-month (all inclusive). First & last required. Avail. Oct.1st. Text only please for interview, 226-622-5958.
2 BEDROOM apartment for rent in Arthur $1250 /month, utilities included. First & last. Ground floor, no pets. 905-715-5592
GROUND LEVEL 55+ Senior 2 bedroom apartment in Drayton. $1295+ hydro/month includes heat, water and sewer, grass cutting, snow clearing. No pets. Available November 2nd. No Sunday calls please. 519-993-2080
MOUNT FOREST- 2 bdrm apt. Clean & well-maintained. No pets/smoking. References required. $675/month plus utilities. 519-820-9513 www.apt262264fss.com
For Rent
SALON FOR rent: Turn key operation. Owner is retiring. $900/mo. + HST. Downtown Fergus. Call Pat 519-820-8383 or Dan 226-500-6523.
Shared Accommodation
SPACIOUS ROOM with small side room in modern country home. A cooperative living environment. Quiet 70 acre property for your enjoyment. Rockwood/Fergus area. $650/mth. all inclusive including internet. Available Nov.1st. Call 519-856-9306
Items for Sale
Garage Sales
WOODWORKING TOOLS, Lift chair & more Hitachi table saw with stand, Black & Decker plunge router with stand, wood metal cutting band saw 16" Delta on stand, drill press, variable speed grinder, carving tools & dremels, wood lathe, rotary tools & more. Also electric lift chair. Sat. Sept. 26 8 endash 1. 130 Millburn Blvd. Fergus, ON Rain or Shine.
596 HILL ST. E. Fergus -Sports equipment, kids' toys, bikes, books, household items. Saturday Sept. 26, 7:30am-?
ST. JAMES YARD and Optimist Book Sale. 171 Queen St. E. Fergus. Saturday Sept. 26th. 9am-1pm. Covid rules apply.
Items For Sale
CONTRACTOR REPAIRS, restores, remodels, builds and jacks up farm and storage buildings, cottages, homes, etc. Also roofing, siding, doors, windows, fencing, cement work, beams, posts, timbers, framework, rafters, foundations, decks, docks installed, replaced, repaired. Brian McCurdy 519-986-1781/-519-375-0958.
PRESSURE WASHERS- A unit to suit most every application, cold, hot and pressure cleaning detergents. Tri-Mech Inc . 519-638-2836
FIREWOOD for sale. Mixed hardwood. Also poplar for camp fires. Delivery available. 519-261-0488 (Kenilworth)
SET OF 4 Snow tires on GMC pickup rims. P235/75 R15 good condition. $200. Call Sandy in Fergus 519-787-2724
FIREWOOD:Mixed hardwood. Cut, split, dry. 12" lengths. $70 bulk or face cord. Call 519-669-3207.
TWO SINGLE beds complete with boxsprings and mattresses. $60/each. 519-787-7064
FIREWOOD PROCESSOR for rent. Cord King M-1820 will cut, split and stack your wood. Available for 5-day rentals. Will do a bushcord in an hour easily. Email jvandermeer73@gmail.com or call/text 1-905-691-2237.
WHITE PINE LUMBER- 1in. x 8, 10, 12in. Call for a quote. A. Rogers Sawmill, one mile east of Ennotville. 226-821-3990. Hours: 8am-12, 1-5pm.
FIREWOOD- SEASONED hardwood. 12" or 16" lengths available. Picked up or delivered. 519-846-5010 or cell 519-575-5723.
FIREWOOD FOR SALE. Seasoned hardwood. Cut and split in 12" pieces. Delivery available. Call 519-338-5439.
SEASONED HARDWOOD firewood for sale. Stored inside. 12" cut. Delivery available. Call 519-323-3817.
FIREWOOD FOR SALE: seasoned mixed hardwood. $60/cord. 519-323-0485 (Mount Forest area)
VAN TRAILERS to rent or buy. Call Reg Small for more details, 519-323-2191.
HAND SANITIZER for sale. 80% alcohol Health Canada. $20/750ml bottle or $200/case (12). Text 519-803-9994 (Fergus) or email 2737468ontarioinc@gmail.com. Can deliver orders of 6 or more cases.
FIREWOOD- Seasoned hardwood cut to your desired length, 12/16/24 inches, $240/-bushcord on Elmira area farm. Delivery $35/bushcord extra. 519-669-8765.
SNOWBLOWERS, new and used walk-behind, in stock at Turfline Small Engines Mount Forest. For more details call 519-323-3571.
FIREWOOD 12" lengths split, seasoned, stored indoors $60/cord 7591 8th Line, Drayton. 519-638-7791
WELL Seasoned Firewood for sale. Local delivery included. Call for pricing or to order 226-821-1868.
FIREWOOD LOGS for sale-tractor trailer loads, long links. Call Rick, 519-353-8167
A BUSHCORD(S) of well seasoned hardwood in 12" and 16" lengths.Call 519-994-6075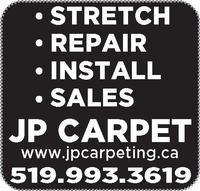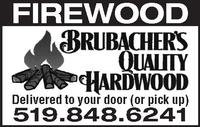 Mortgages and Financial
Financial
INCOME TAX payment deadline is September 30. File now to avoid penalties and to ensure you receive your benefits. Prompt, professional service. Call David at 519-658-7536 or riobravo@wightman.ca.
Private Mortgages
THE MORTGAGE PEOPLE- We do difficult mortgages. 1st, 2nd & 3rd mortgages. Residential, Commercial, Industrial, Farms & Land. Good credit, bad credit, self-employed. We will go to your home. Emergency Home Mortgages! $25,000.00 @ 7.50%= $156.25 minimum monthly payment, $50,000.00 @ 7.50%= $312.50 minimum monthly payment, $75,000.00 @ 7.50%= $468.75 minimum monthly payment, $100,000.00 @ 7.50%= $625.00 minimum monthly payment. WE DO REVERSE MORTGAGES. No fees up front- One week to complete after everything is signed- Could be sooner! Call Don Madill 519-743-5361 #M08004349 or Austin Ainslie #M18002432 519-498-4905 or Nicholas Seibert #M19000535 519-497-0271 www .themortgagepeople.ca Kitchener 1-800-361-5114 (Lic.#10300)
Personal Services
Child Care Available
30 YEARS childcare provider, CPR - First Aid, references, reasonable, your home - my home: 905-460-6932 in Mount Forest
Health
PRIVATE CERTIFIED PSW available in Centre Wellington. Light duty, no lifting. Call 519-731-7743
Storage
48' & 53' DRY TRAILERS to rent or sell, also 20' sea containers for rent. Merlin Rice, Mount Forest. 519-323-1208
CONTAINER STORAGE & outdoor storage. Store your travel trailers, RV's, boats, cars, trucks, cargo trailers, flatbed trailers. Own a small business and don't have enough room? We also rent out sea containers, 8ft. wide x 40ft. long, with lights & one 15amp. plug. Located 4km. south of Fergus. Call 519-731-6282.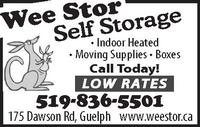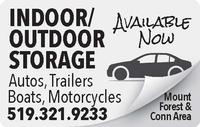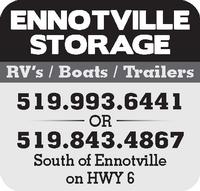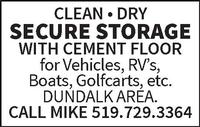 Professional Services
Business Services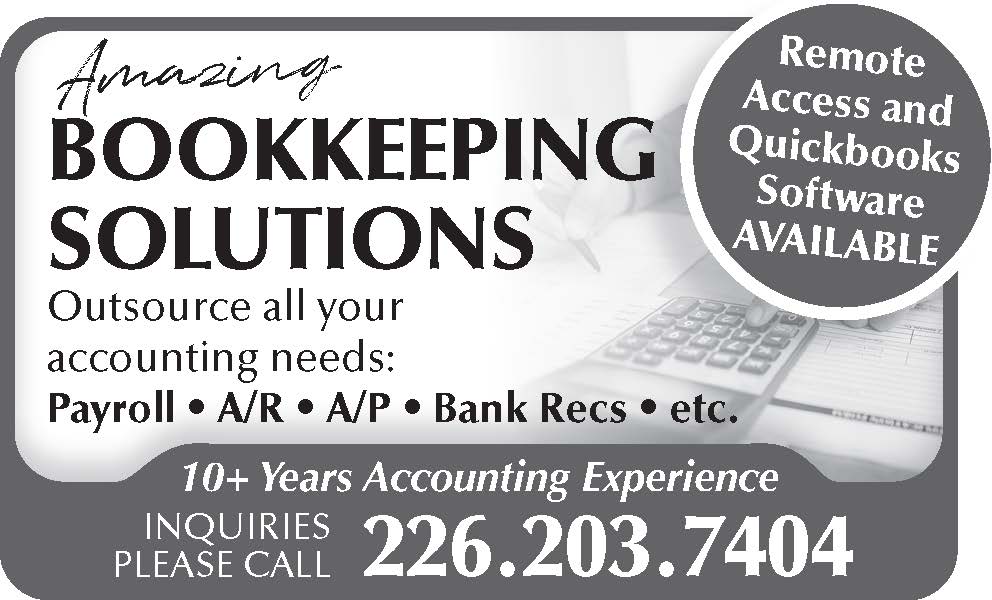 Custom Work
CUSTOM Manure handling (solid or liquid). Skidsteer service available. Barn cleaning etc. 519-831-3730.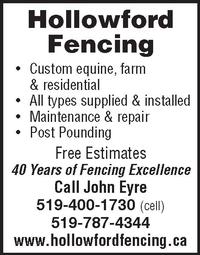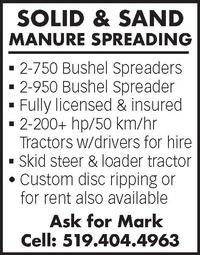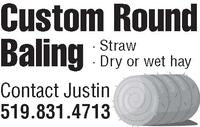 Educational Services
TUTORING (1-on-1) on-line. Qualified teacher in Math, French and Physics. Prefer High School. Phone Marg Gollinger 519-846-5574 before 8pm please. More info: marggollinger.wordpress.com/-tutoring/
Lawn & Garden
STUMP GRINDING- Fast, efficient, versatile track machine great for any situation. For a quote call Robin 519-767-4924 or e-mail info@robinaggus.ca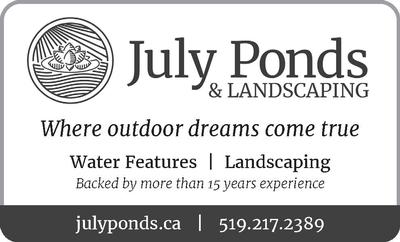 Scrap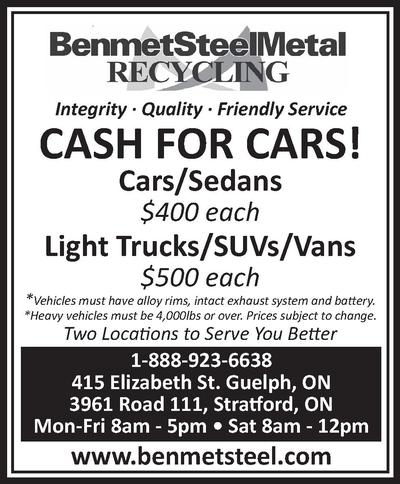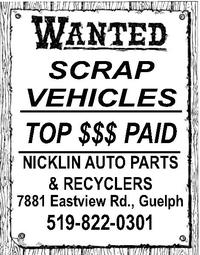 Trades and Services
-PROPERTY SERVICES- **Working with COVID-19 precautions.** Spring clean-up, hedge and tree trimming, garbage and brush removal, power washing, window cleaning, eavestrough cleaning, exterior painting, commercial & residential lawn care, odd jobs and more! Offering quality services at competitive rates. Let me take care of your property needs during my 6th season! Got a job? Ask Matt. Local, reliable, experienced. 519-362-4896 OR giblin-@hotmail.com
SMALL EXCAVATING/-grading jobs? Call 519-400-9904 for prompt service, best prices and experience! Track skidsteer, dump trailers, excavator, loaders available. Backhoe911@gmail.com
RON'S DRYWALL and Renovations. Over 35 years experience. Call Ron at 519-496-7539 or email ron.spncr@gmail.com
SUMP PUMP installations & inspections. Back-up systems installed. Licensed and insured. Ken, 519-831-0422
RE-UPHOLSTERY AND WOOD REFINISHING- First Choice Upholstery, 25 years of craftsmanship, serving Wellington County. Owner operated, guarantees better service at a fair price. The quality of your existing older furniture by far surpasses anything you can buy new today. We glue loose D/R chairs. Call us - 519-787-0820 or toll-free 1-888-2-RE-DO-IT (1-888-273-3648) or email us george.lanzon@gmail.com
HANDYMAN SERVICES: Interior and exterior painting, house repairs & installations, junk removal, trailer services, deck resurfacing, custom furniture built, car detailing. All with a smile! Call Tony today, 519-766-7827
SMALL ENGINE Service and repair to all makes. Great rates & fast service. Serving Fergus, Arthur and Elora areas. Call 519-766-5633.
GREENWAY CHIMNEY: Installs, sweeping, inspections, masonry repairs. WETT certified for your safety. Call 519-820-6369.
MARTIN WELL Drilling- Rejuvenate & clean up existing wells. Well extensions. De-commission abandoned wells. Flow tests. Pump service & water treatment. MOE certified. Call Len 519-846-9162, Jeff 519-846-1993 or Mike 519-638-8928. www.martinwelldrilling.com
AB RENOVATIONS Basement, Bathroom and Kitchen renovations, ceramic tile, wall papering, painting, drywall, you name it. Affordable pricing. Free estimates. Fergus and surrounding area. Alan 519-787-1202 or cell 519-830-1202
LICENSED PLUMBER- 40 years experience. All types of installations and repairs. Hot water tanks, water softeners installed. Call Ken for a free estimate, 519-831-0422.
PAPA JOHN'S Renovations Home maintenance, decks, windows, doors, and interior work. Call John Lopers, 519-803-4888.
JUNK, TRASH & ESTATECLEAN-UP... anything you need removed. 519-313-0543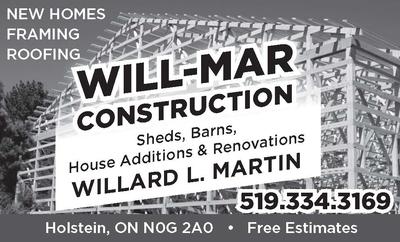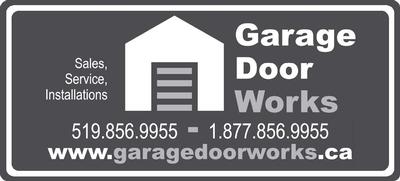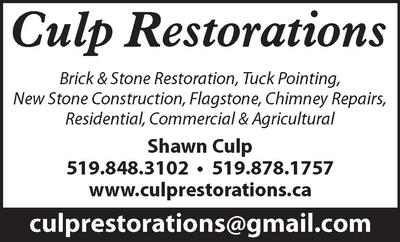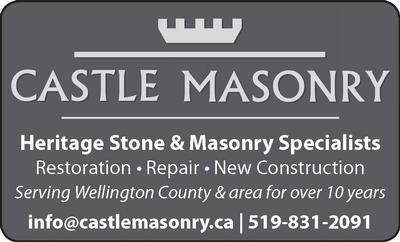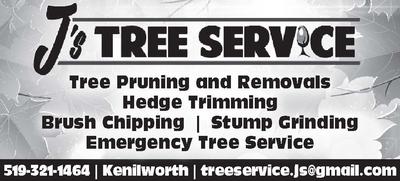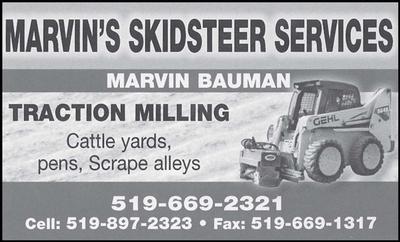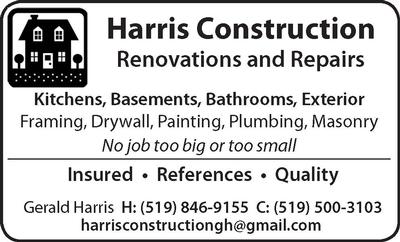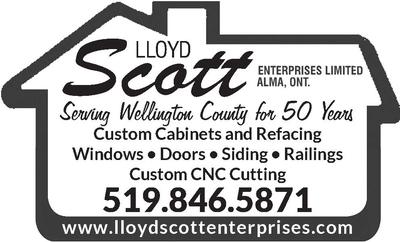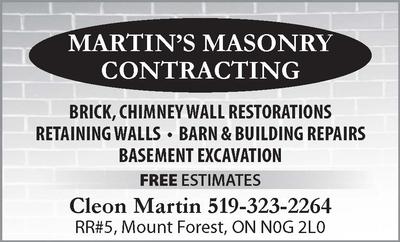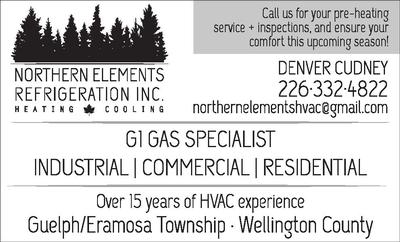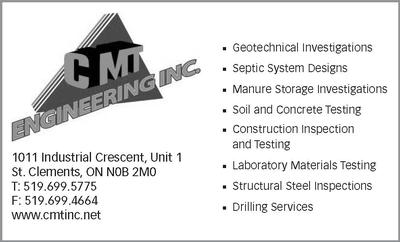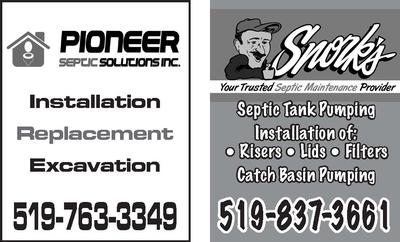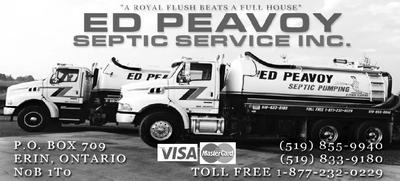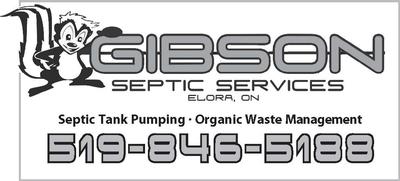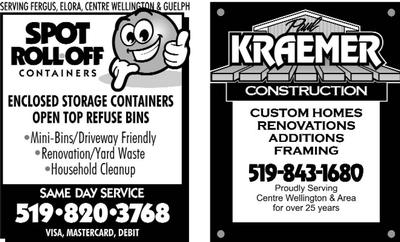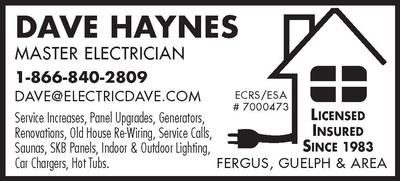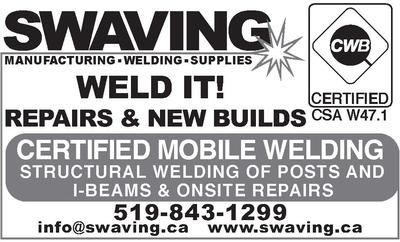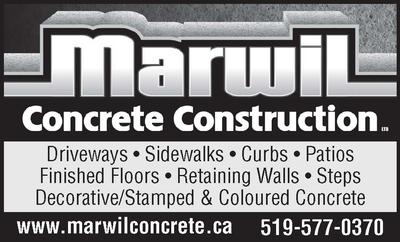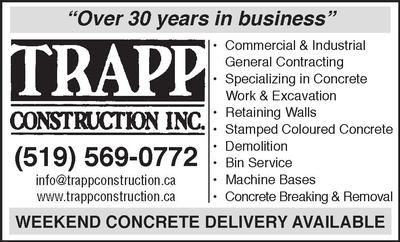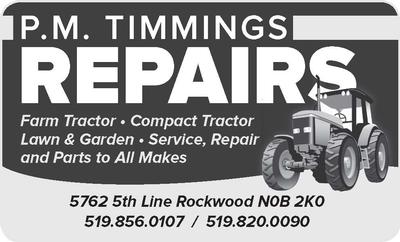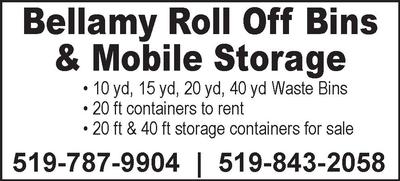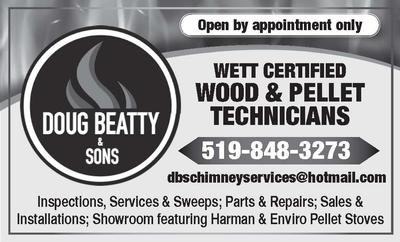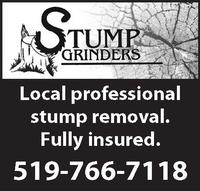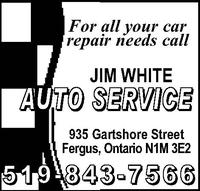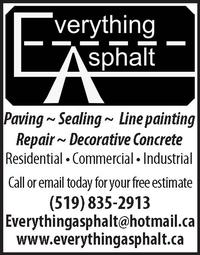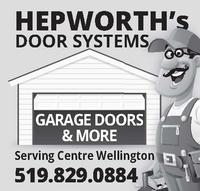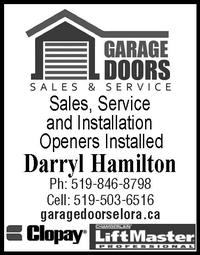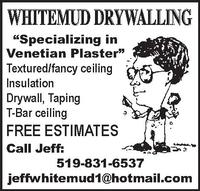 Tutoring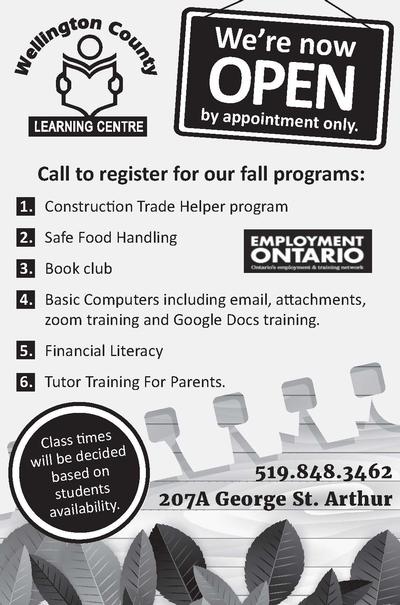 Vehicles
Cars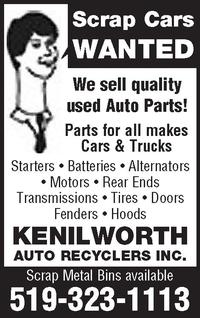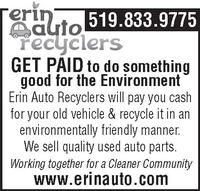 Trailer and Mobile Homes
2007 COTTAGER Escape Northlander. 1 bedroom sleeps 6 with possibility to make a 2nd Bdrm. Add a room, screen room, gazebo, shed. Gas golf cart, plus more. Seasonal site Silent Valley Park. $74,900 obo. Call Jocelyn 519-575-2668.
2017 COACHMAN-CATALINA 273 DBS Travel Trailer. Bought new with low miles: Just parked while building cottage. Separate bedroom with bunks at the other end. 30 feet overall length $20,000 o.b.o. Phone Kenilworth 519-848-3131
NICE OLD Refurbished 35ft Prowler. Must be removed from park. Air-conditioned. Owner using until mid-October. Very clean. Best offer. 905-691-2741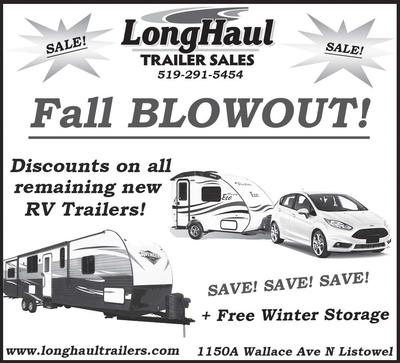 Wanted
Help Wanted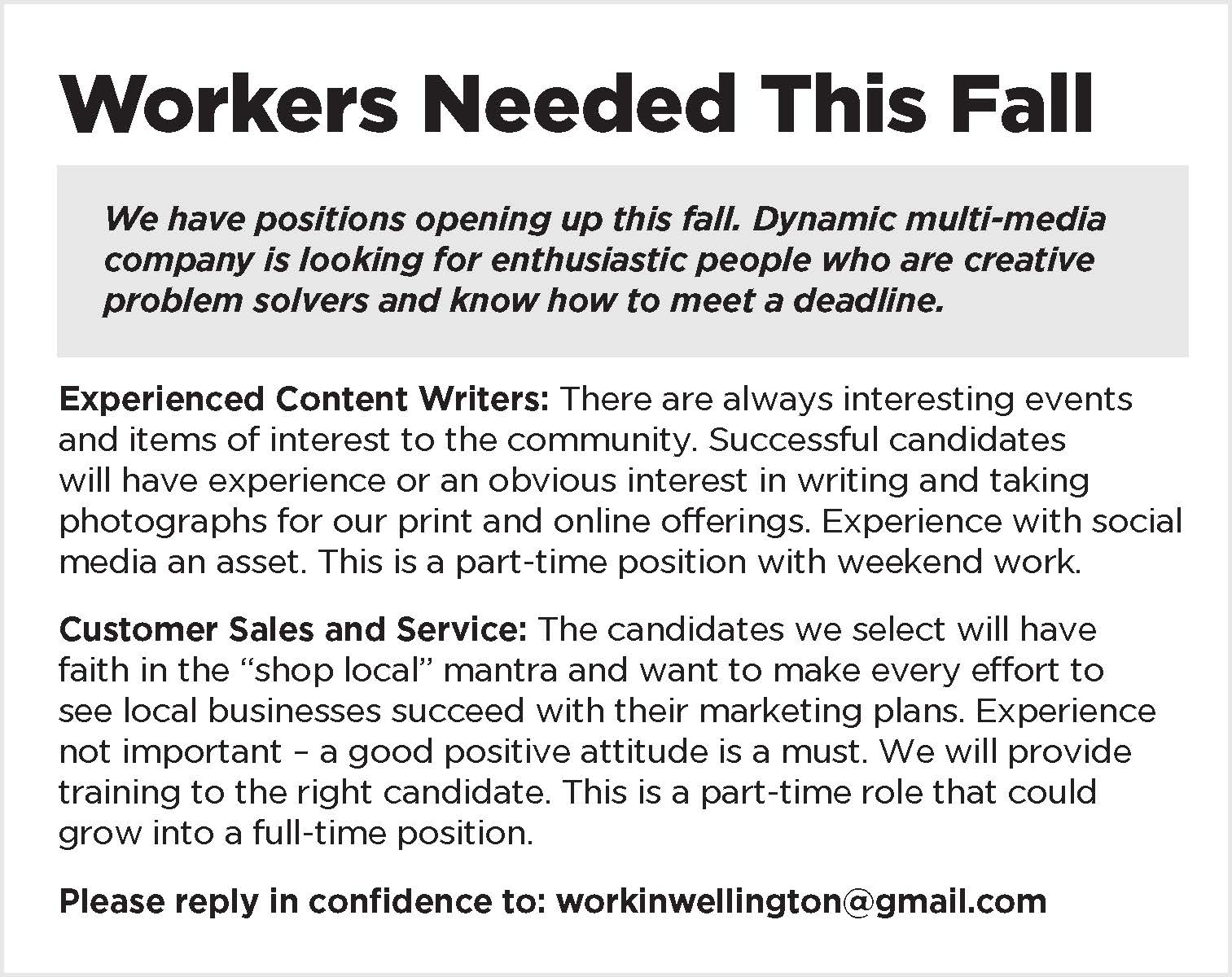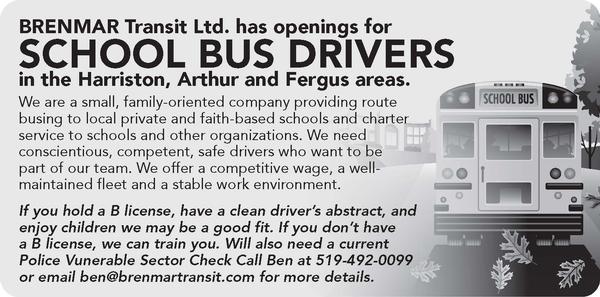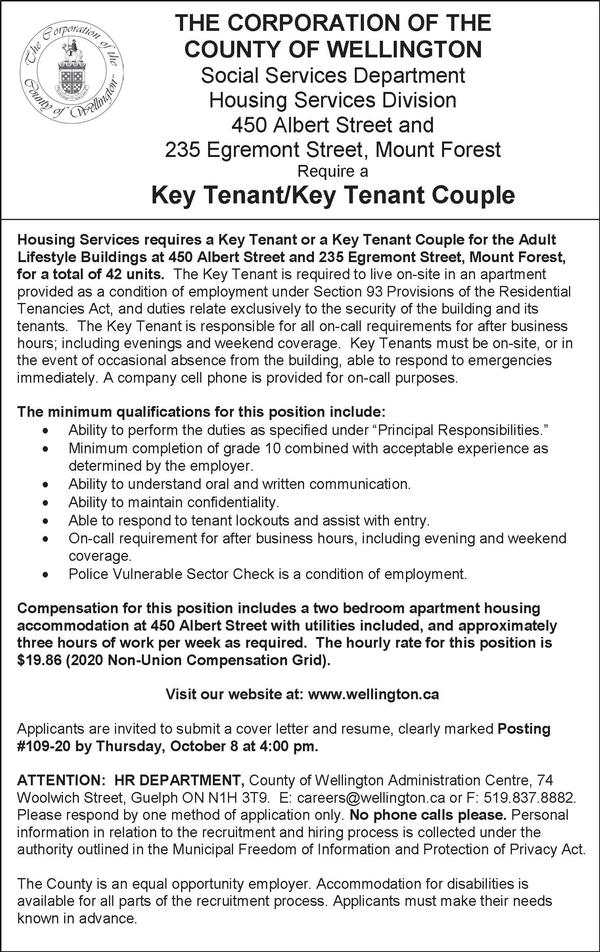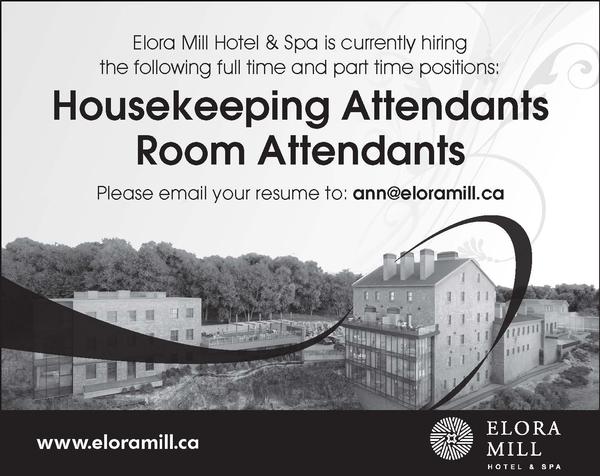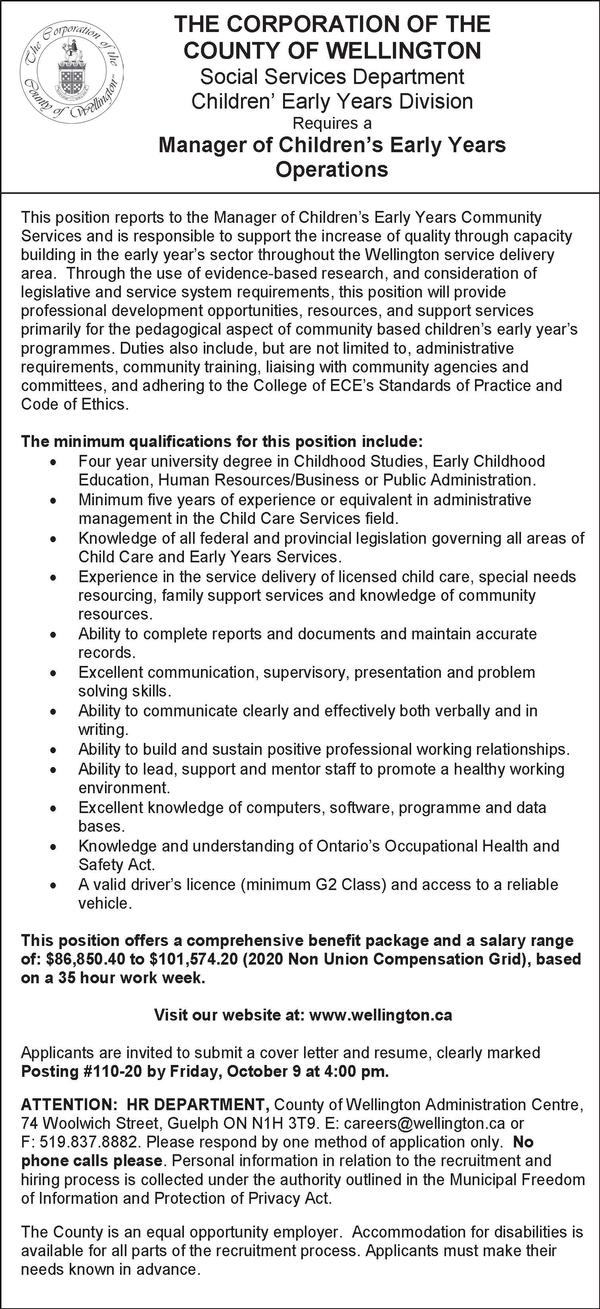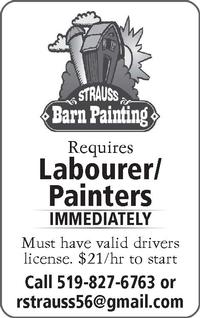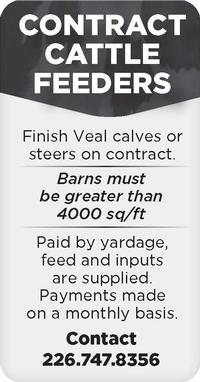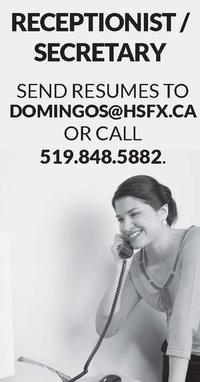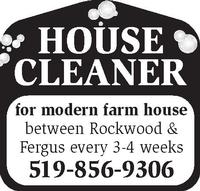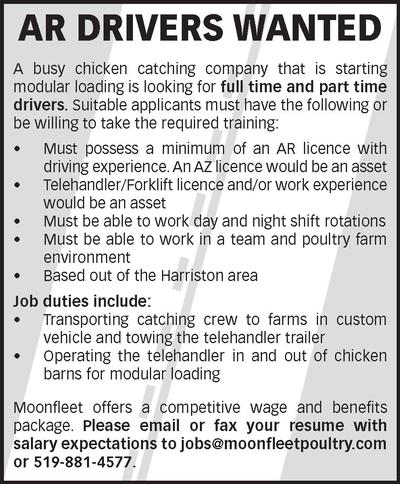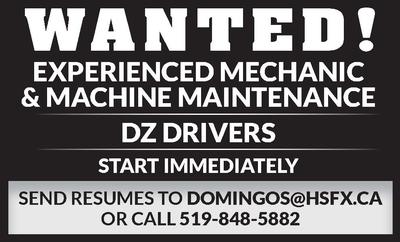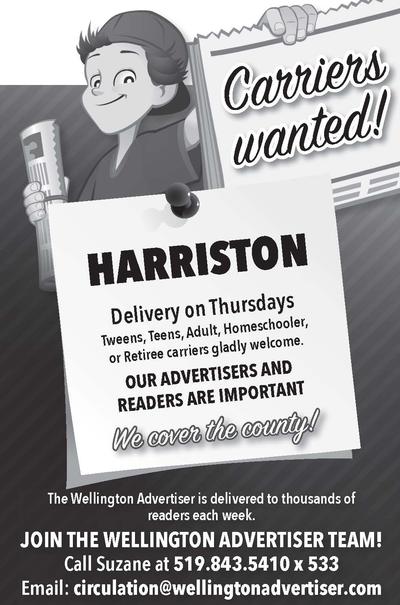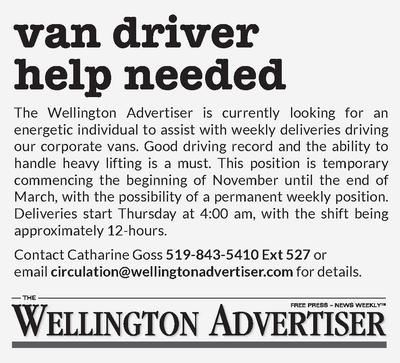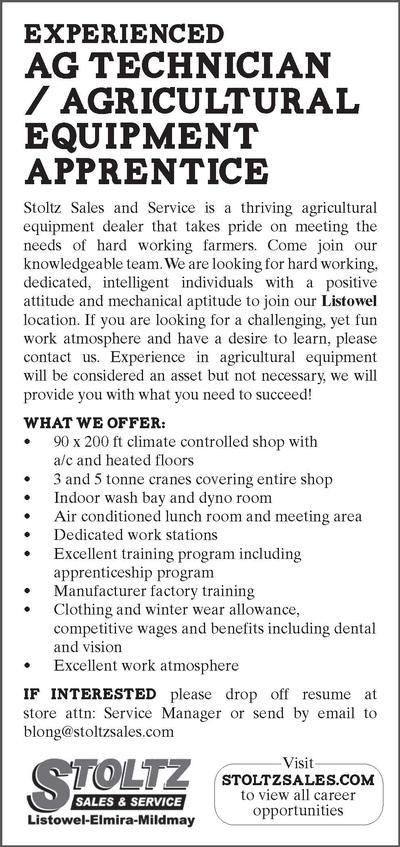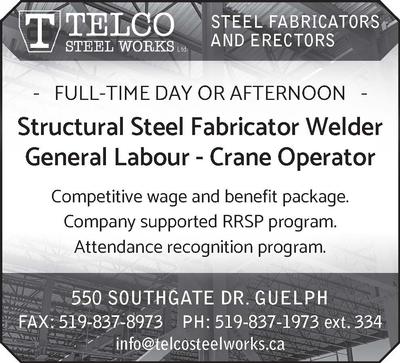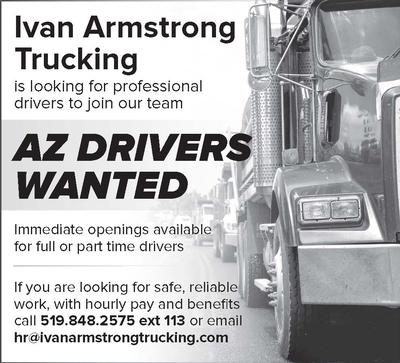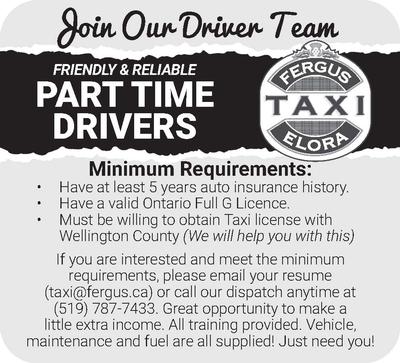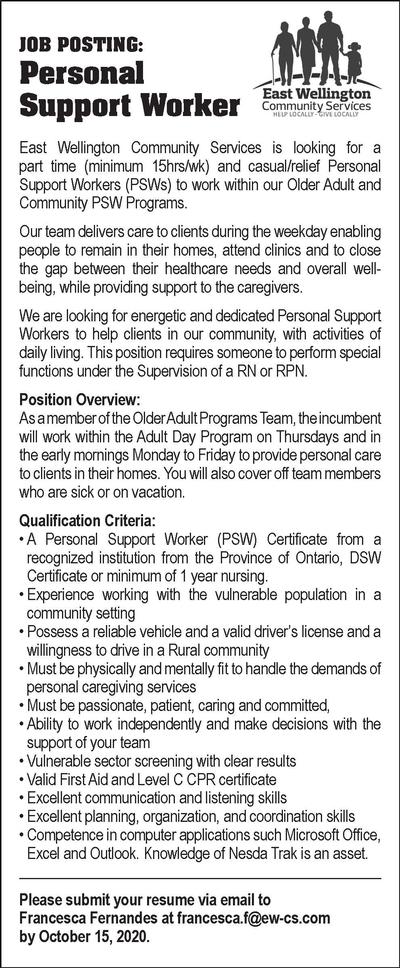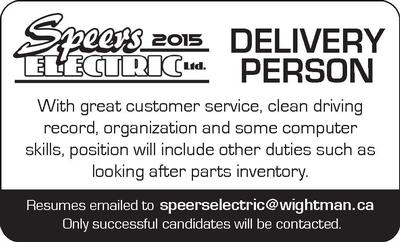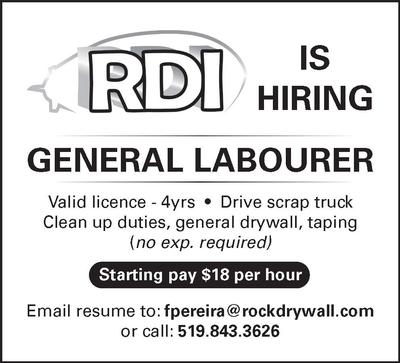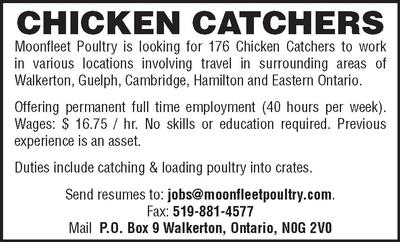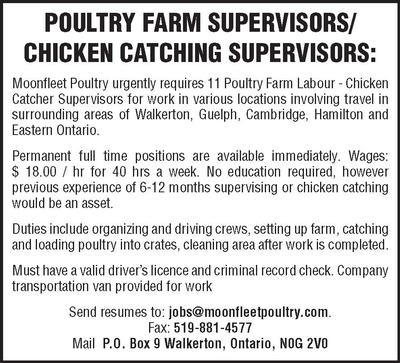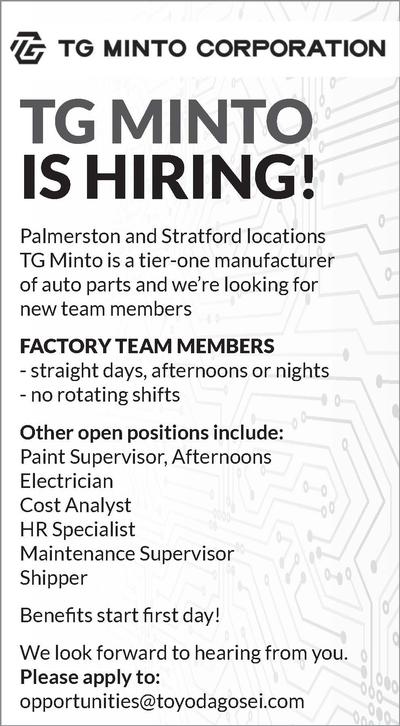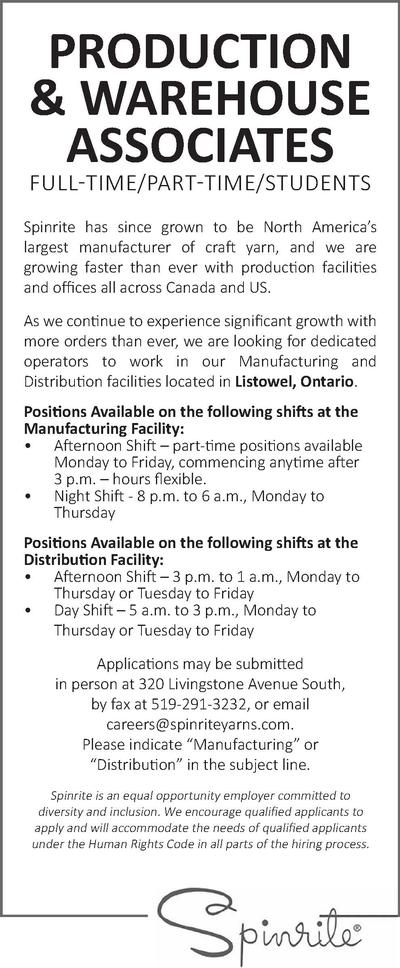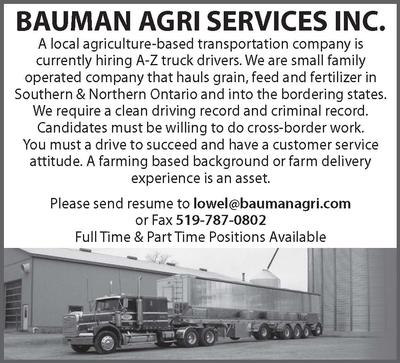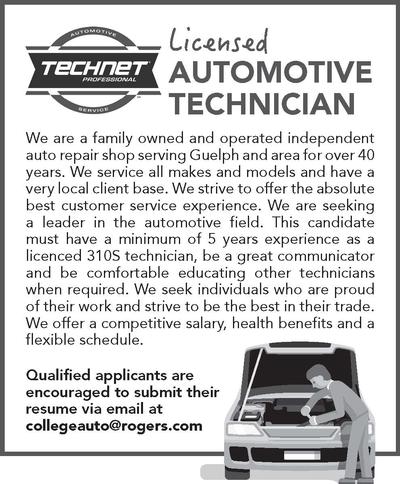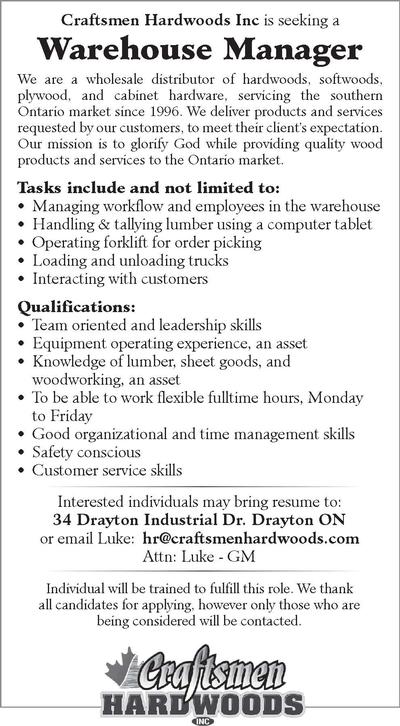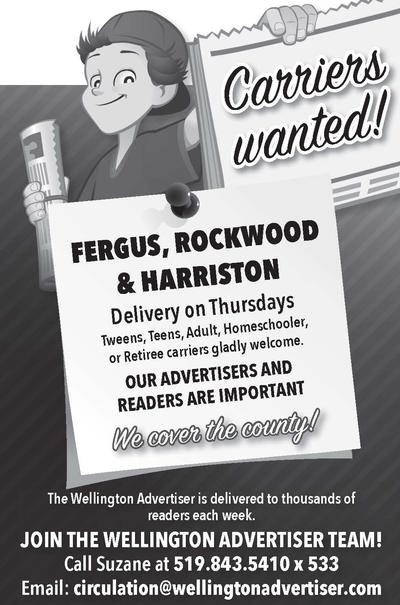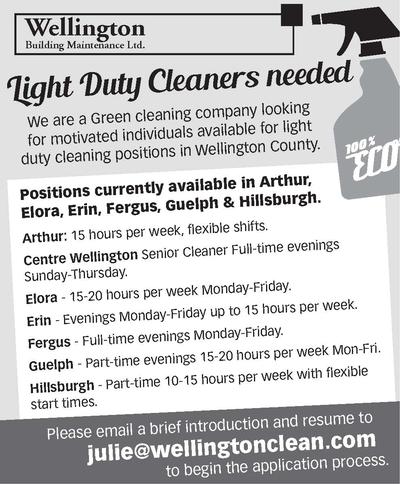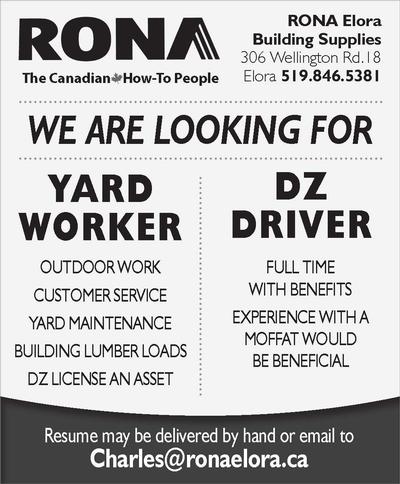 Items Wanted
RECORD ALBUMS wanted- rock, blues, punk, metal. Also looking for 60's-70's receivers, amps, turntables etc. and naptha gas style Coleman lanterns. Call Dave 519-824-3029 or email: blazerville74@gmail.com. If text preferred please use 905-788-5577
14" PUSH LAWNMOWER wanted. Must be in Guelph or Rockwood area. Call Bob, 519-400-2983
CONSIGNMENTS/-PURCHASING older small lamp tables with drawers and washstands in top condition. Also art, pottery, costume and good jewellery, Pyrex and collectibles. Call Ken between 9a.m.+5p.m., 519-843-1470
WANTED OLD tube type equipment and radio tubes. Such as Heathkit, Eico, Tektronix, Electrohome, tube testers. Call Andy at 519 415 5273
FERAL PIGEONS wanted. Please call 519-833-9873
WANTED: TO RENT private residential garage space in Mount Forest to store clean- safe -clean classic vehicle for the winter. If you have a 1/2 double available or single, please contact K. MacKenzie 519-321-1858.
*WANTED- UNWANTED snowblowers, lawn tractors, rototillers, cars, trucks running or not, for reconditioning and parts- will pick up. Bob, 519-400-2925 Fergus. No Sunday calls please.
Produce Wanted